Taco Wonton Cups
The Pizza Wonton Cups I shared last week inspired me to create more wonton recipes like these yummy Taco Wonton Cups.. The only thing they have in common is the same crispy wonton shell and the fact that they make an addicting appetizer. I love the flavour of tacos so it was a safe bet that these little guys would be a hit with my family. My daughter suggested we do an appetizer night with only wonton cups! I guess I better start thinking of more recipes to make!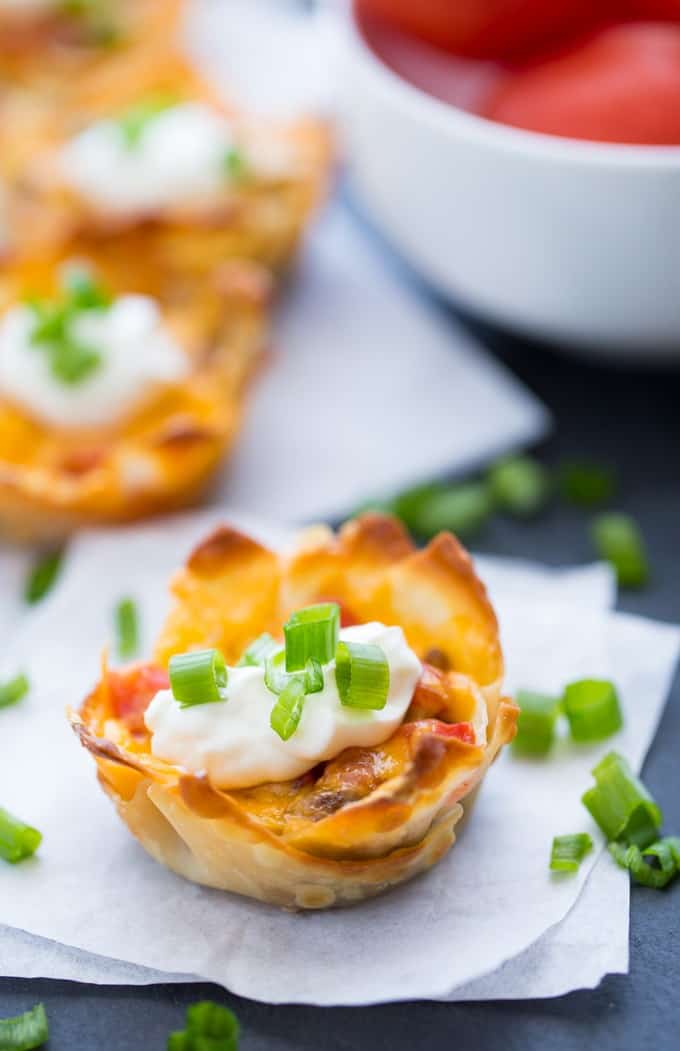 Taco Wonton Cups
I made extra beef and added whatever toppings I had leftover to make a taco salad. I mix up salsa and sour cream to use as dressing so this recipe actually makes two recipes in one!
If you prefer to make your own taco seasoning versus using the packaged stuff, feel free. I bought a bunch of the taco seasoning packets since we make tacos often around here. I've made my own in a pinch, but with mixed results. The last time I made it, the tacos were the blandest thing ever. I need to tweak my homemade taco seasoning recipe a bit so it has more life to it!
I like adding sour cream, tomatoes and green onion to my Taco Wonton Cups. Oh and let's not forget cheese. Lots and lots of melted cheese! Salsa would also be yummy too.
Serve this appetizer at your party or get together. I'd make extra though since I predict they'll be eaten up fast. We practically inhaled them!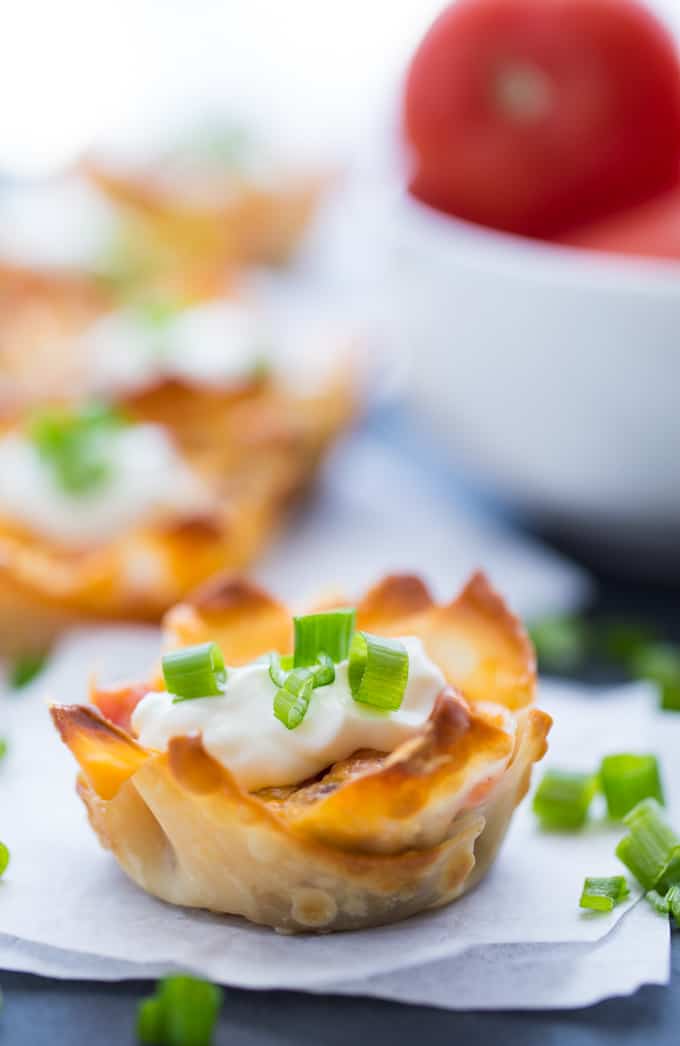 I have a few other taco inspired recipes you might like. Try this Taco Pizza, Taco Chicken Salad, Beef Taco Pasta, Taco Soup and Fiesta Taco Casserole.
You might also like these Bacon Wrapped Water Chestnuts or escargot recipe.
Are you a fan of taco inspired recipes?

Ingredients
Cooking spray
24 wonton wrappers
1 lb lean ground beef
1 onion, roughly chopped
1 packet Taco Seasoning Mix
1/4 cup diced tomatoes and green chilies
1/2 cup cheddar cheese, shredded
1/4 cups sour cream
3 green onions, chopped
Instructions
Preheat oven to 375F. Spray a muffin pan with cooking spray. Line each muffin cup with a two wonton wrappers each.
Add ground beef and onion to a large skillet. Cook on medium heat until ground beef is browned and onion is softened. Stir in taco seasoning mix.
Add 1 to 2 tsp of ground beef mixture to each wonton cup. Top with 1 tsp diced tomatoes and green chilies. Sprinkle cheese on top.
Bake for 10 to 12 minutes or until cheese is melted and wonton is browned.
Top each wonton cup with a dollop of sour cream and a few green onions. Serve hot.
Recommended Products
As an Amazon Associate and member of other affiliate programs, I earn from qualifying purchases.
Nutrition Information:
Yield: 12 Serving Size: 1
Amount Per Serving: Calories: 177Total Fat: 7gSaturated Fat: 3gTrans Fat: 0gUnsaturated Fat: 3gCholesterol: 43mgSodium: 332mgCarbohydrates: 13gFiber: 1gSugar: 1gProtein: 14g