Pecan Cake Bars
I first started with the tradition of holiday baking when I was around 20 years old. My daughter was only a few months old and we were just starting out our family life together. I figured why not start a new holiday tradition. I loved spending time in the kitchen and trying new recipes. I gathered up all my cookbooks and selected recipes to try. I may have went a little overboard because I made sooooo much food. We didn't have a deep freezer so I ended up having to give a bunch away to family and friends.
Fast forward a few years and I'm still baking around the holidays. However, I'm more selective with the recipes I'm making. I still don't have a deep freezer so I don't want to make too much that I can't store it all. I do give some to friends and family though, but not as much as that first year.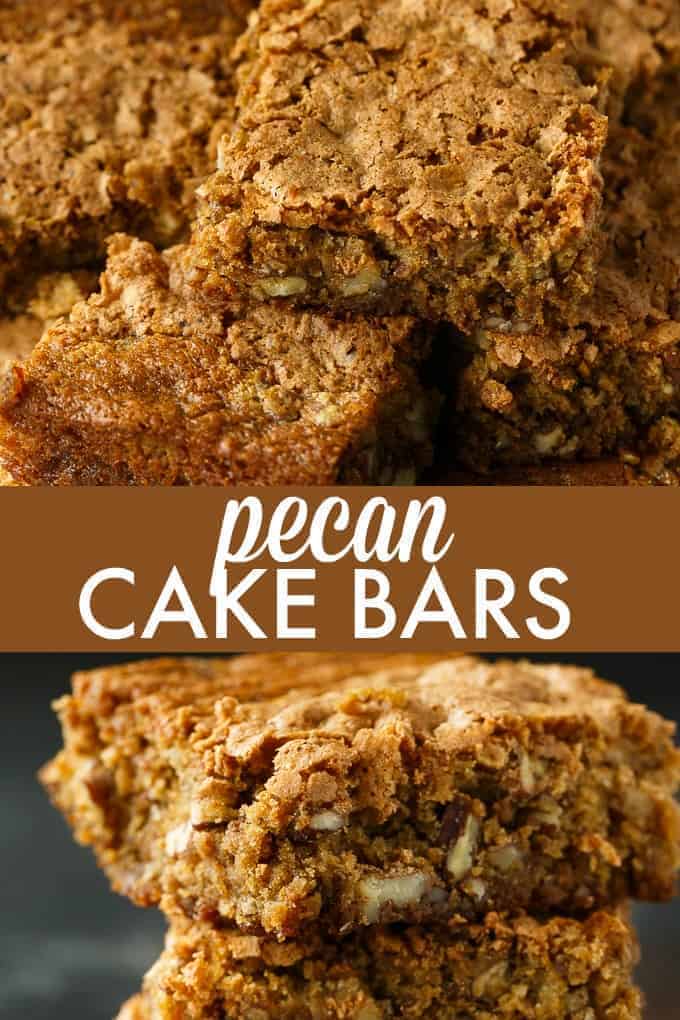 This Christmas, I made new bar recipe that everyone loved. Pecan Cake Bars are chewy, moist and incredibly delicious. The addition of pecans adds a lovely crunch to each bite.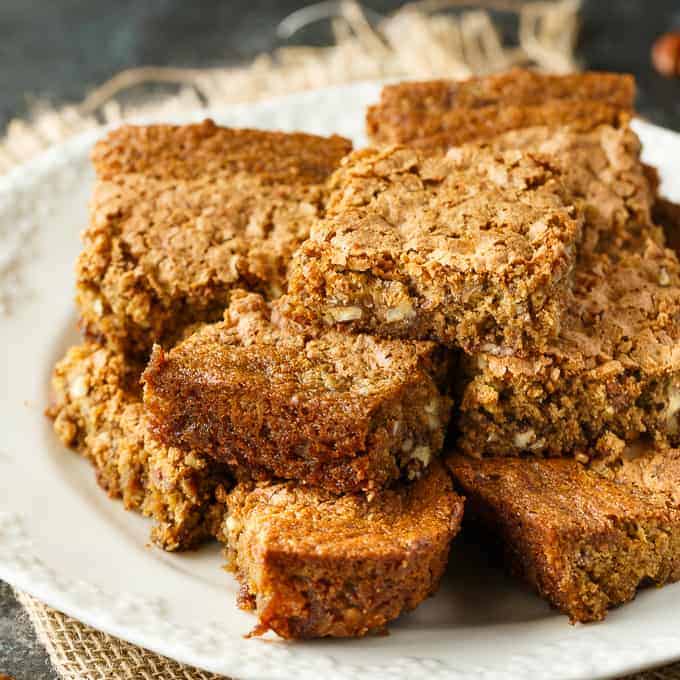 They are also easy to make. I don't like complicated recipes. This is a very basic recipe that you can whip up quickly. Serve them with some coffee or tea for your holiday guests.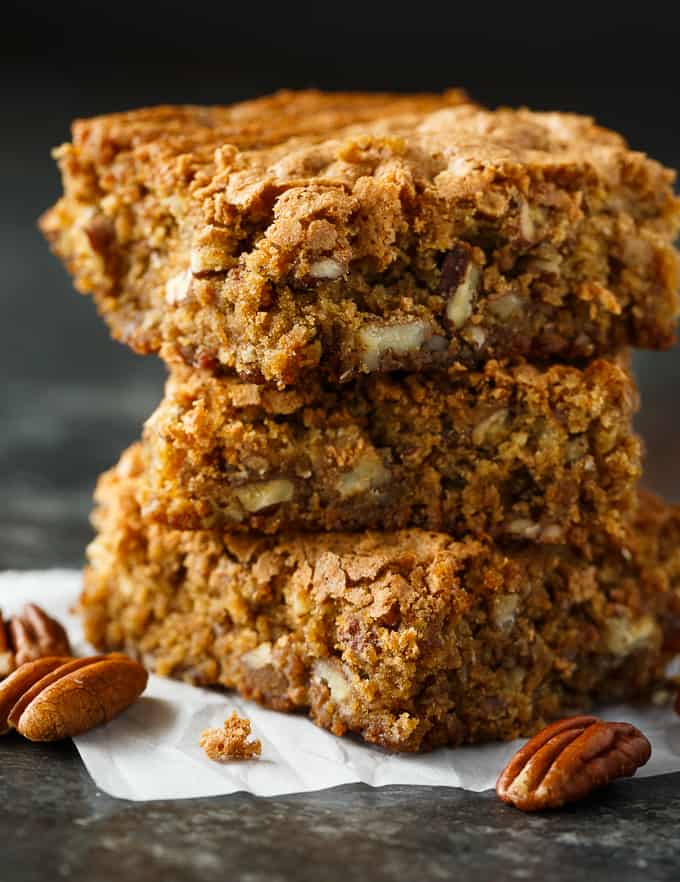 My favourite part of the bar is the buttery bottom. The cake bars bake in a pool of melted butter that adds an extra element of richness. Trust me, it's hard to stop at eating just one bar.
For more recipes, make sure to check out my Holiday Entertaining Guide. I'll be updating it frequently throughout the holiday season to give you ideas and inspiration for your holiday menu.
Check out these Pecan Butter Tart Shortbread Bars and Gingerbread Cheesecake Bars.
I'd love to hear what you are baking this holiday season. Do you keep the goodies for yourself or do you give some away to family and friends?

Ingredients
1/4 cup butter, melted
2 cups brown sugar
2/3 cup flour
4 eggs
2 tsp vanilla extract
1/4 tsp baking soda
1/4 tsp salt
1 1/2 cup pecans, chopped
Instructions
Preheat oven to 350F. Pour butter into a 9×13 baking pan. Set aside.
In a large bowl, stir together brown sugar, flour, eggs, vanilla, baking soda and salt. Stir in pecans.
Spread mixture over butter.
Bake for 30 minutes. Cool before cutting into squares.
Recommended Products
As an Amazon Associate and member of other affiliate programs, I earn from qualifying purchases.
Nutrition Information:
Yield: 12 Serving Size: 1
Amount Per Serving: Calories: 291 Total Fat: 15g Saturated Fat: 4g Trans Fat: 0g Unsaturated Fat: 10g Cholesterol: 72mg Sodium: 137mg Carbohydrates: 37g Net Carbohydrates: 0g Fiber: 1g Sugar: 30g Sugar Alcohols: 0g Protein: 4g