It may seem like a never-ending battle to keep your home neat and tidy. The house itself is prone to dust and clutter. Add a spouse, children, and pets to the mix and you have a full-time job just trying to keep everything in order!
Thankfully, there is a revolutionary way of cleaning that many people are finding easy to manage: ZONE CLEANING.
Zone cleaning involves dividing your home into sections (zones) and tackling only one zone at a time.
Let's look at the popular zones for cleaning. You can have four or five zones, but since there are roughly four weeks in a month, it may be best to stick with four.
Example zones for cleaning:
Zone 1: Living Room/Porch/Hall/Foyer
Zone 2: Kitchen/Pantry/Laundry
Zone 3: Bathrooms
Zone 4: Bedrooms
Of course, you can use the free Zone Cleaning Schedule printable to divide your home whichever way works best for you.
Once you have created your zones, it's time to jot down the tasks you need to tackle in each area.
Example zone cleaning tasks may include:
Dust
Disinfect surfaces/doorknobs
Sweep/Vacuum
Mop
Clean clutter
Make bed
Wash windows
Clean baseboards
Clean sink/toilet/tub
With the free Zone Cleaning Schedule, you can write in the normal tasks you would need to complete in each zone.
Let's Get to Zone Cleaning
Now that you have everything figured out to keep your home tidy, it's time to start cleaning!
Keep in mind, zone cleaning is a journey, not a sprint. It may take longer to keep your zones completed in the beginning. However, once you have been working with the schedule for a month or two, you should notice 30-45 minutes per day is all you need to keep your home neat and tidy!
In the beginning of your zone cleaning, you may only be able to finish one zone each week. Still, by the end of the month, you will have a clean home. Be sure to keep tidying up with daily jobs to keep your home tidy as you work through your zones.
Once you have mastered the Zone Cleaning Schedule, you should be able to get your cleaning done in a single week…working on each zone one day per week, with an extra weekday to do laundry, run errands, or catch up on any zones you got behind on.
The following week, you'll simply start over with your schedule. However, it will become easier and quicker to finish up your tasks if you are consistently completing your zone cleaning.
Plus, following this schedule leaves your weekends free to relax and enjoy your clean home!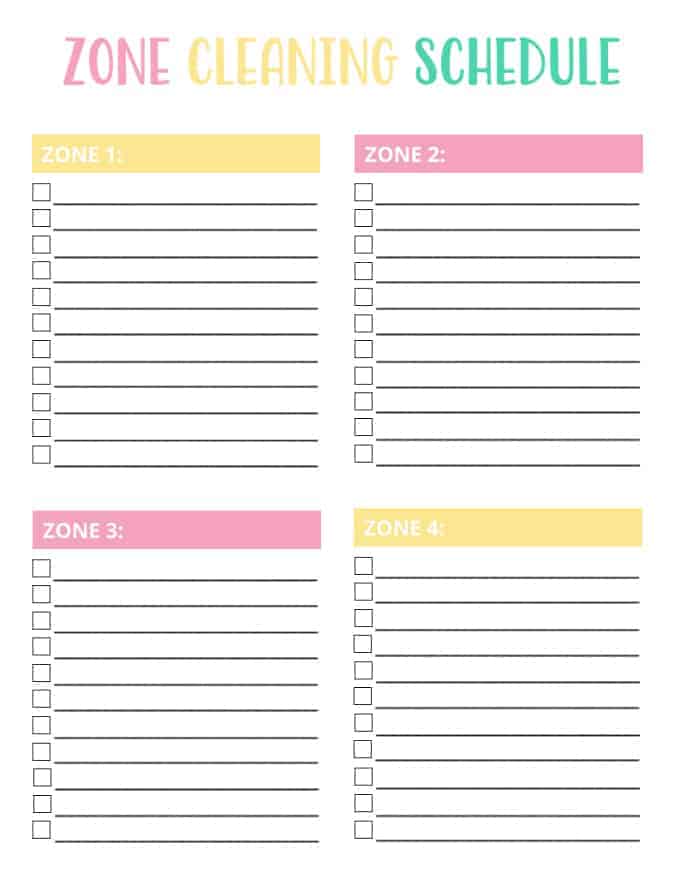 Fill out the form below to get your Zone Cleaning printable delivered to your inbox.

You might also like to know how to clean baseboards or how to save money on laundry.