Disclosure: I was not financially compensated for this post. I received a sample of the product for review purposes. The opinions are my own, based on my personal experience with the product.
I love reviewing tech gadgets. I think it's fun to try new things that make working with technology easy and fun. When I read about the Zcan+ scanner mouse from DTOI, I was excited to give it a try. I have a lot of items that I've collected over the years that I've wanted to digitize, and the Zcan+ mouse lets me do that easily and quickly.
The Zcan+ is hands down one of my favorite new tech items. It is so versatile and easy to use – once you have it you'll wonder how you lived without it! This item is, simply put, a mouse with scanning capabilities. There is a special scanning glass on the bottom of the mouse that allows it to read and scan any document. Installing the software for the mouse was a breeze – after just a few minutes of installing the drivers it needed, I was able to use the mouse and all it's capabilities. Besides the disc for installing the drivers, the user manual, and the mouse itself, this package also includes a scanning pad for smaller items.
I decided to give scanning a try with the special scanning pad. I chose one of my son's video game cards because it had bright colors, text, and a picture. I put the card under the top protective layer of the pad, put the mouse over the pad, clicked the scan button, and started scanning. All I had to do was move the mouse back and forth over the card to capture the image. As I scanned, the image appeared on my computer screen in the Zcan software. I hit the scan button again to stop the scanning process and turned my attention to the image on my screen.
The Zcan software lets you edit your scan, save it, copy it, and even share it instantly on social media. You can edit text, scan Excel tables, and even do an instant Google search on any image. The mouse recognizes 60 languages and has the capability of translating through Google translate. I think the scanning pad is a great help for scanning smaller items – your grandmother's recipe cards, small newspaper clippings, or business cards. You can scan larger items using just the mouse – it works the same way as with the smaller items. You can drop and save your scans to Word, PowerPoint or Excel documents, save them as picture files, text files, or even a PDF. This mouse really makes it easy to digitize all those items that you want to preserve and keep forever. Those old family pictures, articles on your favorite subject, even your kid's artwork. With this mouse you won't need to procrastinate – once you identify an item you want to digitize, all you have to do is click a button.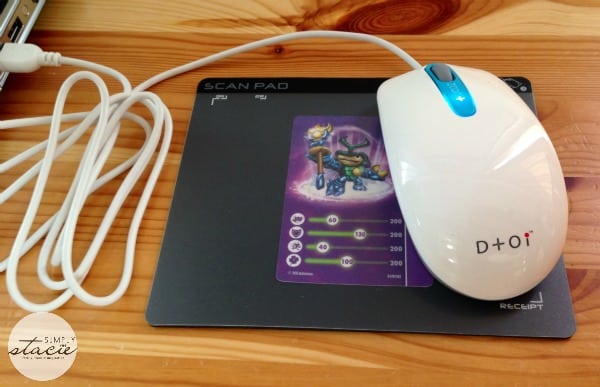 This mouse is available for PC and MAC platforms and sells for $79.99 on the DTOI site. It is also available on Amazon for $79.90. This is a great investment piece and one I would definitely recommend to anyone, regardless of their tech savvy.
Zcan+ was established in 2013, designed by DTOI (Design to Innovation). Their aim is to create products that are innovative and user-friendly. They are always striving to do better – and they are currently in the process of creating a wireless version of the Zcan+ to make scanning even easier! Check out the Zcan+ website for video demos and tutorials.