Moms and dads, how many times do you remember telling your kids to stop playing with their food? More times than you can count, right? For me, I hear my mother coming out when I tell my kids to eat their food and quit playing with it. I'm like a broken record.
Some foods are just easier to play with than others and practically demand that you play with them. Whippet Original and the new Whippet Sticks are those types of foods. You can't help yourself, as a kid or adult!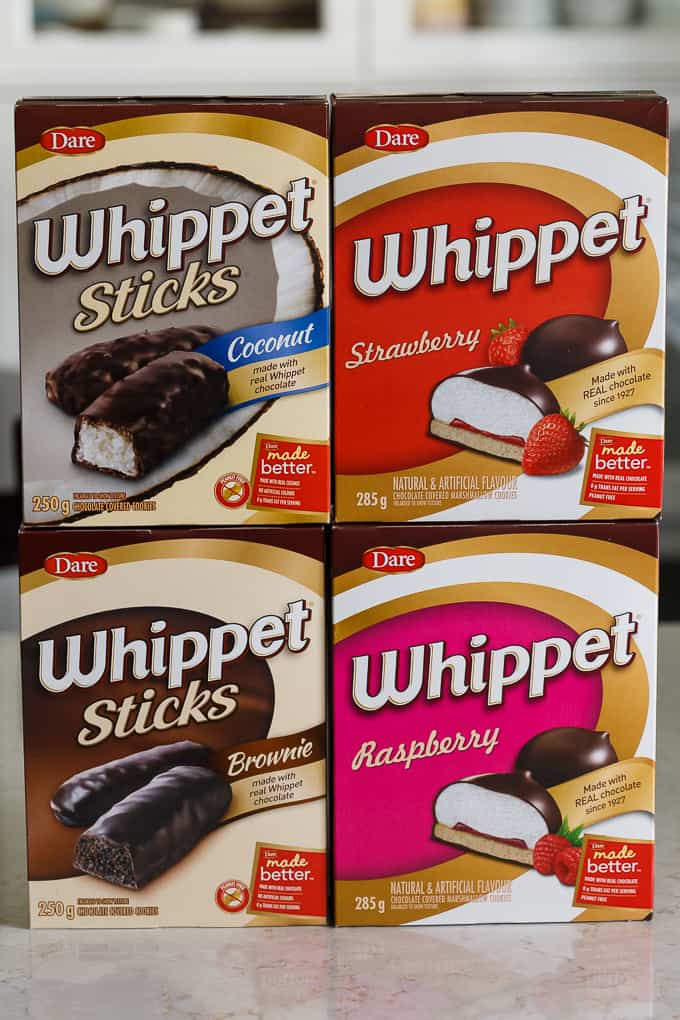 You can imagine the look of surprise on Bridget's face when I told her to go ahead and get creative with her snack of Coconut flavoured Whippet Sticks. She gave me a quizzical look that basically said, "Are you for real?". Perhaps, "Have you lost your mind?"; might be more like it. Anyways, she's a good girl and followed my direction.
She created a set of railway tracks.
And a tower of Whippet Sticks that remind me of a JENGA game. I wonder what will happen if I pull one out?
Whippet Sticks Coconut and Whippet Sticks Brownie are new in stores. They have no artificial colours and 0 g of trans fat per serving. They are also peanut free so kids can bring them to school in lunch boxes.
Bridget's favourite were the Whippet Sticks Coconut. Think of a delicious macaroon enveloped in rich chocolate. It's a great little snack for kids and adults.
I love the Whippet Sticks Brownie made with real chocolate. It satisfies my chocolate cravings and pairs great with a piping hot coffee for a mid-morning snack.
Bridget and I whipped up a batch of no-churn ice cream with her favourite, Whippet Sticks Coconut.
She made ice cream sundaes with the Whippet Original and Whippet Sticks.
Squish 'em, tear 'em apart or rip 'em in half to make the ultimate Whippet sundae.
She couldn't help herself from sneaking a bite.
You can make your own Whippet sundaes at home, too. It's only three ingredients.
Chop up a cup of your favourite Whippet cookie.
The other ingredients are whipping cream (35%) and sweetened condensed milk. Once you've mixed the ingredients together and let it freeze for 8 hours, you'll have a delicious family sized serving of creamy, sweet ice cream.
I made my Whippet sundae with my ice cream recipe topped with chocolate and strawberry sauce and some Whippet Coconut Sticks and Whippet Original Strawberry.
Oh my, is it good! It hits the spot for a sweet treat after dinner.
Indulge in a little fun and play with your Whippet Original and Whippet Sticks, too. I'd love to see your creations.
Whippet Ice Cream
Only three ingredients! You'll love how easy it is to make with your favourite Whippet Original or Whippet Sticks.
Ingredients
2 cups whipping cream
1 300ml can sweetened condensed milk
1 cup Whippet cookies of your choice, chopped
Instructions
Beat whipping cream on medium speed for 4 minutes or until it starts to form soft peaks. Reduce speed to low and add in sweetened condensed milk. Beat until combined.
Stir in Whippets.
Pour into a freezer safe container. Freeze for at least 8 hours before serving.
Recommended Products
As an Amazon Associate and member of other affiliate programs, I earn from qualifying purchases.
Nutrition Information:
Yield:

6
Serving Size:

1
Amount Per Serving:
Calories:

663
Total Fat:

44g
Saturated Fat:

25g
Trans Fat:

1g
Unsaturated Fat:

16g
Cholesterol:

112mg
Sodium:

221mg
Carbohydrates:

62g
Fiber:

1g
Sugar:

50g
Protein:

9g
Disclosure: I was compensated for this post. All opinions on this blog are my own.