Homemade body products are a luxury especially when they contain a delicious helping of chocolate. That's right ladies today we're making a Whipped Chocolate Body Butter and it's amazing. It's light, fluffy, chocolaty and heaven on your skin. A little goes a long way and can be used on your entire body. This Whipped Chocolate Body Butter is perfect for those winter months where our skin is more dried out than normal. Best of all this can be made just using 3 ingredients and takes a total of 5 minutes to whip up an entire batch that will last you 6 months.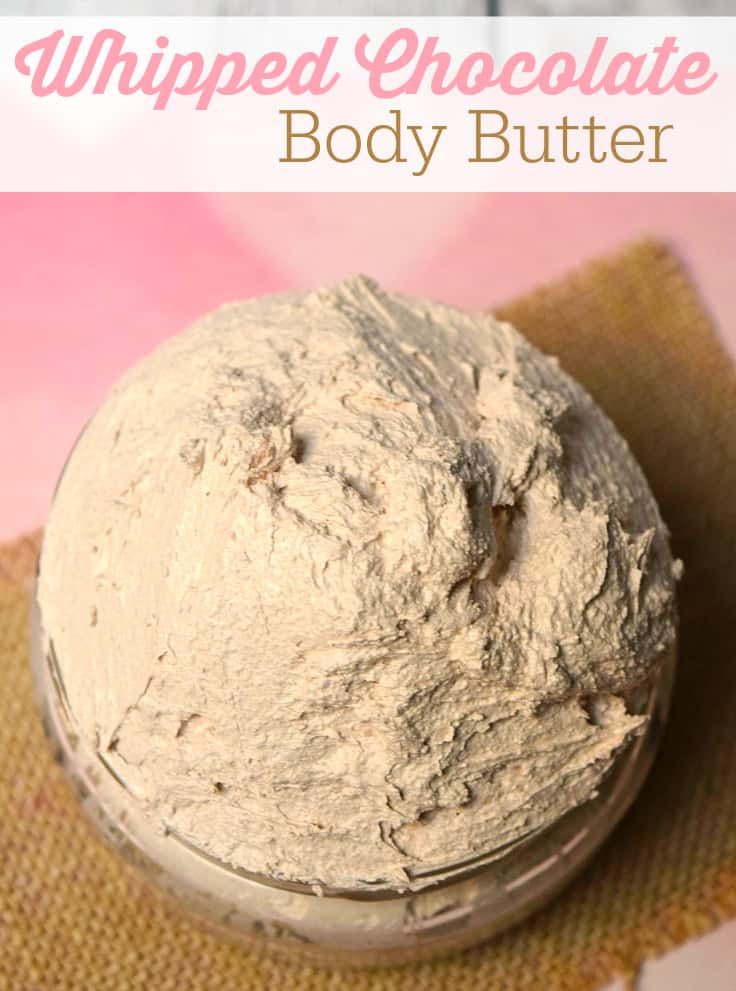 Ingredients
This post contains affiliate links.
Update from Brittany: To be used in the bathtub or shower and then when it gets wet it lathers up and rinses off leaving your skin smooth.
For more DIY beauty products check out these recipes for Peppermint Lip Scrub, Homemade Coffee Sugar Scrub, DIY Dry Shampoo for Brunettes, Homemade Lavender Bath Salt, Homemade Coffee Soap, Zesty Vanilla Rose Soap and DIY Coffee Body Scrub.

The very talented Brittany blogs over at A Spark of Creativity where she focuses on DIY crafts, home décor projects, recipes and more!
Whipped Chocolate Body Butter
Light, fluffy and feels like heaven on your skin. Plus, it's made with only three ingredients!
Materials
1 cup Stephenson OPC Foaming Bath Butter
2 tbsp. Cocoa Powder
1 cup White Sugar
Tools
Electric stand mixer or hand mixer
Airtight container for storing
Bowl
Instructions
I chose to use my trusty KitchenAid stand mixer to whip up my Whipped Chocolate Body Butter so I set that out on my counter. I spooned in my OPC Foaming Bath Butter and turned on my mixer to a high speed of 10 and let it whip up for about 1 minute.
After it was whipped up to my liking I poured in 1 cup of white sugar and set it back up to a speed of 10 and whipped it for another minute. Be sure to use a spatula to scrap down the mixture to push it towards the middle so it all gets mixed up evenly.
Last thing to add in is your cocoa powder. I used 2 tablespoons but you can use as little or as much as you want depending on your preference.
Pour in your cocoa powder and whip up your Whipped body butter on high for another 30 seconds and that's it.
Spoon your Whipped body butter into an airtight container such as a Mason jar or glass jar with a lid. Enjoy.
Recommended Products
As an Amazon Associate and member of other affiliate programs, I earn from qualifying purchases.