What Not to Miss in The 6ix!
Whatever the season, there is always something to see and do in Toronto.
Whether you call is the 6ix, the Big Smoke, Hogtown or T-Dot, Toronto is a vibrant, interesting city that offers the visitor—and resident—so much to see and do, any time of the year.
Check out any visitor's guide and one thing that will strike you about Toronto is the prevalence of 'neighbourhoods'. Different cultures converge in this mega-city but aren't lost in the shuffle because of wonderful little enclaves: Chinatown, Little Italy, Polish Town, Distillery District, Entertainment District, Yorkville, Kensington Market, Little Portugal and so many more.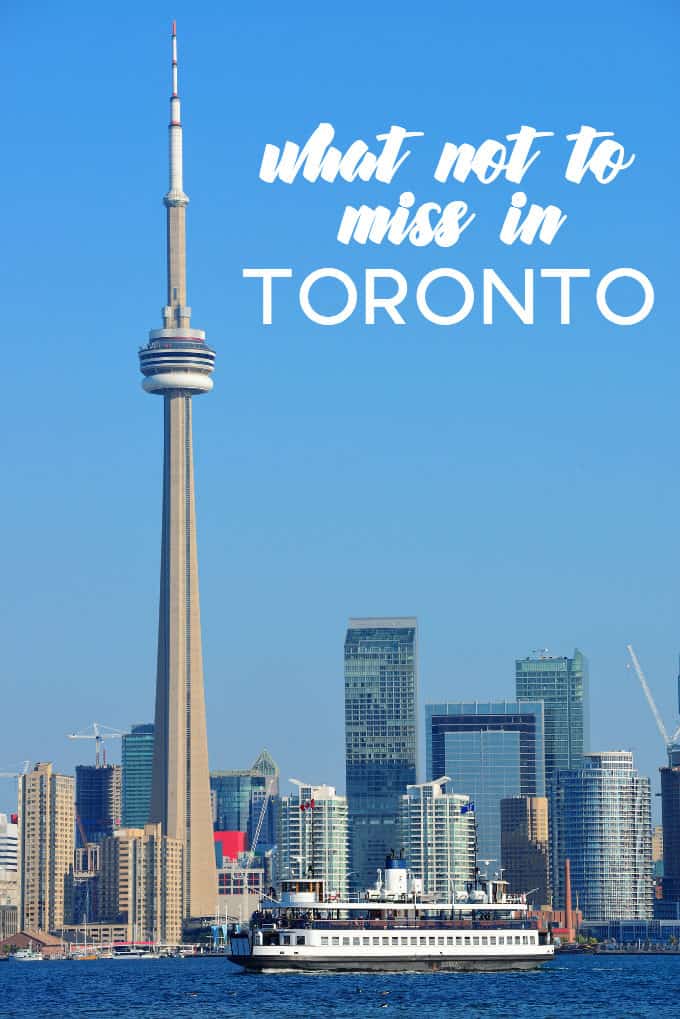 Whether you're interested in cultural spots, points of interest, major attractions, green space, there's something in Toronto for you. Here's a short list of some of the places and scenes that you can't miss when you come to the 6ix.
Interesting Neighbourhoods
Chinatown — Crossover into a different world, without taking your passport. Chinatown's open stall stores, huge variety of restaurants and general hustle and bustle are worth taking in for an afternoon. The hub of the area is at the crossroads of Dundas Street West and Spadina Avenue. In the summer, the Chinatown Festival is an engaging way to get a touch of the culture and a lot of good fun.
Distillery District — With upscale nibbles, craft brewing, art galleries and shops, this walkable area built on the site of the old Gooderham and Worts Distillery, is a gem. Industrial architecture blends with cobblestones and new age lights to make an eclectic mix. The Christmas Market during the holiday season is definite must attend!
Kensington Market — Designated as a World Heritage Site in 2006, this interesting mix of different cultures. It is diversity personified with vintage clothing stores nestled in beside take out roti shops, cafes and bars mixed in with fruit stands and tattoo parlours. A fun way to while away an afternoon. Located in the neighbourhood bordered by Dundas and College, Spadina and Bathurst.
Yorkville — Want to pretend like you've got a million bucks burning a hole in your pocket? Spend some time along Bloor Street and do a little window shopping. From Louis Vuitton to Prada, Coach to Holt Renfrew, all the luxury boutiques can be found on what is otherwise known as the 'Mink Mile'.
Whichever direction you go in Toronto, you're bound to discover a neighbourhood with flavour!
Major Attractions
Toronto has it all! From the CN Tower, which you can't miss seeing from anywhere in the city, to Ontario Science Centre, there is something for everyone. Here's a short list of just a few major attractions to enjoy:
Royal Ontario Museum

– From dinosaur and whale skeletons to a study of ancient egypt, the exhibits at the ROM are first rate for anyone interested in the days of yore.

Casa Loma

– Originally the home of Sir Henry Pellat and now a stately castle and grounds, open to visit. Don't miss the 'Secret Garden'! It's from another time and place!

Art Gallery of Ontario

– From art nouveau to the masters, there's a little of everything at the AGO.

Ripley's Aquarium Canada

– A moving sidewalk ride through a glass enclosed tube allows you to really stand and appreciate the glories of the undersea world. No scuba tank required!

Toronto Zoo

– Thousands of animals and hours exploring available.

Canada's Wonderland

– An amusement park with rides and games galore!

Black Creek Pioneer Village

– a 19th century village recreated as a living history museum.
Green Spaces
Toronto Islands — The islands, which you reach via ferry, are pristine and hugely enjoyable. With limited vehicles, they are a safe place to run around and play, with beaches and in the summer, Centreville is a great attraction for the little humans, with rides, water features and a petting zoo!
Harbourfront and the Beaches — Take a long walk on the wooden boardwalk and enjoy Woodbine beach, or stroll around Harbourfront and see what's happening at the Harbourfront Centre. A great skating rink in the winter and something to see all year round.
High Park — Extensive walkways and a free zoo? What's not to love? The cherry blossoms in the Spring are gorgeous but any time of year, this is the place to get away from the city, right in the middle of the city!
Allan Gardens — Exotic plants galore throughout the six greenhouses of historic Allan Gardens are a so soothing. You can visit for free and enjoy a little quiet in the middle of a bustling and busy area. Downtown.
Fort York — This historic site gives a good view on the history of the city, included tours showing how soldiers lived at the fort, demonstrations from the Fort York Guards, special events throughout the year and various museum exhibits.
Whether you're a foodie or a shopper, a museum hopper or a people watcher, you can find a spot in Toronto to suit your style and fill many days!