You might have heard of winterizing your house, but did you know that you should summerize it too? Prepping your home for summer is a wonderful way to help it run more efficiently and save you money. If you aren't sure where to begin, take a look below at seven ways to prep your home for summer so you can kick back, relax and enjoy the beautiful weather. Here is what you need to know to get started!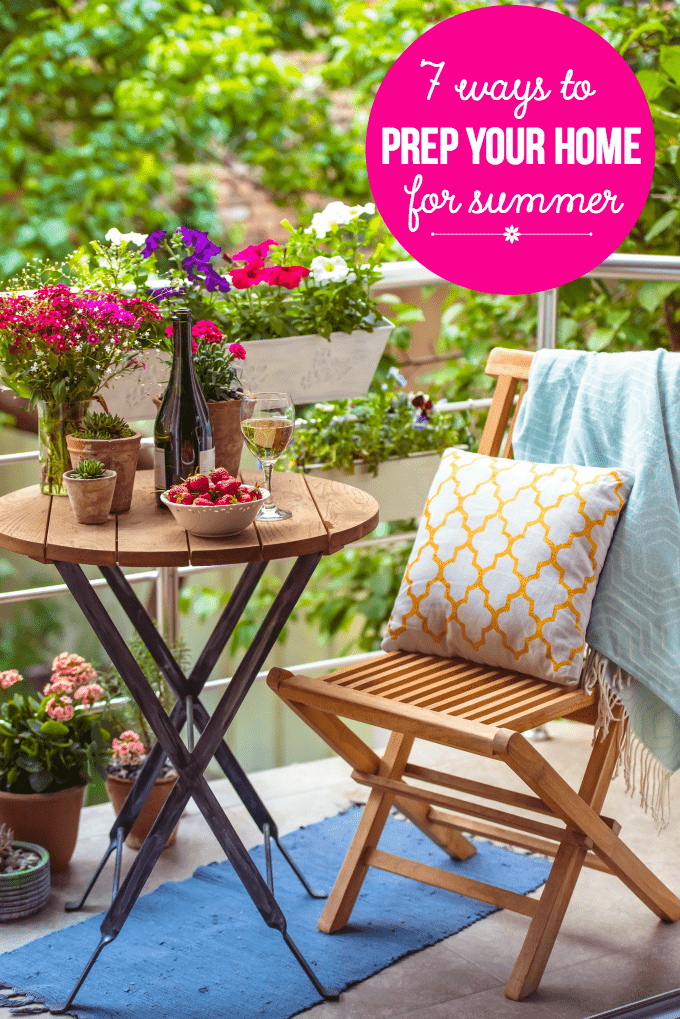 © summer home image via Shutterstock
1. Service your air conditioner. Now is the time to have your air conditioner serviced so it is running at its optimal performance. It will help it run more efficiently and can keep up with the extra use its bound to get in the summer heat!
2. Set ceiling fans to run counterclockwise. You want your ceiling fans to run counterclockwise so they push warm air upwards and cool air downwards. Chances are you had it running clockwise during the winter for the opposite effect so now is the time to reverse it or else be hot!
3. Clean out your dryer vents and hoses. The changing of seasons is the perfect time to clean out the dryer vents and hoses to lower the risk of fire. It will also helps the dryer run more efficiently which will come in handy when washing towels and bathing suits.
4. Invest in sun blocking curtains. Pulling your curtains closed at night and through the morning can keep the hot sun out and as a result, your air conditioner running less. Keep sun blocking curtains in rooms you don't frequent often to keep them cooler and prevent sun bleaching on your furniture. While we are talking about windows, now is also the time to check caulk jobs to make sure you don't have window leaks. You don't want that precious air conditioning slipping out and hot air slipping in.
5. Patch window and door screens. Now is the time to check your screen doors to make sure they are in good shape. You want them to be hole free so bugs can't slip through. Examine them for holes and tears and use a repair kit to mend and if the damage is too extreme go ahead and replace them so you can enjoy a bug free summer.
6. Stow away winter clutter to make room for summer items. Store your winter clothing, sleds, shovels, snow brushes, boots, and other items you won't be using. This will free up room for rain boots, summer clothing, yard games, bubbles, balls, roller skates and other summer toys and activities.
7. Stain exposed wood. If you have exposed deck or patio wood or exposed wooden lawn furniture, now is the time to give it a coat of stain or sealant. It helps protect the wood from the bright summer sun and heavy summer storms so it can look its best and last you for years to come.
Get started today on these tasks so you can enjoy the summer months and all the fun it has to offer! Do you have any other tips to add to this list?