My old neighbour in Petawawa first introduced me to lentils many moons ago. I was at her house while she was making supper and she offered me a bowl of lentil rice when she discovered I'd never tried lentils before. I loved the recipe so much I asked her to write it down for me. I still have that handwritten recipe tucked away in one of my cookbooks.
Since then, I've made her recipe for lentil rice many times and experimented with a few new lentil recipes. I even like eating lentils on their own. I'll open up a can of lentils and heat them on the stove and serve them with a little salt and pepper. They are healthy and yummy!
This recipe for Warm Lentil Salad is fragrant with spices and has fresh veggies. I find lentils filling so this to me is a meal all on its own. You could also pair it with some chicken or lamb.
To save time use some canned lentils heated up on the stove. No one will ever know. I had a bag of dried lentils I'm trying to use up so that's why I have the extra step to cook them.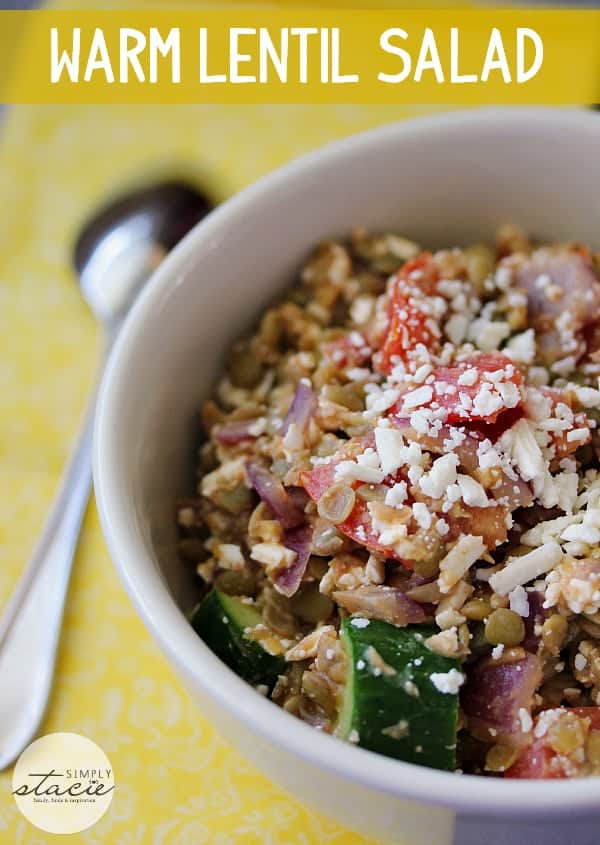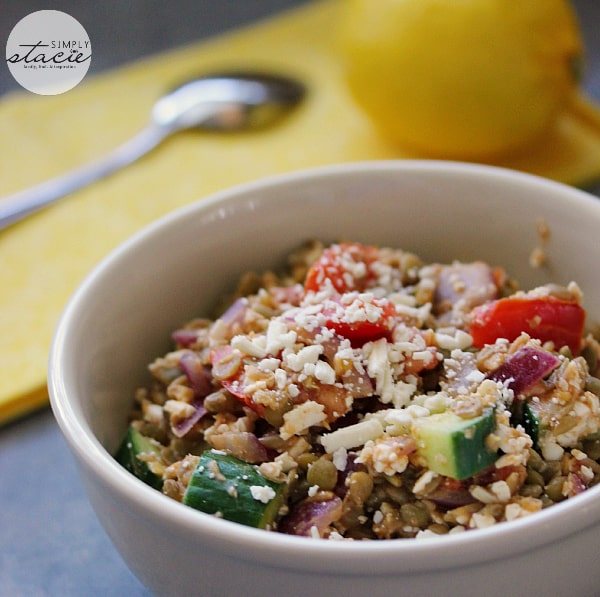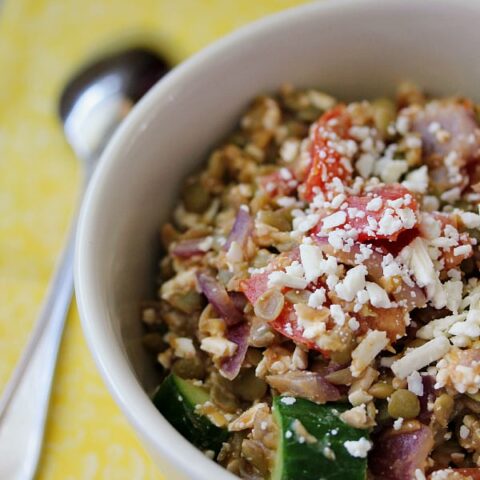 Warm Lentil Salad
Make this easy lentil recipe a main dish, or serve it as a side. Top it all off with tomatoes, cumin, ginger, cucumbers, and, of course, feta cheese!
Ingredients
1 cup green lentils, uncooked
1 tbsp olive oil
1 red onion, chopped
1/2 English cucumber, chopped
3 cloves garlic, minced
2 tomatoes, chopped
1 tsp cumin
1 tsp ginger
1/2 tsp paprika
juice of one lemon
1/2 cup feta cheese, crumbled
pinch of cayenne
salt and pepper, to taste
Instructions
Place lentils in a pot on the stove and cover with about 2 inches of water. Bring to a boil and then reduce heat to simmer. Cook on low for about 25 to 30 minutes. Drain.
Heat olive oil in a pan on the stove over medium heat. Add in onions and stir occasionally for about 5 minutes. Then add in garlic, tomatoes, cucumber, cumin, ginger, paprika, cayenne and stir and continue to cook for about 3 minutes.
Add in the cooked lentils and stir for a minute. Finish with the lemon juice, salt and pepper.
Remove from heat and put into a large bowl. Stir in Feta cheese and serve warm.
Recommended Products
As an Amazon Associate and member of other affiliate programs, I earn from qualifying purchases.
Nutrition Information:
Yield:

4
Serving Size:

1
Amount Per Serving:
Calories:

283
Total Fat:

8g
Saturated Fat:

3g
Trans Fat:

0g
Unsaturated Fat:

4g
Cholesterol:

17mg
Sodium:

255mg
Carbohydrates:

39g
Fiber:

7g
Sugar:

5g
Protein:

16g