Disclosure: I was not financially compensated for this post. I received a sample of the product for review purposes. The opinions are my own, based on my personal experience with the product.
I am so happy that both of my boys love books. They love to have books read to them, and my oldest is on the verge of learning to read for himself which makes all of us happy! We have a great variety of books in our home, ranging from picture/first word books to chapter books hundreds of pages long. I'm always on the lookout for new sources for great books, and I've found one in Usborne Books.
I had the pleasure to work with a great educational consultant at Usborne Books – Cara Crisostomo. She introduced to me to this wonderful company and sent a great assortment of books for my boys and I to review. Usborne offers a variety of books for every age – from board books and books that make noise for the younger crew, to early reading books and series collections for the older kids. They also offer a great variety of activity and sticker books, as well as "homework helper" books. Cara asked me what books I thought my boys would like, but with so many great options in their catalog, I couldn't choose! I asked her to surprise us with what she thought would be a great selection for both my 5 and 3-year-old boys. What she sent over was absolutely fantastic – a great set of books that both of my boys just love. They included:
* How Big Is A Million? – ($10.99) This book follows Pipkin the penguin on his quest to find out just how big one million is. On his quest he meets new friends and learns about big numbers, but it's not until he gets home that his mom is able to show him what a million is – as she takes him outside to look at the stars in the sky. This book comes with a huge fold-out poster of a starry sky and it really drives home the million concept for young minds. Both of my boys enjoyed having this book read to them.
* Look Inside Sports – ($6.00 on Customer Special) My little guy loves "lift the flap" books, so this was a favorite for him – this book has over 100 flaps! What I like about this book is that the flaps uncover before-and-after shots, comparison shots, and really offer more than any other life-the-flap book I've ever seen. This is a great book to introduce your kids to a variety of sports.
* Muddle and Match: Adventure – ($8.99) I remember having these types of books as a kid, and I always loved them. My big guy loves these types of books too, so he's already claimed this one as his own! He loves turning the pages and creating new stories each time he does. He cracks himself up with the combinations he creates – this book really makes reading fun.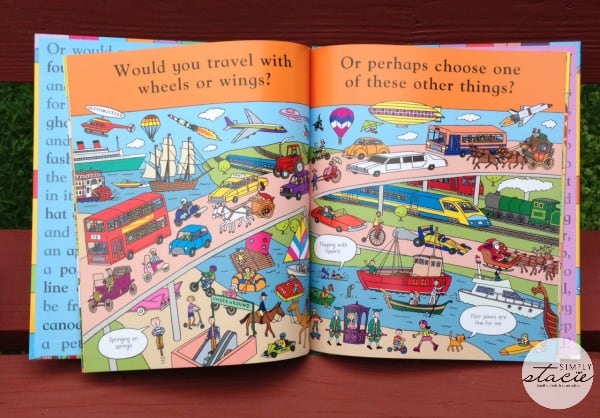 * Night Animals – ($4.99) This book is a great introduction to night animals, how they live, what they eat, and unique facts about each. Did you know that wolves can recognize each others voices? I didn't! Short and sweet, this book is a neat little reference guide.
* Wipe-Clean 123 Book – ($7.99) I like this book for both of my boys. It helps both of them with their fine motor skills as they trace the numbers and pictures, and it really helps drive home the concept of numbers to my little guy. It's a fun, colorful book that's perfect for preschoolers.
* You Choose – ($12.99) Hands down, the absolute favorite book for both of my boys. This book is fantastic – it really sparks the imagination and it's never the same book twice. In this book, kids get to choose the house they want to live in, the clothes they want to wear, the pets they want to own – all from colorful pages filled with fantastic illustrations. My boys both sit together and get a kick out of choosing the different options they see, and they get excited each time they discover something they hadn't noticed before.
Usborne Books offers some of the most exciting, engaging, and educational books on the market today. They are high quality, innovative, lavishly-illustrated and best of all they are the books kids love to read. You can choose from almost 2000 bright colorful and fun titles covering a wide variety of subjects and for all ages. Also, all Usborne books bought from a consultant (like Cara!) have a lifetime 50% replacement guarantee: if a book is damaged for any reason, you can get a replacement (brand new book) for 50% off the retail price by contacting the consultant.
You can search their site by category to build a wonderful library of books for your family!