Are you shopping for someone who loves to travel? I have a few friends that are world travellers so I created this travel gift guide featuring the best travel gifts with them in mind.
I used to travel more often when I was younger, but now I'm focusing more on renovating my home. Once that is done, I hope to get back to seeing the world. I miss it. There is so much out there to explore and do.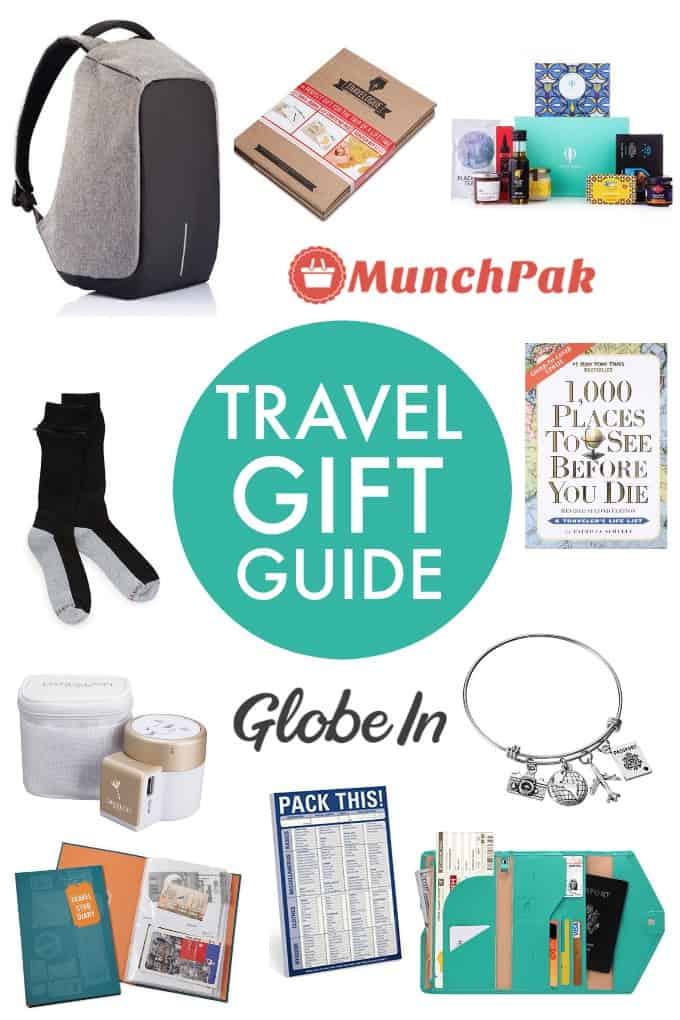 Travel Gifts
This post contains affiliate links.
1. Scratch Travel Journal. Plan your next vacation and keep track of the experience in this journal. You can scratch off places you've been on the interactive map.
2. Travel Stub Diary. Instead of throwing your ticket stubs and brochures in a shoe box, place them instead in this diary! It's for all your travel memorabilia.
3. Cork Globe. Add a push pin to all the destinations you've been to or want to visit.
4. Anti-theft Backpack. Stay safe from pickpockets with this security backpack. It has loads of storage.
5. Passport Security Pocket Socks. Conceal your passport or money in your socks! It's better than sticking them in your bra.
6. TravelTheWorld Box. Get travel gear, postcards and concierge booking service with this themed subscription box.
7. MunchPak. Get a box of snacks from around the world delivered monthly right to your doorstep.
8. GlobeIn. Receive a monthly themed box of handmade artisan goods from around the globe. I've personally been receiving this box for a few years and love it.
9. Travel Passport Wallet. Stay organized and keep all your travel essentials close by. You can choose your favourite colour.
10. Knock Knock Pack This Pad. Never forget an essential again! This checklist is a lifesaver for packing for a trip.
11. International Power Adapter. It covers more than 150 countries from around the world. Charge three devices at one time.
12. Travel Bangle. Show off your love of travel with this pretty stainless steel bangle bracelet with travel charms.
13. 1000 Places to See Before You Die. Make your travel bucket list with this bestselling travel book.
14. Try the World Box. Every month they feature a new country and send you gourmet food items that are popular in that country. Taste the world!
Which travel gift is your favourite?
For more gift guides, check out my Gifts for Coffee Lovers, Gifts for People Who Love the Instant Pot and Essential Oil Gifts. I also have a travel section on my blog that you can explore, too! You might also enjoy this Summer Bucket List.