Let's face it, after a birthday or two, or the holiday season hits, your home can be swarming with toys. No matter how big or small your house or apartment is, you can find these toy storage solutions below to help restore your sanity. Your home doesn't have to be covered in toys all day every day! Use these toy storage solutions to simplify and create a place for your children's toys.
If you are tired of tripping over those wooden blocks and stepping on LEGO's, let me help you find ways to store all your children's toys so that you can take your home back. While your kids are only little for a short while, you all can be content and happy with the right storage solutions! Get your home organized in no time.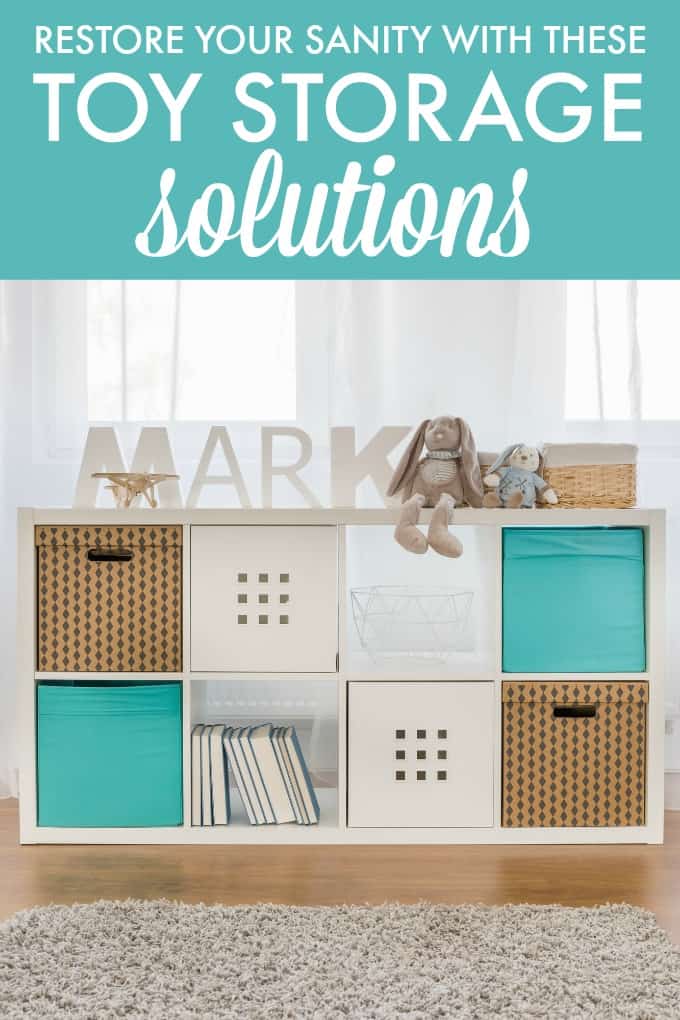 Creative Toy Storage Solutions
Rotation
First and foremost, consider putting toys on rotation. Kids can get bored easy, so ponder the idea of a toy rotation system. I take totes and pack up a handful of toys and then toss them in a closet or garage. Then after say three months, or so, I swap the toys out again, so they are always rotating. The rotation of toys firstly frees up space, and then secondly gives your child new toys to peak their interest. It is a win-win for you and your kiddos.
Storage Labels
Create a system with labels, so your child/children know where their toys go as they put them up. I have found when I give toys a home; I know that space is designated for certain toys. When it comes time to pick up the toys, the kids can help put toys where they belong. If you have younger children who can't read, add labels that showcase an image. Blocks for where wooden toys go, little cars, stuffed animals. Giving an image is a great stepping stone for them to realize that type of toy goes here, and they can quickly help with picking up toys.
Wall Space
One thing that gets overlooked often is wall space. Wall space is a great way to free up some floor space and offer an element of design. Whether you buy floating shelves, hanging bookshelves, or even metal racks to hang, it is a place to put items. Utilizing wall space will help open up the floor space making it look less cluttered.
Declutter Every 3 Months
Take time to head into the playroom and go through toys. Donate or give away toys that are no longer fitting into your child's age range. You will find a lot of toddler toys might need to be changed out often, as your child is learning and developing at a rapid pace. Decluttering is a great way to free up space, and get rid of the toys that might be broken or no longer fit your little one's age range. If you do this on a regular basis, it will make it less of a chore when the time comes.
Storage Containers
From canvas totes that are highly affordable to woven baskets and wooden bins, you can find something to fit your style and budget. Look for colorful and fun storage containers to use to hide your child's toys but also add design and color to their room. I have even used a coffee table with a hidden storage container inside to store toys that my child doesn't use very often. Guests come over and have no idea, underneath are hidden toys.
Just get creative and work within your budget to find ways to tuck those toys and straighten them up so you can breath easier when you step into a clutter-free room. Find storage containers to fit under the beds, and use spaces you might not realize you could use otherwise. Give your home a good look and see what areas you could add a storage piece or two, to store those toys scattered on the floor.
I hope these kid storage solutions can help you think outside of the box when it comes to your child's toys. With a little time and work you can get your home back in order and free of the toy clutter lingering.
You might also like these Smart Top of the Fridge Storage Ideas or How to Improve Your Kitchen Storage.
Kelsey is the owner of BakeMeSomeSugar.com, where she spends time in the kitchen cooking and baking away. She also enjoys decluttering her home, spending time outdoors, and being with her family.