John and I have been planning a date night for a couple months now. The sad thing is that it hasn't happened yet. The desire is there, but the actual planning portion isn't. It usually happens something like this. We'll set a tentative date to go out to dinner and a movie. Then something will come up, work or personal, and the date night is pushed aside and eventually cancelled. We've built the cost into our budget so we have the money to go. Our issue is with scheduling. Sadly, we aren't very good at it. We both need to make date night a priority and commit fully to going!
Valentine's day is coming up this weekend and I'm determined that we will spend time together. It's the day of love and there isn't anyone else I'd rather spend it with!
My friends at RateSupermarket.ca conducted a Date Night Downturn survey where they asked Canadians about their thoughts and experiences with date night with particular attention to its affordability. Let's face it – date night is expensive. You can easily spend over a $100 in a matter of hours! Costs seem to be rising everywhere these days (have you seen the price of cauliflower lately!?) so it doesn't surprise me that Canadians find it difficult to afford regular date nights. This post about the Cost of Love in Canada may shock you! Love isn't cheap.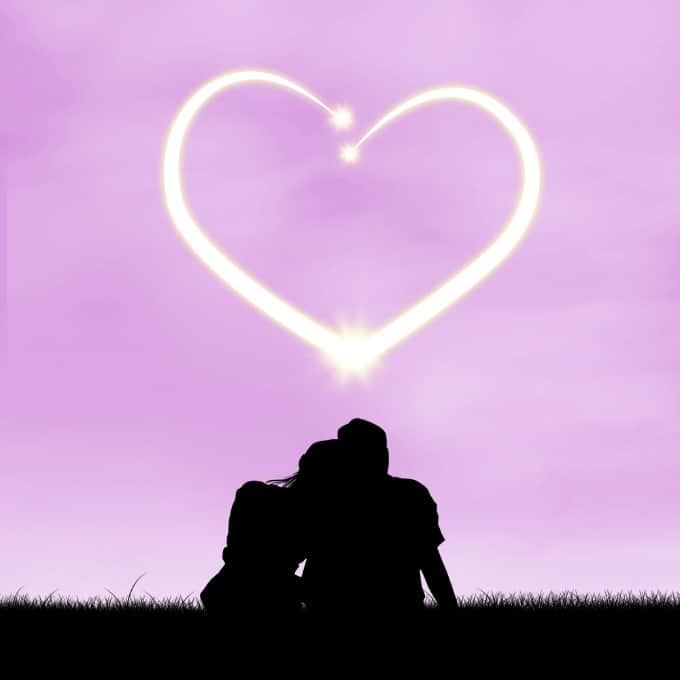 ©Heart shaped stars image via Shutterstock
The survey found that Canadian moms and dads are half as likely to go on a date night compared to non-parents. 68% of Canadian parents say they go on fewer than one date per month with their partner. The top reason given for the lack of date nights is the affordability and the costs of raising a family.
As for the non-parents, 31.7% went on fewer than one date a month and said that miscellaneous bills posed the greatest financial challenge.
Here's the lowdown on the top reasons Canadians can't afford date night:
Costs associated with having a family (18.3%)
Not earning enough for extras like date night (11.62%)
Saving for a big ticket item like a car, wedding, new home, etc (11.4%)
Other bills do not leave enough disposable income (27.6%)
Rent or mortgage payments (17.6%)
I feel a little better knowing that it's not just me. Many of us are having date night issues!
The survey also found that 50.83% of Canadians spend between $50 to $100 per date night night. However, 25% of Canadian couples have a more frugal date night and spend between $10 to $50. It shows that you can still spend quality time together without breaking the bank.
©Date night image via Shutterstock
With the rising costs of food and entertainment, we need to be a little savvier in our financial planning to keep date night a priority. RateSupermarket.ca has some tips to help you afford date night. I'll be adding in a few of my own tips, too!
1. Build it into your budget. Just like you include a line in your budget for bills, housing and groceries, add in line for date night! It doesn't need to be much. Even if it's a small amount for a date at the local coffee shop or the movies on cheap night, any little bit makes a difference. I include a small amount in our budget for date nights and we have enough now that we need to go out and spend it.
2. Use your rewards. If you have a credit card that earns you cash back on dining, entertainment or groceries, use it on date night to earn some of that money back on your budget. I collect rewards with my credit card and save them up till I have enough to redeem for a $50 gift card. Hello date night dinner!
3. Take a spendthrift staycation. Sounds like my kinda vacation! I like staying close to home. RateSupermarket.ca found that 36.5% of parents reported that they take a romantic vacation fewer than once per year. Stay local and see the sights in your area with your sweetheart. When the weather is nicer, you can hit the beach or plan a picnic.
4. Try a savings challenge. If your budget will allow, try one of my savings challenges to save up for a date night extraordinaire! Even $10 a week adds up to a nice chunk of change.
5. Take advantage of Groupon offers. Subscribe to the Groupon newsletter in your local area and be the first to know about the deep discounts. They'll often have special offers for restaurants and other fun activities that would be perfect for date night.
6. Have a date night in. A date night in is better than no date night at all. Order in some takeout and spend a relaxing evening with your partner watching some Netflix. I recommend The Fall!
7. Coordinate with another couple. Chances are, friends of yours are struggling with date night too. Team up with another couple to swap babysitting services. While you go on your date night, they can watch your kids and vice versa. It makes a big dent in one of the hefty date night costs!
I'd love to hear your thoughts about date night! Do you find it a challenge?
Check out my other posts 8 Reasons Why Financial Literacy Matters, Home Ownership and the Terrible Money Twos and Introduction to RRSPs.
Disclosure: I was compensated for this post. All opinions expressed are my own.