Your child's closet may become a monster in itself if it's not properly taken care of. We've all seen the TV shows where the closet door is opened and a mountain of toys, books, and sports equipment comes flying out. Fortunately, there are ways to easily organize your child's closet so that no injuries occur when the door is opened!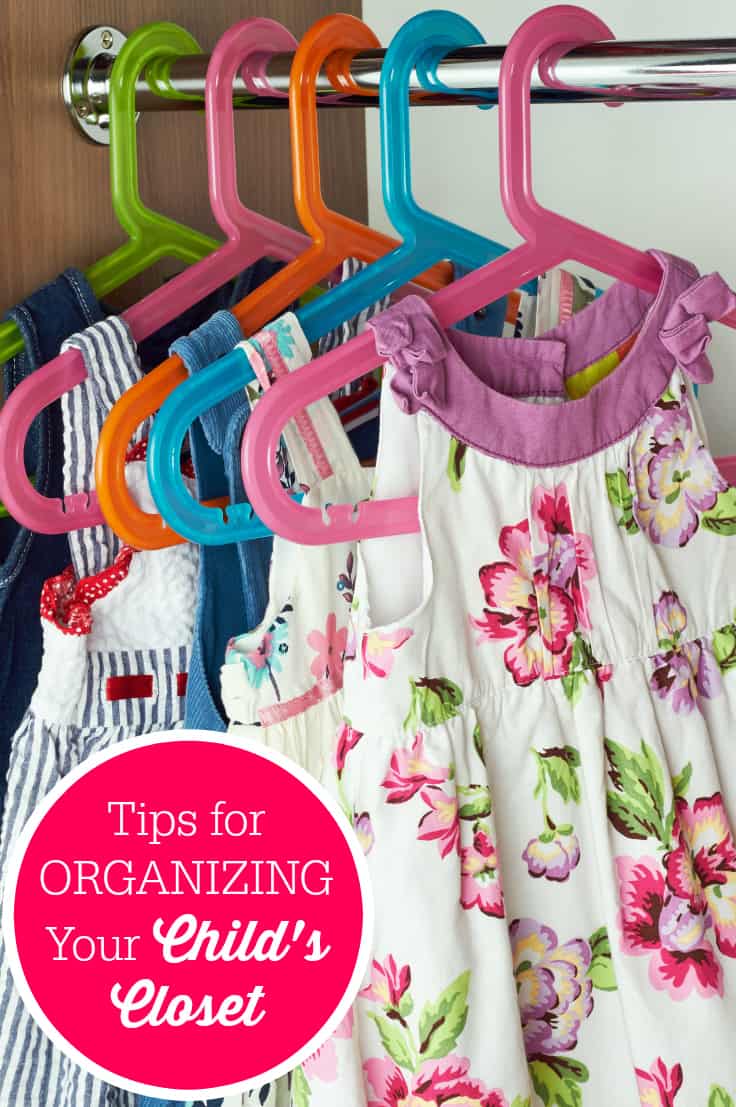 Organizing Your Child's Closet
This post contains affiliate links.
Clothes
Begin by organizing the clothing in your child's closet.
1. Go through all the hanging clothes, taking out anything that's too small, stained, or not being worn.
2. Remove off-season clothing and store in a storage bin for the following season – IF you child will still fit into it by then. Anything that's too small, but still in good shape, can be saved for younger kids by placing the clothes in a labeled tote.
3. Sort the remaining clothing so garments can easily be located. You may want to sort them by clothing type – shorts, dresses, pants, jeans, etc., if your children are old enough to match up clothing on their own. It may be easier to hang outfits together so they can easily find that they need to get dressed each morning.
4. Only hang clothes that will stay on the hanger. Open neck tops or shorts should be folded. Chances are, these articles will slip off the hanger and clutter the closet floor.
Shoes
1. Designate an area of the closet floor for shoes. Teach your child to line up their shoes, and place the pair they wear inside the closet with the rest each evening.
2. If there are too many shoes in the closet or not enough floor space, try a small tote to toss them in.
3. Alternatively, hang a shoe rack on the inside of the closet door for your children to organize their shoes and allow them to be easily found.
Keepsakes and Mementos
1. Cardboard boxes with labels are perfect for holding small items in the closet. These sit conveniently on the top shelf, out of the way until they are needed. Limit the number of boxes, however, to reduce clutter and save on space.
Maintenance
With the closet organized, you (or your child) must maintain it if you want it to stay organized!
1. Sort through clothing once a month, to remove newly stained/torn garments or things that are too small.
2. Inspect shoes monthly, removing anything that's too worn or small.
3. Check the closet weekly, removing items that don't belong to keep the clutter down.
How do you keep your child's closet organized?