Disclosure: I was not financially compensated for this post. I received a sample of the product for review purposes. The opinions are my own, based on my personal experience with the product.
Thyme Maternity specializes in fashionable and affordable maternity clothes, nursing bras, maternity panties, accessories and skincare.
I had three back to back pregnancies in three years and it really took a toll on my skin and body. Thyme Maternity has developed a skin care line that targets the special needs of mom's to be and post-natal women called the "Soothing Therapy" collection.
This wonderful skin care line includes Uplift Breast Cream, Protect Stretch Mark Cream, Energize Leg Gel and Nipple Ointment. During my pregnancies, I noticed a big difference in the appearance of my skin and in my confidence and comfort level when using specialty creams developed specifically for pregnant or nursing women.
The Uplift Breast Cream ($15) is designed to tone, regenerate and protect the delicate skin in the chest and bust area. It has moisturizing Shea butter, Passionfruit oil and healing Argan kernel oil know for regeneration. This product is safe for use by pregnant and nursing mothers. I love that it is very moisturizing and soothing and use it every day after my shower. Even though I am no longer nursing, I find this to be a great product for women who want to target the bust area so that the skin stays healthy and looking it's best.
My favorite skin care product from the Thyme Maternity Soothing Therapy skin care collection is the Energize Leg Gel ($9). This gel is so soothing and invigorating. I apply it to my legs every morning and love the immediately refreshing sensation from the Grape and Ivy extract. It has a cooling effect that is so wonderful especially after exercising too. I have circulation problems and found it interesting that this product was created to help stimulate circulation. This would be especially helpful for many moms to be who experience painful swollen legs and ankles!
Many expectant moms develop stretch marks so I highly recommend using a good skin cream such as Protect Stretch Mark Cream ($15). Developed to improve elasticity, soothe and moisturize the skin this rich cream features Seaweed extract, Passionfruit oil, Vitamin E and St. John's Wort. It feels so luxurious when applied to my stomach area and it absorbs almost instantly into the skin.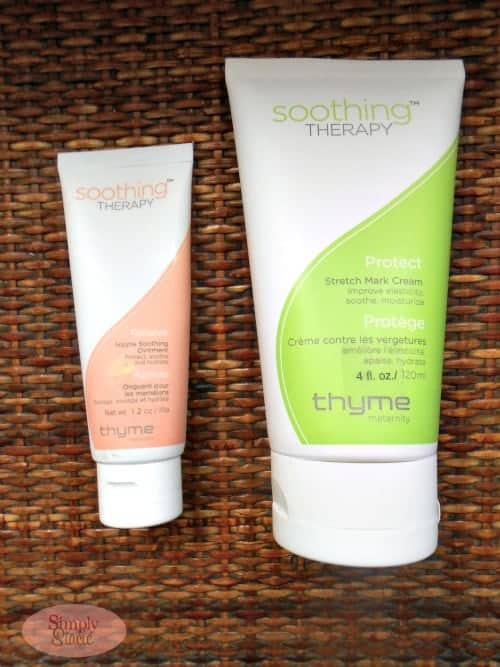 When I was pregnant and nursing, I could not stand the pain of my irritated nipples which were so sore. I wish I had discovered the soothing, healing Nipple Oil ($9) from Thyme Maternity which can help relieve the pain by healing this sensitive area.
For post-partum, don't forget to stock up on the Restructuring Gel ($15) which would have been great for my c-section scarring and on my abdomen. Developed with healing Aloe Vera, citrus essential oils and extract that help with cell rejuvenation this is one product that I would have used every single day while recovering.
There are Thyme Maternity stores throughout the US and Canada and you will find a wide selection of fashion forward, comfortable maternity clothes, loungewear, lingerie, nursing fashions, nursing bras, skin care and so much more. You are invited to visit Thyme Maternity to find a store location near you or shop for your favorite maternity and nursing clothing and accessories online.
Connect with Thyme Maternity USA on Facebook
Connect with Thyme Maternity Canada on Facebook