Backyard family BBQs are one of my favourite things about summer. I love to entertain friends and family with lots of good food and lively conversation. The weather is finally nice (no more snow!) and I'm in the mood to hang out with the people I love the most. I've always enjoyed outdoor entertaining and I can't wait to plan our first party of the season.
Planning the perfect backyard BBQ isn't that difficult. I think they are one of the easiest types of parties to throw. You don't have to worry about your home being immaculate (besides the bathroom) so it's less work to put together on your end. I have some simple tips to help you throw the perfect backyard BBQ and make it an unforgettable day or evening.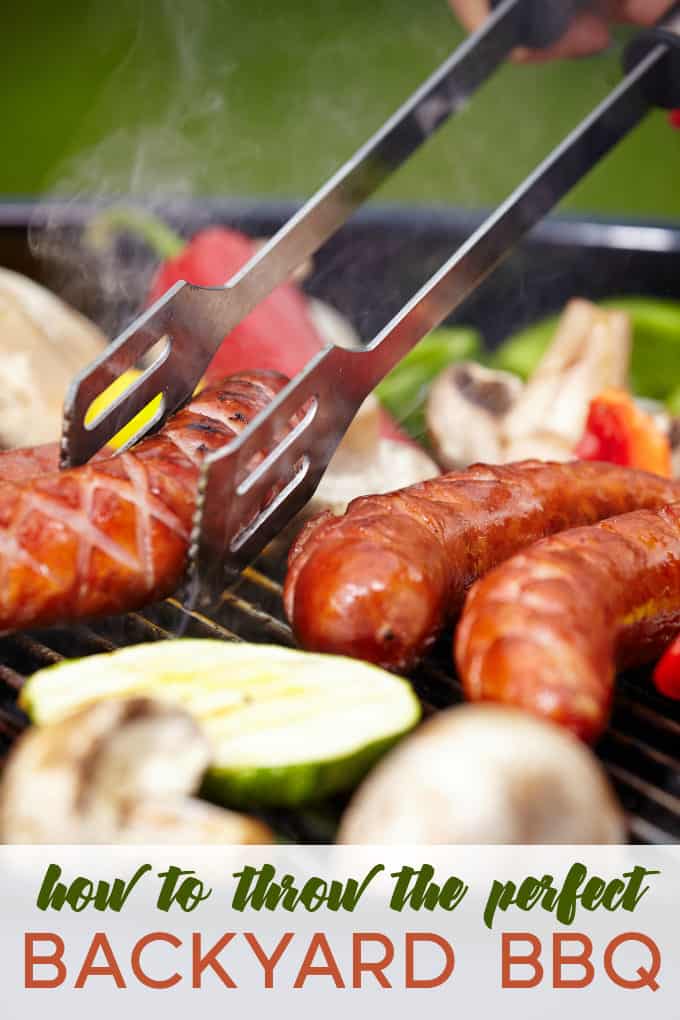 1. Make sure your BBQ is clean and working properly. There is nothing worse than to have all your food ready to go and find out your BBQ, the star of the show, is out of commission. Now is a great time to upgrade to a new BBQ if your old one has seen better days. I'm loving this Napoleon Prestige 29,000 BTU Fullsize Natural Gas BBQ from Best Buy Canada. It has a porcelainized WAVE reversible cooking channel grids and is big enough to grill 20 burgers at the same time. It has 308 square inches of cooking surface so you can host a large party that will allow everyone to eat at the same time.
If you prefer a propane grill, I recommend the Napoleon Freestyle 14,000 BTU Portable Propane BBQ. You can bring it anywhere which is great for camping. It also has an ample cooking surface with 215 square inches – enough to grill up to 15 four-inch burgers.
2. Ensure your guests have somewhere comfortable to sit outside. I like to call these areas conversation spots where people can sit and chat together. Outdoor furniture is perfect for this purpose and Best Buy Canada has loads of selection for you to choose from like this Tropea 6-Piece Patio Conversation Set and Tropea 7-Piece Conversation Set. They are comfy, cozy and will look fabulous on your deck or patio.
3. Clean off your dining set so guests have somewhere to eat. A dining set is a must at your backyard BBQ. Your guests need to have somewhere to eat! If you are looking to freshen up your patio or deck, check out this Elba 7-Piece Wicker Patio Dining Set or Tropea 7-Piece Patio Dining Set. Both are perfect for outdoor entertaining in comfort and style.
4. Offer a shady spot especially if your party is hosted during the day. Your guests will want to have an area to get out of the direct sunlight, but still be outside to enjoy the nice weather. Pick up a Tropea 9 ft. Collapsible Cantilever Umbrella to add some shade to your outdoor oasis. It has an olefin canopy with UV inhibitors and also a water-resistant coating.
5. Serve a delicious menu with all the fixins'. I typically stick to simple fare like burgers or hot dogs, pasta or potato salad and grilled veggies. Prep as much as you can the night before and store it in the fridge so it's ready to go the next day when your guests arrive.
6. Set out a drinks station. Put out a cooler filled with ice cold drinks that you guests can grab throughout the party. Make sure to keep an eye on it though since you will probably have to refill it a few times before the party is over.
7. Don't forget the finishing touches to add ambiance to your oasis. Think music, patio lights, plants or flowers for extra decor, place mats & cutlery and citronella candles to keep the bugs at bay. These little extras make a big difference!
8. Set out some fun backyard games for guests to play. We love karaoke and horseshoes! Some other ideas include trivia games, badminton and lawn darts.
9. Buy some paper plates to send guests home with the leftovers. I never let my guests leave my house empty handed! It's also a great way to ensure you don't end up with a fridge full of extra food that will go to waste.
For more outdoor entertaining products, make sure you check out the other products featured in the Best Buy Outdoor sale currently running until June 2, 2017. Now is the perfect time to get your outdoor space ready for entertaining and then you can relax and enjoy all that summer has to offer.
Do you have any other tips to add?
You might also like these free party planning printables.
Connect with Best Buy Canada on Facebook and Twitter.
Disclosure: I was compensated for this post. All opinions are my own.