My children and I love reading Christmas themed books together during the holiday season and so we were very excited to settle in with The Sparkle Box by author, Jill Hardie. What I didn't expect is that this particular book would have such a wonderful impact that it left us with tears in our eyes because the story has such a beautiful message.
The main character, a young boy named Sam is so excited about Christmas and he can't wait to open up the mysterious sparkling silver box on his mantel to see what gift is inside it. Leading up to the big opening of the Sparkle Box on Christmas, Sam finds out about the true meaning of giving and receiving to those in need with the help of his loving mom. The story has a powerful meaning and the illustrations by Christine Kornacki are beautiful.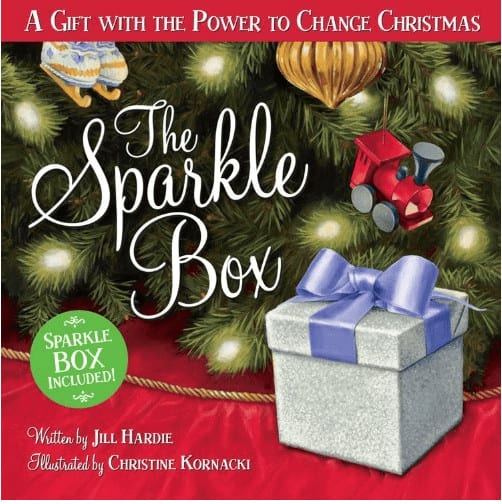 The Sparkle Box book also includes your very own Sparkle Box so that your family can start a family tradition and give a personalized gift to Jesus on Christmas morning. My children are excited to fill their Sparkle Box with good deeds and acts of charity as their gift to Jesus and I love that this book opens up a discussion about why we celebrate Christmas in our family. A long time ago, I was taught by my mom and grandparents that it is "better to give than receive" and love that this book helps me teach that to my own children.
This book would be such a wonderful gift idea and is a "must-read" this holiday season! I promise….it will warm your heart and just might start your own family tradition.
Available from Ideals books, you are invited to visit The Sparkle Box website to purchase your copy of this amazing children's story book for only $19.99 (hardcover edition SRP).
Disclosure: I was not financially compensated for this post. I received a sample of the product for review purposes. The opinions are my own, based on my personal experience with the product.