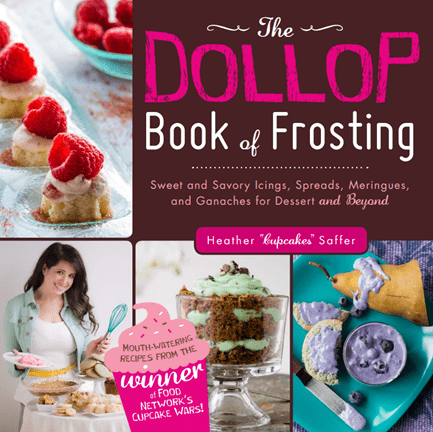 *I received a copy of this book for review, but was not compensated financially in any way. The opinions expressed are my own and are based solely on my experiences while reading this book.*
Title: The Dollop Book of Frosting: Sweet and Savory Icings, Spreads, Meringues, and Ganaches for Dessert and Beyond
Author: Heather "Cupcakes" Saffer
About the Book:
After her appearance on Food Network's Cupcake Wars, thousands traveled far and wide for a bite of Heather "Cupcakes" Saffer's delicious desserts, but it wasn't just the warm cake they were clamoring for–they couldn't get enough of the gourmet frostings that adorned the irresistible treats. In this book, she shares her most decadent frosting recipes, a variety of creative uses for the icings, and the memories that inspired her to concoct such extraordinary flavor combinations.
From Orange Cardamom and Strawberry Merengue to Cinnamon Whisky Buttercream and Maple Bacon, each mouthwatering spread features step-by-step instructions and tempting ideas for using the yummy creation in snacks, entrees, and cocktails. You will surprise guests with indulgent goodies swirled with rich and creamy frostings like:
Strawberry-frosted limoncello "shortcakes"
Malbec ganache tossed chocolate raspberry pasta
Coffee toffee ganache frosting truffles
S'more push-pop parfaits
Cheddar beer-boiled pretzels dipped in a cheddar bacon frosting
Complete with hundreds of mouthwatering four-color photographs, The Dollop Book of Frosting shows you how to turn this ordinary cupcake topping into a show-stopping treat!
My Review:
When I first saw Heather "Cupcakes" Saffer's new book, The Dollop Book of Frosting, I thought to myself that I need this book! I enjoy baking and finding exciting and easy recipes to try. I thought at first it would be just a book on frosting for cupcakes, but it's actually so much more. Sure, it has cupcake and frosting recipes, but there's also other desserts like cookies, cakes, parfaits, truffles, etc. There's 45 frosting recipes in total and many I'd never knew even existed!
In Tricks of the Trade, the author shares tips she's learned through years of practice and research. You'll learn about the important tools you should have on hand before you start a recipe. She recommends buying a few rolls of parchment paper and notes that parchment paper and wax paper are NOT the same! The author also discusses common ingredients for frosting. One thing I learned was that I should be using unsalted butter for my frosting recipes. Oops! I was using just regular butter before. She also shares a tip on how to get your butter to the perfect softened consistency. I found this chapter very insightful and helpful.
The next chapters are the meat of the book or shall I say "sweet" of the book. Part 1 on Classics where you can find recipes you would expect to find in a book of frosting like Vanilla Buttercream, Chocolate Buttercream, Cream Cheese Frosting, Salted Caramel Frosting and more. I also like she provides recipes for the cupcakes and other decadent desserts that you make when you use the frosting.
Part 2 is titled "With a Twist" and here the author gets creative! For instance there's a recipe for Sweet Potato Fries and Blueberry Ketchup Cupcakes. That one intrigued me the most! I did end up trying a recipe from this chapter…a popcorn recipe! I made Frosted Popcorn with Toffee Honey Frosting. Think homemade Crunch n' Munch. It was sweet and soooo yummy! It's also very addictive. I could eat a whole bowl of it if I didn't watch myself! It uses microwave popcorn and the frosting is made on the stove top in about 5 to 7 minutes. For a fall recipe, there's Pumpkin Spice Cream Cheese Frosting that you use with her recipe for Pumpkin Spice Pizzas. See I told you these recipes were inventive!
In Part 3: Be Crazy- Live a Frosted Life are more interesting and fun frosting combinations you would never think to try. There's a recipe for Lavendar Orange Frosting, Orange Cardamon Icing and Clove Buttercream (to name a few). The most intriguing one I thought was the Strawberry Spinach Cheesecakes. I would have never thought to add spinach to a cheesecake. The picture in the book made me want to make it though. Another one I liked was the Vanilla Buttermilk Waffles with Maple Bacon Frosting. I know that bacon and maple is a perfect marriage of salty and sweet. Bacon goes with everything!
The Dollop Book of Frosting is a perfect fit for anyone who enjoys baking!