Some of us have them, some of us want them!
Ah, Thanksgiving! It's a great holiday to spend with close friends and family. If you grew up in North American, chances are you have a few Thanksgiving traditions that you follow every year. There is some debate on what exactly a quintessential traditional Thanksgiving is, but here are some ideas for you to consider as you ramp up for this year's festivities!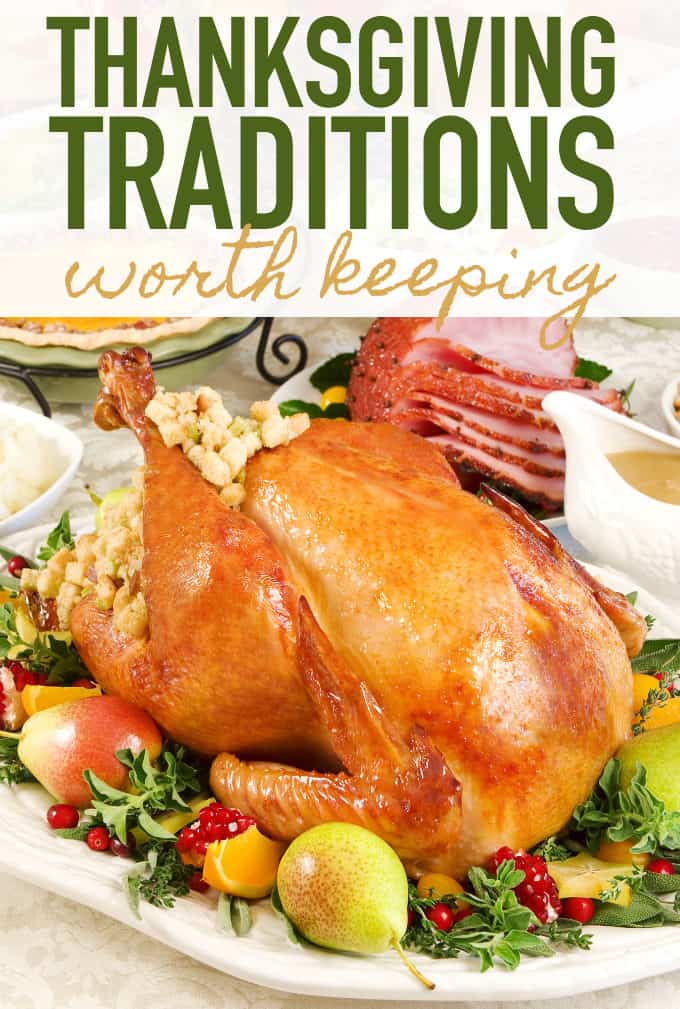 The main event — food!
In a word: turkey. Yes, the 'must have' meat for the main event is the gangly, odd looking bird that is chock full of goodness when placed in the oven at some crazy early hour, but smelling oh so good throughout the day.
How big a bird will you need? A good rule of thumb is one pound of turkey per guest. If you want leftovers (and trust me, you WANT leftovers!), count on a pound and a half. Depending on the number of people you are expecting for dinner, that could be one big bird, so you might want to consider two smaller ones, or adding a turkey breast to cook separately, for all the extra meat.
Stuffing in or out?
There are several schools of thought on whether stuffing should be cooked inside the bird or not. Traditionalists say in but a lot of people are coming around to the idea of cooking the stuffing outside the bird, to make sure it's fully cooked and not going to give anyone salmonella poisoning!
Whichever way you go on this debate, here's a recipe that you will love!
Cranberry sauce in a can or not?
Not. Cranberry sauce is the easiest thing in the world to prepare and homemade is ALWAYS better. You can add a few twists, like orange zest or cloves, but the standard recipe is as follows:
1.5 cups of fresh cranberries

1 cup of orange juice

1 cup of sugar
Mix the sugar and juice in a medium saucepan, and let the sugar dissolve over medium heat.

Add the cranberries and let it all simmer until the cranberries pop open (about ten minutes).

Remove from heat and pour into a serving bowl. The sauce will thicken up as it cools!
What's in a side dish?
With the three main parts of a turkey dinner in the bag, the question of what you should serve as side dishes remains. There are SO many options, from the simplest braised brussels sprouts to sweet potato pie. Here is a short list that will give you some ideas:
Mashed potatoes or sweet potato mash (or a combo!)

Roasted baby potatoes with garlic or roasted sweet potatoes

Roasted carrots (and other root veggie, like squash!)

Maple carrots

Roasted brussel sprouts

Green bean casserole
What to do while the turkey is cooking?
Keep everyone busy while the dinner is cooking, and take part in what the holiday is REALLY about: being thankful!
Go for a walk — get ready for your turkey coma by going for a walk in the brisk air! Play a little soccer with the kids, a rousing game of hide and seek or just a leisurely stroll among the falling leaves.
Have the kids make nature centrepieces — they can collect leaves, acorns and a few sticks to make very cool natural centrepieces for the table. At that time of year, there is nothing more glorious than the various shades of leaves available!
Spend some time remembering those who are no longer with you — Thanksgiving is a time to give thanks for all the wonderful things you and your family have together, but it's also a good time to remember those who aren't with you anymore.
Talk to the screen — For family who couldn't make it to be around the table with you because of distance or time, why not hop onto Skype and toast the day with them, even virtually?
Get out the games — When the turkey coma takes over for some, after dinner, others may want to play a few hands of cards, or a rousing round of the latest board games. Have them handy and ready to go!
No family nearby?
No matter! You can still have Thanksgiving traditions that you love and you have the advantage of being able to go a little wild with them! Live it up and treat yourself! If you love to cook, you can still do turkey and trimmings for two! If you don't, why not go out to eat? All the big hotel chains have lovely turkey dinner options at Thanksgiving, or go off the rails and have a Chinese takeout feast!
The important part of Thanksgiving isn't always about HOW you celebrate: there are no hard and fast rules, after all! It's about spending time with people you love and enjoying their company! Do you have any traditions that you practice every year? Share them with us!
Check out my Thanksgiving Dinner Planner free printable.