I'm picky when it comes down to the cleaning products I use in my home. Cleaning is something I enjoy so I want to make sure I'm using products that work well for me and get the task done as efficiently as possible. There's a reason why I'm stocked up on Royale® Tiger Towel™. It's simple – they help me get the job done, big or small!
I tidy up every day. With two kids and three cats, I don't have a choice. My new kitten, Reggie, is a feisty little guy. He still hasn't learned that he shouldn't jump on the counter top or kitchen table. Good thing I have Royale® Tiger Towel™ close by to clean up after him!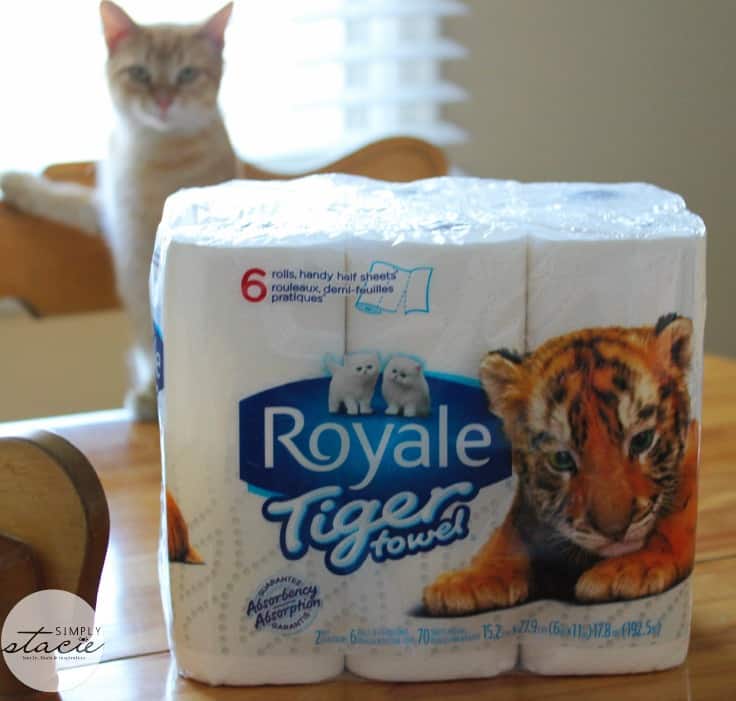 The kitchen is where I spend much of my time. I'm either cooking or baking, working at the kitchen table, or cleaning up after the kids or a meal. It's also the room in our home with the most challenging messes to clean! I feel like I'm always wiping up a spilled drink or kitty paw prints. My roll of Royale® Tiger Towel™ is always ready for action whenever I need it. I like using it because it is strong enough to clean up the big messes like spills in the fridge (ick!).
One thing I appreciate about Royale® Tiger Towel™ is their versatility. If you only have a small mess to clean, you don't need to waste a whole sheet. You can rip off a half sheet instead. This way your roll will last longer because you only use what you need.
Saturday is my big cleaning day and this past week, I tackled the kitchen buffet. It holds dishes and other serving platters and is a HUGE dust magnet. It needed a good cleaning! Armed with my Royale® Tiger Towel™ and cleaning spray, I was up for the challenge.
Let's just say I'm glad no one came over and ran their finger on any of these shelves. They would have found an inch of dust! I'm exaggerating, but it was still pretty bad! I ended up taking all the dishes out and wiping down each of the shelves with Royale® Tiger Towel™. They easily picked up the dirt and grime.
I like that these paper towels are durable and strong. It made cleaning a cinch and oddly relaxing. I know, I'm a bit strange that way about cleaning, but it's completely true. The process is enjoyable (with the right products) and the end result makes you feel like you've accomplished something good!
Royale® Tiger Towel™ has proven to me over and over that they can handle whatever mess I'm dealing with!
Right now, you can enter the Royale® Tiger Towel™ Spring Cleaning Promotion contest to win Royale® Tiger Towel™ for a year! Also, make sure you download the coupons to save on your next purchase of Royale® Tiger Towel™. If you haven't tried them yet, this is a great opportunity to test them out in your home. If you're like me and already regularly use them, stock up!
Tackle anything life throws your way with Royale® Tiger Towel™, the only paper towel that is tiger strong – you'll be amazed by how it stands up against your toughest messes.
Minor spills? That sounds like a job for a handy half-sheet, standard in all packs of Royale® Tiger Towel™ so you can use less.
Keep rolls handy throughout your home for fast and easy cleanups whenever they might happen. Learn more at Royale.ca
Disclosure: This post was brought to you by Royale® Tiger Towel™ via Mode Media Canada. The opinions expressed herein are those of the author and are not indicative of the opinions or positions of Irving Consumer Products Ltd.