Imagine this: you've just arrived at your hotel for a much anticipated summer vacation. You begin to unpack and realize you forgot something important. Maybe it's your toothbrush, lipstick or worse, your favourite pair of comfy sandals. You start to panic and can't believe you didn't bring that essential item. It's not the most ideal start of a vacation, right?
The good news is that with careful planning, you can prevent this travel mishap from happening. Save yourself some stress on what's supposed to be a relaxing time and PLAN AHEAD.
It all starts at home when you are beginning to pack for your trip. For me, making a list is a must. I learned the hard way after forgetting to pack my pajamas on a trip a few years back.
To help get you (and me) organized for upcoming vacations, I've created a handy Summer Vacation Packing List for Her. It's a free printable you can download to your computer and print out at home. It lists all the essentials from clothing and footwear to important documents and electronics. I encourage you to print out a copy and start checking items off the list as you pack. You'll be starting your trip out on the right foot and won't have to worry that you are leaving something behind that you'll need.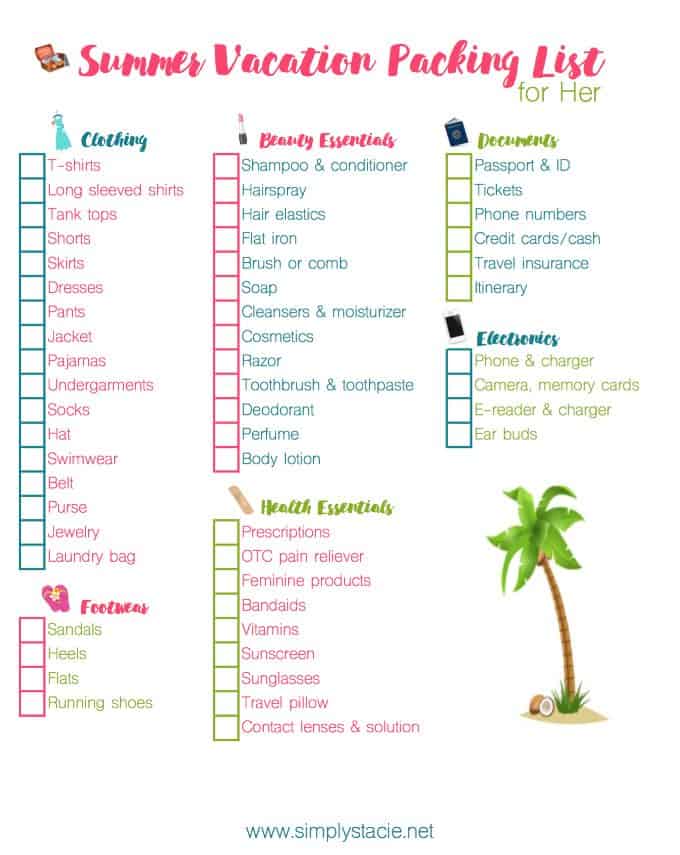 We have a couple trips on the horizon where I'll be putting this checklist to use. One trip is for a few days away to a resort in Ontario. The other one is still in the early planning stages, but may involve a cruise! I can't wait.
Fill out the form below to get this Summer Vacation Packing List for Her delivered right to your inbox.

I'm already thinking about what footwear I want to bring. For flats, I'm bringing my Skechers Breath Easy Love Story Mary Janes. They are so comfy and perfect for walking as we tour our destination. I love black shoes because they go with everything. Aren't they super cute? I picked them up this past Spring at The Shoe Company in Kanata.
As for running shoes, I'm due for a new pair. I'm a big fan of the Skechers brand and am checking out these Skechers Glider sneakers. I've own several pairs of Skechers sneakers in the past so I know first hand that they are focused on quality. Plus, you can't beat that great price.
In the hot summer months, sandals are an absolute must. My daughter has a pair of Birkenstock sandals and raves about how comfortable they are. I'm eyeing these Birkenstock Arizona EVA slide sandals. Can you tell I like black footwear?
I love these Left & Right Roma dress sandals to wear for more formal occasions. They'll keep my feet cool this summer and match my summer dresses.
You'll love how effortless shoe shopping is at The Shoe Company. Bring the whole family, if you like, and buy everyone shoes or sandals. I love the wide selection of quality footwear, fantastic prices and top notch service. It's worth the hour and a bit drive to Kanata from my home in the Ottawa Valley.
Now is the perfect time to buy. The Shoe Company is hosting its huge semi-annual savings event with prices up to 70% off. Don't miss out on this amazing opportunity!
Find a location near you or shop online at The Shoe Company for your family's footwear needs.
Are you currently planning any trips?
Disclosure: I was compensated for this post. All opinions and experiences are my own.