Ah yes, the glory days of summer. Sleeping until noon for eight plus weeks of vacation time, grazing out of the fridge all day long, hanging out with friends and going to parties. Sounds great, right? If you're a teen, absolutely. If you're the parent of a teen? Not so much and you may be thinking about summer jobs for teens to get him or her out of your hair.
The reality is that the numbers don't favour youth employment in Canada these days. And then there's that old rattler: you need experience before you can get the job but you need the job to get experience. So what's a teen to do when Mom and Dad want them to get up and get a job this summer?
Get creative!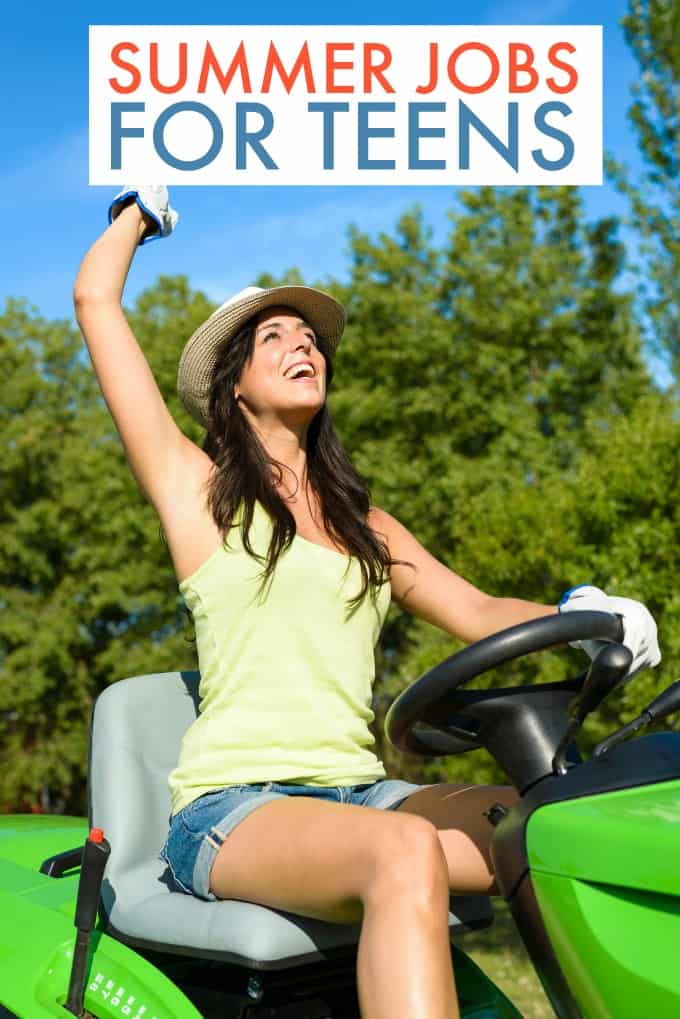 Summer Jobs for Teens
Go to camp and get paid for it
Working at a summer camp, particularly one that is 'sleep away' is a great way to get experience in wrangling a herd of cats, um, I mean kids! Seriously though, a lot of summer camps have counsellors-in-training programs that don't pay a lot but provide that needed experience and a shoe in the door for next summer too.
Day camps are also a great option, so your teen can get the experience but still go home at the end of the day! Similarly, if your teen has a real interest in a sport, like horseback riding, for example, many barns and riding academies have summer camps where they need extra people on hand to handle campers who may never have ridden a day in their lives! It's
Bussing… and eating
Older teens can work in restaurants, bussing tables and being food runners. In Ontario, they will need to get Smart Serve Certification if the place is licenced (they have to be 18 to serve alcohol, but any age can take the certification), but that's not too difficult. This is a busy job, that will keep them going and, as a bonus, many restaurants have provisions to feed their staff, so that's one less meal you have to worry about!
Car detailing
Start up a service offering car detailing right in people's driveways! Yes, there is an initial cost for cleaning products, but with a little local advertising and some word of mouth, your teen could be busy right through until the first day of school in September!
Cleaning in other areas: house, business, etc… is always an option too, though if you can't get your kid to clean their room, it might be a stretch to hope that they'll know what to do in someone else's room!
Dog walker / pet sitter
If your teen loves pets and has experience with them, this is a great way to make some extra money this summer while still maintaining some flexibility. And for people who are going away for several weeks, there is comfort in knowing that someone is checking the house (their home insurers will be happy about that too!)
Parent helper
This is a great idea for the babysitter who wants to take their 'business' to the next level. Many times, a parent who works at home, or who has several kids, might be looking for some help while everyone is at home for the summer. Not a full on nanny, because someone will still be at home the whole time, but just someone to play with and watch over the kids while Mom or Dad gets some things done!
Tutoring
If you have a teen who excels at a particular subject, this is a good option. So many parents are reluctant to let their kids fall into the 'summer brain drain' trap but aren't interested in signing them up for formal classes. A tutor who works with the kids on worksheets and games on a tablet can help. A reluctant child, who won't sit and do the work with their parents, might be quite happy to do so with a teen!
Barista
This is the kind of job that does seem to turn over a lot, so coffee shops of all types are usually on the prowl for the next purveyor of legal addictive stimulants… If nothing else, it's a lesson in multitasking and will give your teen skills that they can use in other areas or if their degree in philosophy doesn't really pan out. Jokes aside, a good barista can really make someone's day, as I've experienced more than once, and learning how to deal with the public can be a good lesson too.
Mowing lawns and landscaping
This isn't out of the box in terms of ideas, but a lot of kids forget that it's a great option! Let neighbours know that you're in the business of lawn cutting, raking or otherwise and they'll come calling (tip: transition that into snow shovelling in the winter and they can earn money year round!) And be sure to let local real estate agents know, since making the outside of a house look tidy is just as important when getting ready to put a place on the market.
Another option is to get in touch with local landscaping companies: at this time of year, they might just need an extra pair of hands and a strong back to do some of the leg work of weeding, hauling a wheelbarrow and so on!
Computer assistance
If your teen is handy with all things tech, there are a lot of options here from teaching seniors how to use Facebook and email to doing basic maintenance on computers (setting up backups and anti-virus software, for example). They can even get into a little basic web design for small businesses, if that's in their wheelhouse!
Whatever work your teen does this summer, make sure they take the time to have some fun too. There is time enough to be an adult and it will come faster than they, or you, think.
This post contains affiliate links.