There's a subscription box for literally everything, which is amazing! If you love to read, I've come up with a list of subscriptions boxes specifically for you. Most include books and other literary-based goodies, and they all have great reviews. I read through all of them before including them on the list. I really want to check out the Bubbles and Books Subscription Box. I think I'll do that next month.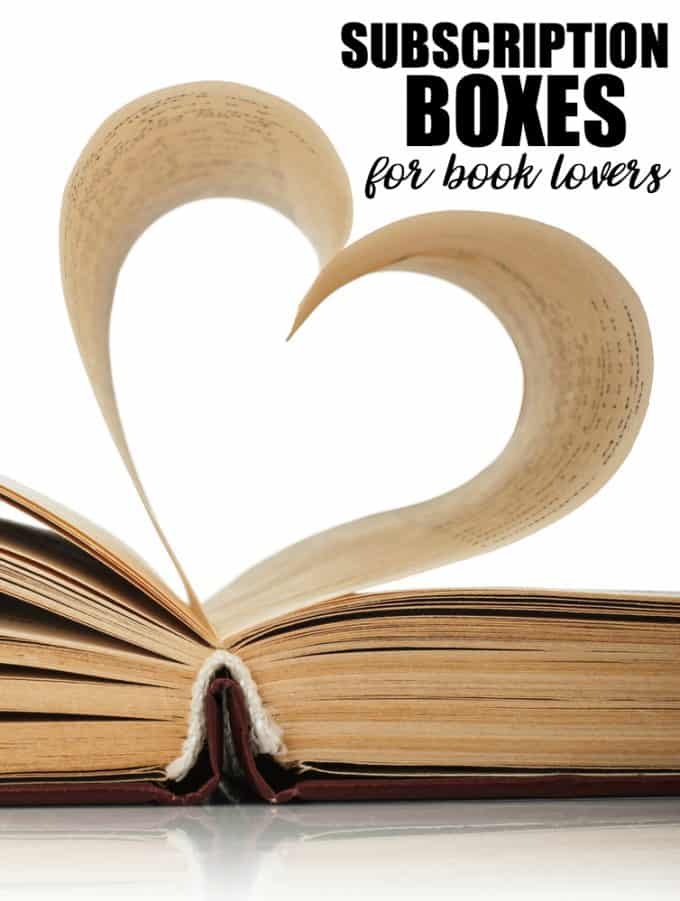 This post contains affiliate links.
1. Once Upon a Book Club is a unique subscription box because it offers a reading experience as well as 2-4 corresponding gifts to match the book! Each month, you'll receive a book, a 5″x7″ quote print, and the individually wrapped gifts marked with a page number. This really makes the books come to life, and gives you a personal connection with the characters and storyline.
2. Bubbles and Books is for the romantic at heart. You get a romance novel, an artisan-crafted soap, and 1-5 other book and bath goodies delivered monthly with the Bubbles and Books subscription. I love that they offer options for your box: Historical, Paranormal, or Bad Boy!
3. Once Upon a BookCase combines your love of books and fashion into one awesome monthly subscription box. Choose your phone type, and each month you'll receive a fashionable phone case cover designed to look like a book, along with other gifts such as jewelry, notepads, or bookmarks.
4. Fresh Fiction Box is a book subscription box that curates new releases and other print and eBooks for readers who enjoy the fiction genre. This includes romance novels and mysteries, too! You'll get 2-3 new release print books plus 3-4 easy to download eBooks each month with free shipping anywhere in the U.S. and discounted shipping everywhere else.
5. Muse Monthly already has me inspired, just with the name alone! Muse Monthly delivers a unique experience for literature lovers who also love tea. Each month, you'll get a new book and a box or tin of tea delivered straight to your doorstep. This subscription features debut writers, as well as female writers, writers of colour, and LGBTQA+ writers.
6. The Bookish Box is a literary themed box that includes a shirt as well as 3-5 book inspired home, beauty, and fashion items. I like the Bookish Box because they team up with small businesses to deliver unique, full-size items you won't find anywhere else. They even offer a Plus Size option!
7. Blue Spider's Attic is all of the magic of a used book store, delivered to your doorstep. Each month, you'll receive three used books, complete with tattered edges and that wonderful old book smell that seems to be almost extinct. Books are hand-selected using preferences you select in the "Reading Preference" survey, so chances are, you'll love the books. If not, they make a great gift!
8. Cozy Reader Club is just what it sounds like: meaningful "me" time, delivered to your doorstep. The Cozy Reader Club Box delivers everything you need to curl up with a good book, including a recently released hardcover novel, local and Artisan coffee, tea, or hot chocolate, and beautiful handmade items.
The toughest decision here is which one to try first!
Check out my other posts about subscription boxes!