Traditionally, when we think of vacation time, we think of summer holidays at the cottage or winter holidays down south. But there is a lot to be said for taking shorter, more frequent, breaks throughout the year and the best way to afford that is to leverage the family staycation. It's even better if you can get the kids involved in the planning and research!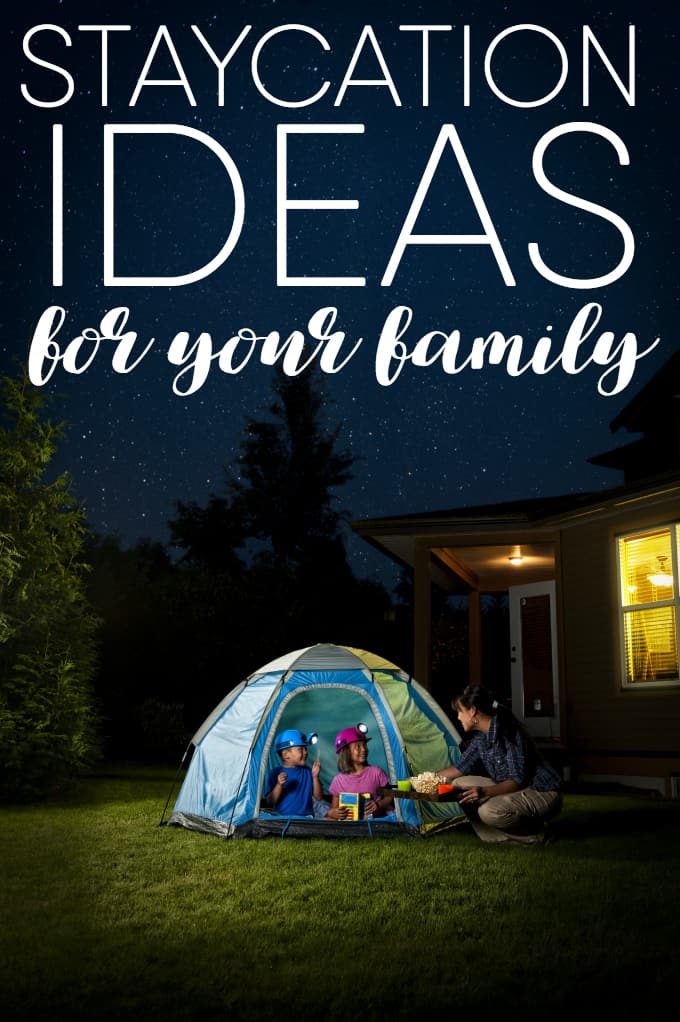 © staycation image via Shutterstock
Staycation Ideas
Become a tourist in your own town
Do a little research online and I'll bet you $10 that you will find a list of places you have never visited, right in your home town. Okay, maybe I won't give up the $10 but you can trust me on the list of places. Make a list: go and visit! In the nearby city of Ottawa, I've got a list of free things you can and should do!
You can stay at home for this kind of trip and simply 'day trip' to the various locales you've found, or take the fun up a notch and rent a hotel room for a night or two! Extra points if you pick one that has a great pool for when the 'touristing' is done and you're all ready for a dip.
Make trains or public transit part of the plan, if you can; after all, the journey is part of the experience! And, of course, include the kids in the decision making: if they participate in the picking and planning, they're less likely to fuss or whine during the outing. If you can, give everyone a chance to pick something that they like, whether that's within one staycation or spread over several.
Grab a map and plot out trips within two hours from home
A paper map may be old school but it's a fun way to get the kids involved in the planning! Grab a map and draw a circle with a radius of not more than 125 kilometres around your home. This is where those protractors from school come in handy. Let your kids do this part: they'll know how! Then see what's within that circle and those will be some of your destinations.
Perhaps a beach falls in that zone; or a water park. Maybe some great historical attractions and pioneer villages? Whatever you find, make a plan to visit either for the day or the weekend. Keep an eye out for local events, fun fairs, and other attractions that only come for a short while. Kids who have never seen farm animals up close might enjoy an agricultural fair, or how about a pow wow, to get a dose of indigenous culture?
Not a cottage owner? Just rent!
Housekeeping cottage resorts are a great way to get the feel of owning a cottage without all the bother! You have access to whatever amenities the resort offers but at the end of the day, you are in a private space with cooking facilities and the ability to sit out on a deck chair and watch the sun set. Many are winterized, so a winter adventure with snowshoeing or just sitting around the fireplace is worth considering.
Get together with another family and rent a bigger space: the per head cost will be less than you think and the kids will have plenty of playmates, leaving the adults free to relax and enjoy the space too.
Camp out!
Whether at a campground or in your backyard, going camping is a super fun way to enjoy the spirit of camping without losing sight of modern conveniences, like toilets! If you've never gone camping with the family before, consider doing a trial run in the backyard—or a friend's yard—just to make sure everyone is comfortable with how the night will go down! Don't forget the marshmallows and the ghost stories and this list of camping hacks!
Other staycation ideas
Go picnic in the park for the day and add in a hike, to work up an appetite.

Have a party… for no particular reason: just because.

Check your rewards points on your credit card—very often, you can use them for something local, like tickets to the zoo or an overnight trip to a hotel.
Helpful tips
Whatever your plans are, make sure the ground rules are clear:

On things like uses of technology during the staycation;

On things like buying souvenirs;

Set up a plan and a budget.

Mid-week plans are always a bit cheaper (Sun – Thur) if you can manage it, time wise, and obviously, off season rates are worth looking into for everything from theme parks to cottage rentals.
Whatever you choose to do, make sure you have a lot of fun. The memories you will make will last a lifetime.
What are your favourite things to do on a staycation?