This Spring Vegetable & Goat Cheese Frittata is packed full of fresh garden veggies and melted cheese. An easy and quick lunch or dinner idea to serve up, that is low carb.
I've been back on my low carb lifestyle since January and it's going great so far! I love that I don't feel like I'm depriving myself and can eat real food like this Spring Vegetable & Goat Cheese Frittata. So good!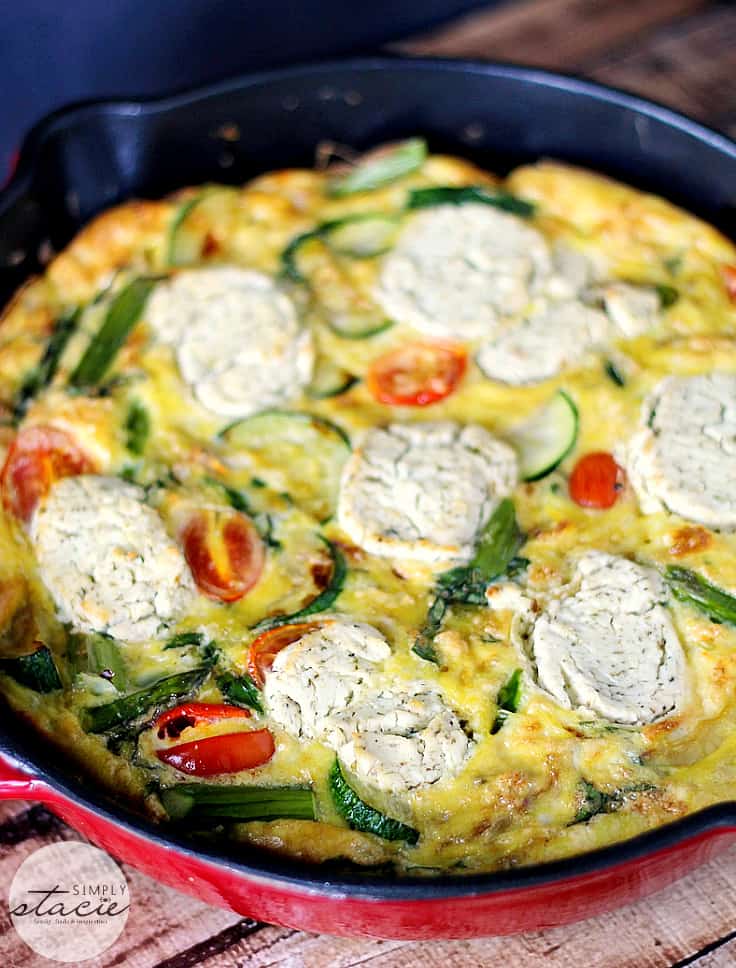 Spring Vegetable & Goat Cheese Frittata
Frittatas are one of my favourite low carb meals to make. They are so versatile and taste delicious with just about anything. They are also good for using up your veggies and meat leftovers.
What is in this Spring Vegetable Frittata
Load up fresh zucchini, asparagus, tomatoes, onions and herbs along with two kinds of cheese. Serve with a garden salad or eat on its own. I find frittatas satisfy my hunger.
Each bite is packed full of goodness! This is a wonderful meatless meal and it won't take you forever to whip up for your family.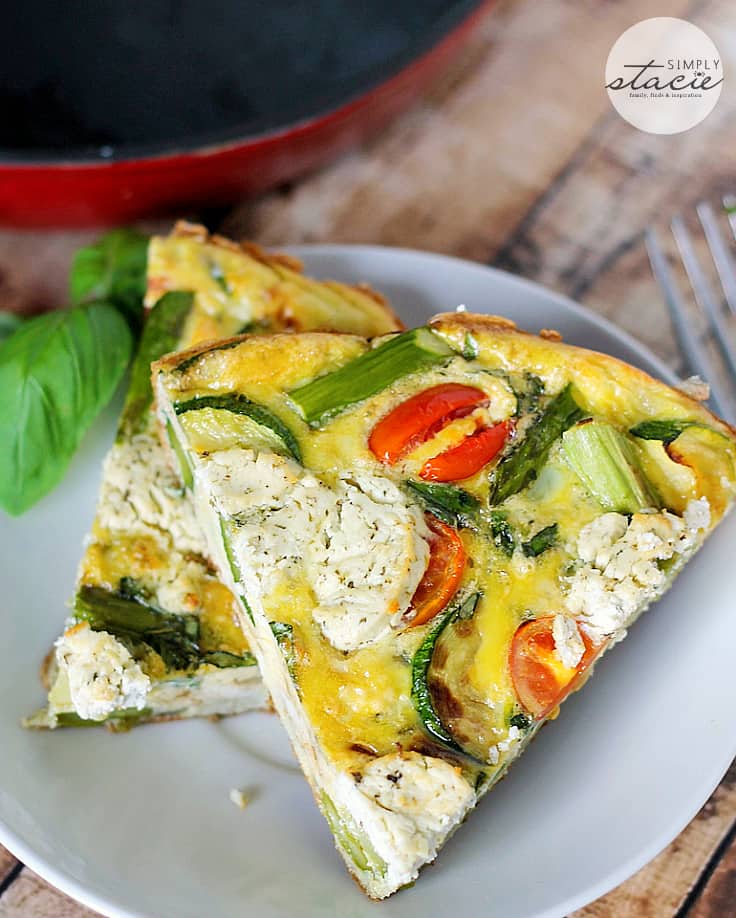 Searching for more Frittata Recipes
Craving more frittata recipes? Check out my Sausage and Red Pepper Frittata, Bacon and Gouda Frittata, Broccoli Frittata, Turkey Bacon Frittata, Caramelized Onion, Red Pepper and Zucchini Frittata and Pancetta and Onion Frittata.
How to Prep Asparagus
You want to wash your asparagus to start under cool water. This will help remove any grit or debris that is on your asparagus. Then hold each end of the asparagus and snap off the ends, they will naturally break.
The part of the asparagus that breaks is woody and will give you a bitter taste. If you don't want to snap that way, you can use a kitchen knife to slice off the ends as well. Then pat dry with a kitchen towel or paper towel.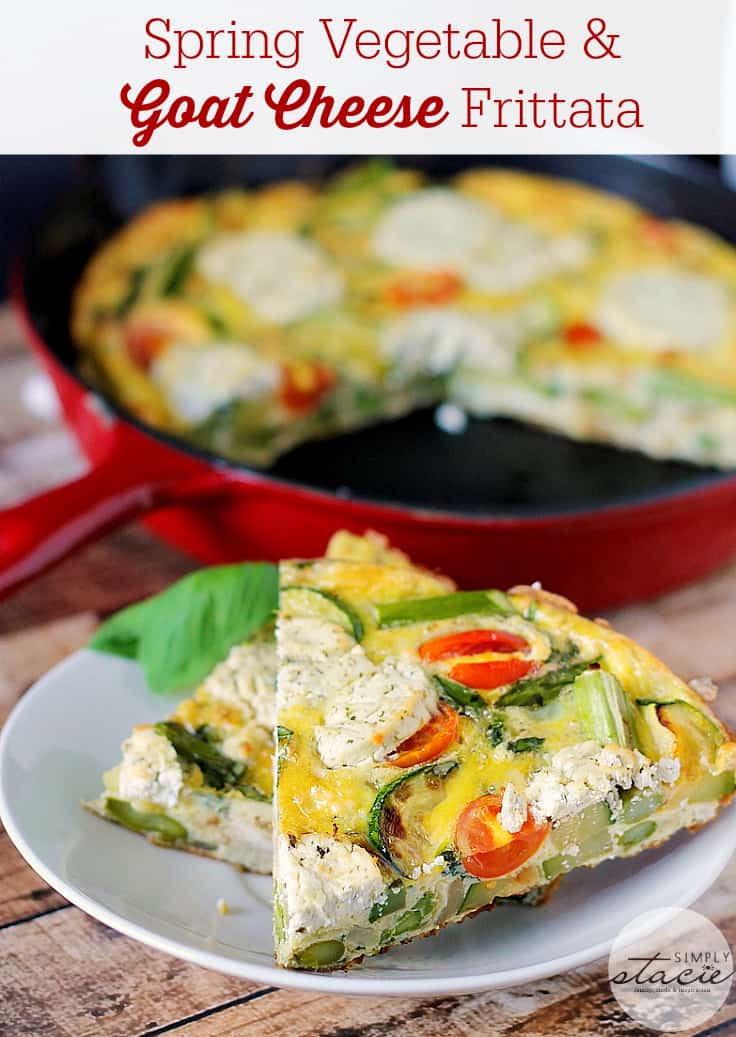 What is Fontina Cheese
Fontina cheese is a very mild cow's milk cheese. It offers a buttery and even nutty flavor. This cheese pairs really nice with the goat cheese in the recipe along with the vegetables in the frittata.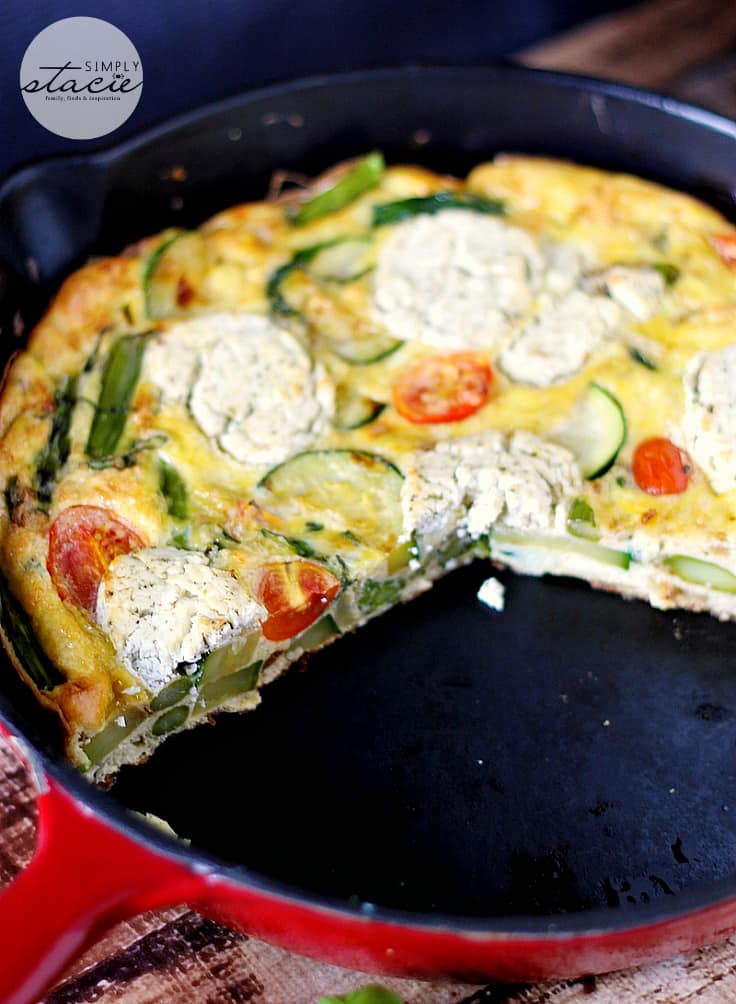 What Can I Substitute for Fontina Cheese
You can reach for gruyere, gouda, or even mild provolone cheese. All of these cheese varieties will work well in this recipe.
How To Make Spring Vegetable Frittata
In a bowl, you want to work on beating your eggs until well blended. Then pour in the cheese, tomatoes, seasonings, and whisk well. In a medium pan that is oven proof, you want to spray with a nonstick spray. Then add in your onions, asparagus, and zucchini, and saute over medium-high heat. You want the onions to become translucent, which takes around five minutes.
You will now pour your egg mixture into the pan and stir really fast to get vegetables incorporated. Then let the mixture sit and cook for two minutes without stirring it. Once the two minutes are up, top with your goat cheese, and place on top, and toss in the oven.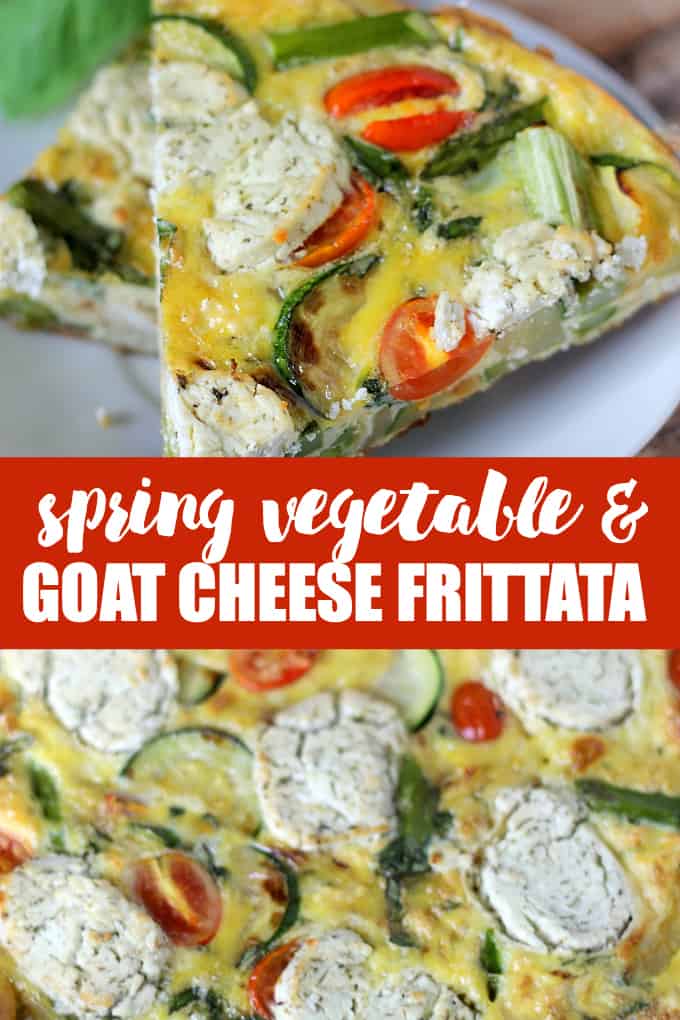 How to Know When a Frittata is Done
You can stick a toothpick in the center of your frittata and it comes out clean. Or if you don't have a toothpick you can use a nice. You will also see that the frittata pulls away slightly from the sides.
How to Store Leftover Frittata
You can store your frittata in the fridge for 3-4 days. I place in an airtight container or even wrap in plastic wrap. Then warm each piece up in the microwave when you are ready to enjoy.
What Goes with a Frittata
Pair with any of your favorite sides. If you want a more complete meal pair with ham steak, sausage or even bacon for a savory take. Or croissants, pancakes, or waffles for a carb-based side. Depending on the occasion and when we serve up this recipe depends what I pair with it.
Should Frittata Be Served Hot or Cold
Frittatas are best when served warm from the oven. Some people enjoy a cold frittata recipe, and if that is the case, go ahead and make and eat chilled. I find this spring vegetable frittata tastes best when served warm fresh from the oven. Allow it to slightly cool so it doesn't burn you coming out of the oven.
Can I Freeze Frittata
You can indeed freeze leftover frittatas. Simply allow your frittata to cool down, and then wrap in plastic wrap, and place in a freezer bag. Then store in the freezer for 2-3 months. Thaw in the fridge the night before you plan to eat your leftover frittata.
Then warm up in the microwave or even the oven when you are ready to enjoy this dish again. Frittata offers a better texture when reheated in the oven over the microwave.
Have you ever tried a spring vegetable frittata?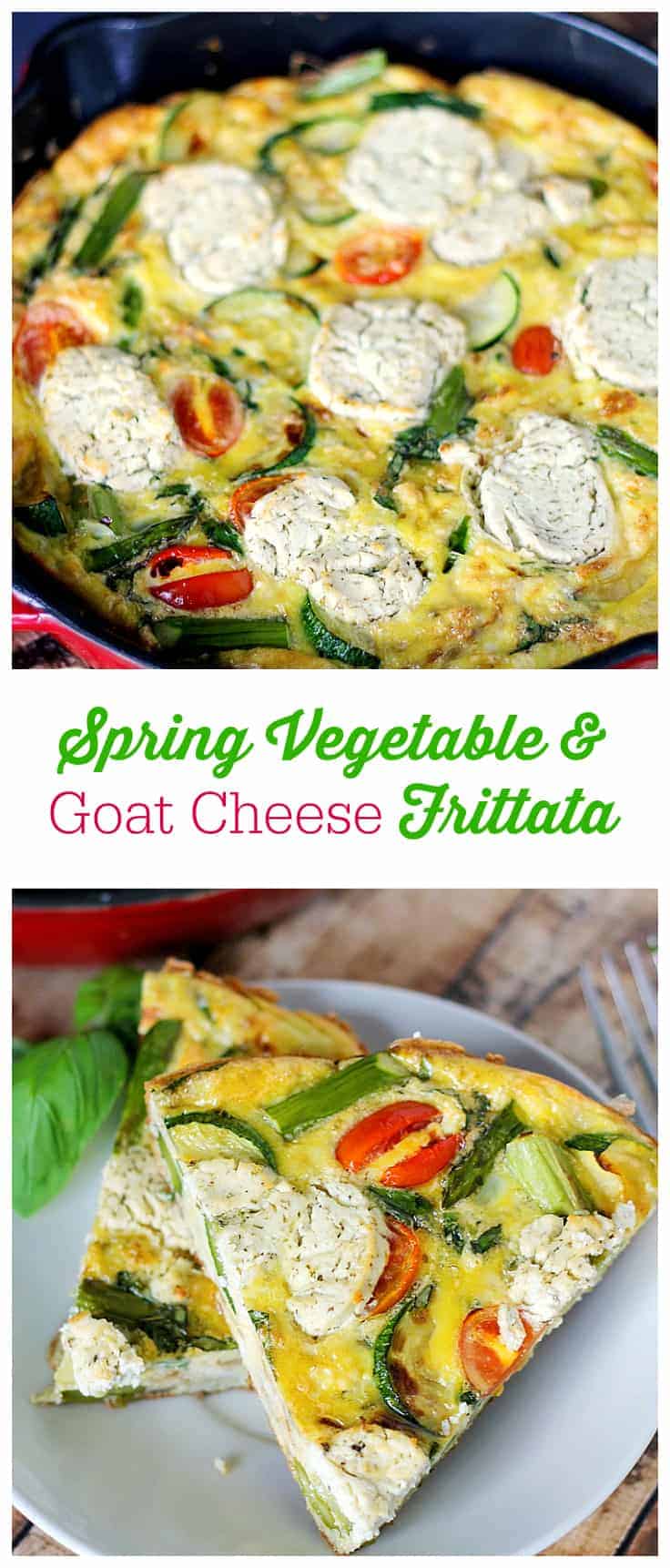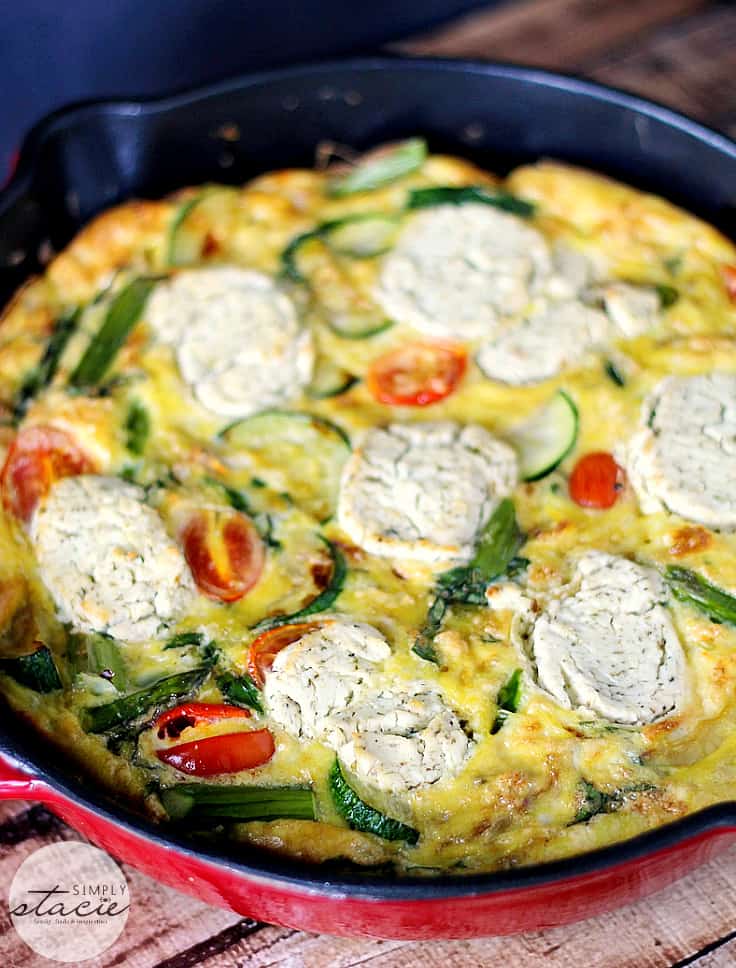 Spring Vegetable & Goat Cheese Frittata
Loaded with the fresh flavours of spring, featuring asparagus, zucchini, tomatoes and the creamy tang of goat cheese, this frittata is very versatile. It can be served warm or at room temperature and is a great breakfast, lunch, or paired with salad, and quick, light dinner option.
Ingredients
1 tsp olive oil
1 medium zucchini, cut in half and chopped
1/2 lb. asparagus spears, chopped in 1 inch pieces
1 small onion, sliced thinly
8 eggs
1/2 cup cherry or grape tomatoes, halved
1/4 cup Fontina cheese (or any mild cheese), grated
1 tbps chopped fresh basil (about 8 large leaves)
1/2 tsp salt
1/8 tsp black pepper
1/4 tsp garlic powder
1/4 tsp dried oregano
1/4 tsp dried thyme
4 oz goat cheese log, very cold (put in freezer while preparing everything)
Instructions
Preheat oven to 435 F.
In a large bowl, add eggs and beat well. Add cheese, tomatoes, basil, salt, pepper, garlic powder, oregano, and thyme; whisk well to combine; set aside.
In a medium ovenproof* skillet sprayed with non stick spray, add onions, zucchini, and asparagus pieces; saute over medium high heat for about 5 minutes or until onions are translucent and zucchini is browned.
Pour egg mixture into skillet, and stir once or twice to combine with vegetables. Cook for 2 minutes over medium heat, without stirring.
Cut goat cheese into 1/2 inch slices and place on top of the frittata. Transfer skillet to the oven. Cook for 12-15 minutes or until eggs are set.
Slice and serve immediately.
*If your skillet has a plastic or rubber handle, cover it in aluminum foil completely. Most skillets can safely go into the oven this way. Be careful when removing any skillet from the oven, the handle is HOT.
Recommended Products
As an Amazon Associate and member of other affiliate programs, I earn from qualifying purchases.
Nutrition Information:
Yield:

6
Serving Size:

1
Amount Per Serving:
Calories:

200
Total Fat:

13g
Saturated Fat:

6g
Trans Fat:

0g
Unsaturated Fat:

6g
Cholesterol:

262mg
Sodium:

422mg
Carbohydrates:

6g
Fiber:

2g
Sugar:

4g
Protein:

15g