Though it may be Spring right now, it sure doesn't feel like it! At least, where I live it doesn't. I'm hoping that this next week we'll finally see the snow melt and be gone for GOOD! The winter chill hasn't stopped me from starting my Spring cleaning. I've been poking away at it for the past couple weeks and it's going good so far. Maybe I'll be done by the time the snow melts? We'll see.
I was compensated for this post. All opinions are my own. This post contains affiliate links.
The makers of OxiClean want to help you make your job a little easier. Tackle those tough jobs with the power of OxiClean.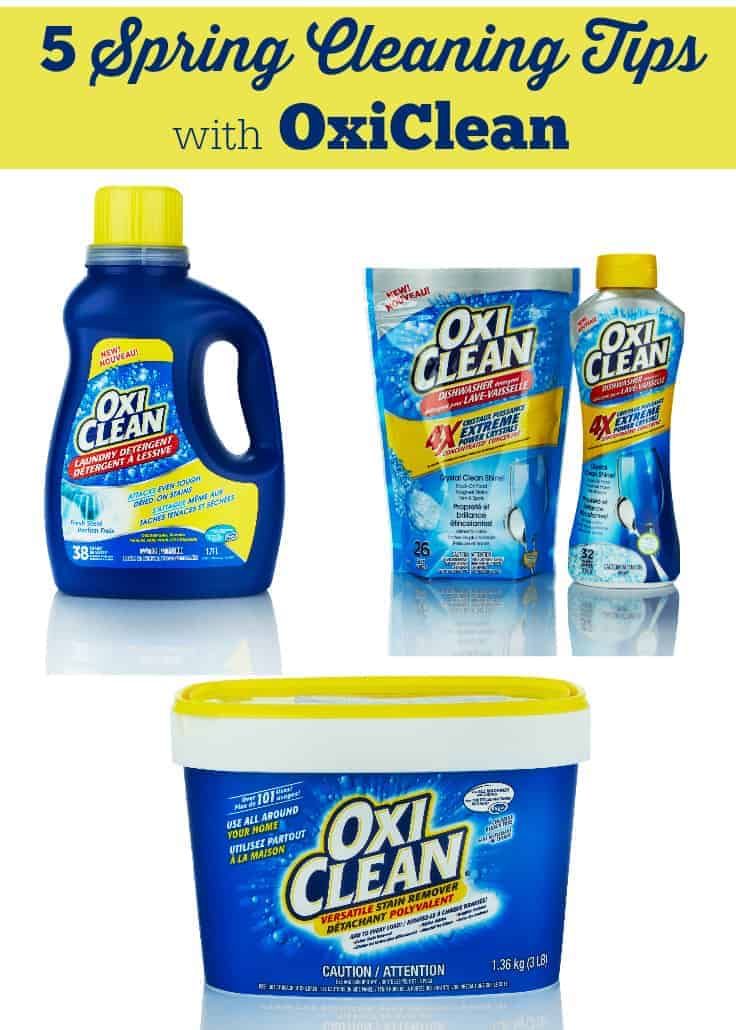 How to Use OxiClean
Today I have five Spring cleaning tips using OxiClean to get your home in tiptop shape.
1. Don't forget the doormats! They are the first thing guests see when they step in your home and are also the front line for stopping dirt and debris. If they've been neglected (don't feel bad because I'm guilty of this!) and are really dirty, soak them in warm water mixed with a scoop of OxiClean Versatile Stain Remover for six hours and then wash as directed. It will remove even the toughest stains!
2. Freshen up your warmer weather clothes. I always go through my closet and look for items I no longer wear or want. I donate them to our local Value Village. My warmer weather clothes can smell a little musty after being packed away all winter. Freshen them up by washing them with OxiClean Liquid Laundry Detergent. Then they'll be clean and ready to wear!
3. Shine up your dishes. I don't mean your regular dishes that you use on a day-to-day basis. I mean the good stuff that you have put away for once in a while use. I have a buffet with my "good" dishes that we only use for special occasions. They pick up dust when they aren't used in awhile and it's nice to freshen them up. Use OxiClean Extreme Power Crystals Dishwasher Pacs to make them sparkly and guest-ready once again! No pre-washing or re-washing required.
4. Spiff up your carpets. Start by shampooing your carpets to give them a deep clean. If there are any tough stains, use OxiClean Versatile Stain Remover. Mix a little bit of the stain remover with warm water and blot with a clean towel until the stain disappears. Then rinse thoroughly with warm water.
5. Start thinking about patio season. I know, I know. Old man winter may still be in your neck of the woods, but there is still a few things you can do to get ready for backyard entertaining. Remove any debris like sticks and branches that have blown into your yard over the winter. Once it's a little warmer out, use the sprayer setting on your garden hose to wash away the winter dirt and grime. If your patio furniture needs some sprucing up, use OxiClean Versatile Stain Remover to get rid of stains. It's chlorine free and colour safe so you can also use it on gutters and unfinished decks as well. Check out this post on how to clean patio furniture.
How is your Spring cleaning coming along?