It's that time of year again….spring cleaning! Call me crazy, but I love it! There is something so satisfying about getting my home looking and feeling fresh and clean. Yes, it takes a little elbow grease, but it's worth it in the end.
One of the biggest jobs on my to-do list is cleaning my kitchen. It's the heart of our home and is also the room that tends to need the most TLC. It can take hours (or sometimes days) to finish, but if you get organized and have a plan, it will be much easier to manage the many tasks required to get the job done.
To help get you motivated and organized, I've developed a Spring Cleaning Your Kitchen Checklist and I've even made a free printable version for you! Print it out and put it on your fridge and then you can check each item off your list as you finish the task. I promise all your hard work will pay off in the end. Your kitchen will never look better!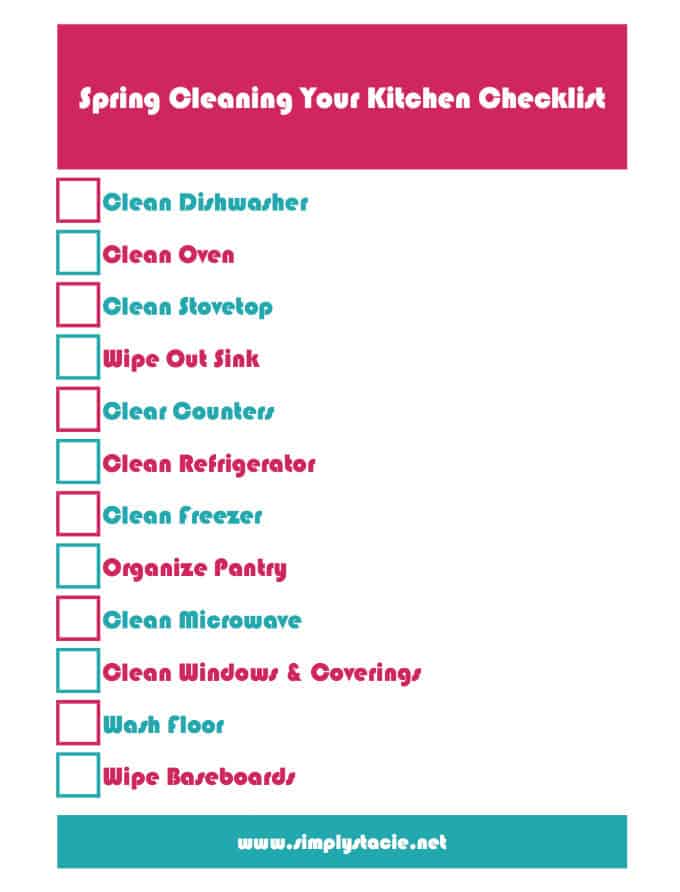 So where do you start? Let's break it down into smaller tasks and get to work!
1. Clean your dishwasher. It's one of the hardest working appliances in our home, yet it's often neglected when it comes to cleaning. Did you know that only 27% of Canadians have cleaned the inside of their dishwasher in the last 12 months? Don't be part of that statistic – it's super easy to clean your dishwasher when you have the right tools! I recommend using affresh Dishwasher cleaner to keep your machine working its best. It powers away residue, including hard water and mineral deposits, and gets rid of any lingering odours. Just pop a tablet into your detergent tray and start a normal wash cycle. It's even safe to use while you wash your dishes! Look for affresh products at your local grocery store.
2. Clean your oven. This is the one job I hate to do, but I know it needs to be done. I'm not a big fan of the harsh oven cleaners, but if you do use them, make sure you wear gloves. There are also natural ways you can clean your oven.
3. Clean your stovetop. I have to do this task regularly because I'm always spilling food on the burners and that will set off my smoke alarm. Get rid of any accumulated grease or food with these easy cleaning hacks.
4. Wipe out your sink. A popular cleaning course online suggests cleaning out your sink every night before you go to bed. Use your favourite household cleanser and get that sink sparkling.
5. Clear your counters. If you are like me, your kitchen counters can end up being a popular spot where everyone puts their junk. Find a home for everything that doesn't belong and clear out some space. You'll have more room to work in the kitchen!
6. Clean your refrigerator. Try my four step system to clean and organize your fridge. You'll have more room to put in new groceries and it will smell a million times better. No more rotting fruit or veggies hidden in the back!
7. Clean your freezer. I'm pretty good about cleaning the fridge, but I always forget to do the freezer. Don't be like me. Get rid of any freezer burnt food and make room for new items.
8. Organize your pantry. It's true. A cluttered pantry will make you spend more money than you need to. Try my pantry organizing tips so you can find items when you need them.
9. Clean your microwave. The easiest way to clean your microwave is to fill a bowl with hot water and add some lemon juice and vinegar. Microwave for 5 minutes and then let it sit inside for a few minutes. Remove the bowl and wipe out any stuck on residue. It should come off easily.
10. Clean your windows and window coverings. You'll be able to see the beautiful spring weather outside better and get rid of any dirt that has accumulated over the winter.
11. Wash the floor. You probably already do this job regularly, but I think it's still important to add to our kitchen cleaning list.
12. Wipe down the baseboards. My mom notices dirty baseboards when she comes into a room. I'm bad for cleaning them so I tend to only do it a few times a year (eek!). I like to use disposable cleaning wipes to quickly get it done.
Now that the weather is nicer, I've started my spring cleaning. I'm getting my kitchen done first because it's the biggest job.
You might also like to know these Dishwasher Do's and Don'ts, oven cleaning hacks or how to keep clutter off your counters.
Have you started your spring cleaning yet?
Fill out the form below to get your Spring Cleaning Your Kitchen Checklist delivered to your inbox.

Disclosure: I was compensated for this post. All opinions expressed are my own.