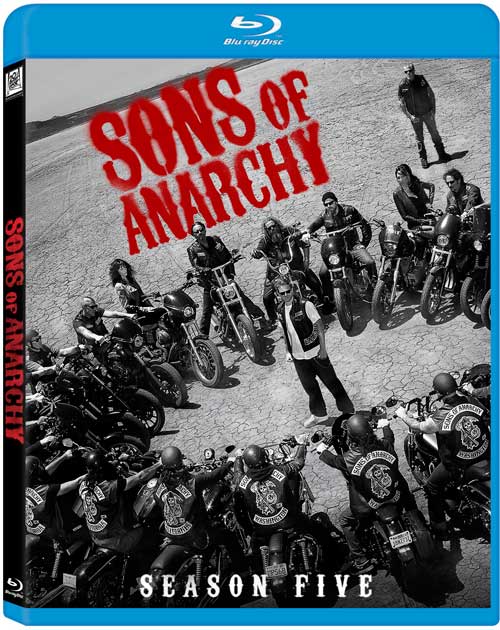 Disclosure: I was not financially compensated for this post. I received a sample of the product for review purposes. The opinions are my own, based on my personal experience with the product.
Title: Sons of Anarchy: Season Five [Blu-ray]
About the Show:
From creator Kurt Sutter comes the adrenaline-charged Sons of Anarchy, featuring extended episodes and kicking into high gear with its biggest, most explosive season ever! As SAMCRO's new president, Jax is surrounded by ruthless enemies and gut-wrenching betrayal. With Gemma fighting for control of the family and a bloodthirsty Clay out for revenge, Jax finds himself haunted by the sins of his past. Alliances are forged, friends are murdered, and loyalties are put to the ultimate test. Now, with the truth in sight, Jax must do whatever it takes to secure the legacy of brotherhood and protect his family — even if it costs him everything.
Special Features
Deleted Scenes
Commentary on "Sovereign" featuring Kurt Sutter, Paris Barclay, Katey Sagal, Maggie Siff and Dayton Callie
Gag Reel
Opie Winston
Kurt Sutter: Creating Anarchy
Fan Concert at The Club House
Commentary on "Darthy" featuring Peter Weller
My Review:
John has been a Sons of Anarchy fan since the show first came out, but I had never seen it until recently. I just spent the last two weeks catching up and I can see now why John loves this show. I'm addicted! I finished watching Season Five yesterday and can't wait to watch Season Six when it comes out on Blu-ray. I know its on TV right now, but we don't have cable!
I asked John what he thought of Season Five and how it compared to the other seasons and he stated it was the best season yet. I'd have to agree with him. It was emotional, exciting and even brought both of us to tears. I hadn't cried in any of the other seasons, but in this one I bawled during a scene that was extremely difficult to watch. If you've watched the season already, I'm sure you'll know what I'm talking about.
In Season Five, Jax takes over as club president with Chips and Bobby at his side. Clay is recovering from being shot by Opie and looks really old and worn out. His reign of power is over. I never liked Clay so I was glad to see him out of that position. He's done so many awful things and I really do not like his character at all.
I have a love-hate relationship with Jax. On one hand, I love how he is so protective of his club, friends and family. On the other hand, his means to an end is not something I agree with. I lost respect for him after what he did to Wendy towards the end of the season. I felt for her character and how she turned her life around and I don't blame her for wanting to meet her son. What Jax did to her was despicable.
Tara is stronger and tougher in Season Five. She doesn't take anything from anyone including standing up to Gemma. I think the lifestyle has changed her and there's multiple times during the season where she is first to throw a punch.
There is a few gory scenes sprinkled throughout the season. There's three I can think of off the top of my head and they all take place in the prison. I can't get that image of what Otto did when he was being questioned out of my head.
Sons of Anarchy is one of the best shows on TV today. If you haven't seen it yet, I encourage you to watch it. It's crazy good!