I have lived all across Canada and visited many grocery stores. Sobeys has always been my favourite. I can always count on them for great prices and an awesome selection of food. They always have what I am looking for and more! I go in with one item in mind and usually come out with a cart full because I see so much that I want! Sobeys is the best place to shop for picnics and barbecues this summer. You can find everything you need for the grill to make that perfect summer meal. Barbecuing is what summer is all about to me!
I am taking part in the Sobeys "Summer Fresh and Easy" blogger program and tried out two summer recipes from Sobeys. I decided on Citrus Infused Grilled Top Sirloin and Grilled Caesar Salad. I made my list and off I went to grab the ingredients at Sobeys in Greenwood, NS. I selected these two recipes because they looked easy to make and yummy! Steak is my favourite meal so I was really excited to try out with this freshly made marinade.
***Just ignore my kitchen reno and my camera was acting funky! It looked much better in person.***
I know when I mentioned what I was making on my Facebook page, some people were interested in the recipes so here they are:
Citrus Infused Grilled Top Sirloin
Infused with a fresh, tangy and flavorful marinade.
Ingredients
3/4 cup Extra Virgin Olive Oil
1 tbsp Fresh Lemon Juice
1 tbsp Grated Fresh Lemon Peel
1 tbsp Garlic, minced
1/4 tsp Kosher Salt
1/4 tsp Freshly Ground Black Pepper
4 Sterling Silver Top Sirloin Grilling Steaks
Instructions
Mix all ingredients except the steak in a small bowl.
Place steaks on grill over medium heat, brushing steaks with citrus on each side while cooking.
Cook steaks to desired doneness, approximately 8 to 12 minutes for medium rare to medium doneness.
Recommended Products
As an Amazon Associate and member of other affiliate programs, I earn from qualifying purchases.
Nutrition Information:
Yield:

4
Serving Size:

1
Amount Per Serving:
Calories:

723
Total Fat:

63g
Saturated Fat:

14g
Trans Fat:

0g
Unsaturated Fat:

44g
Cholesterol:

132mg
Sodium:

223mg
Carbohydrates:

1g
Fiber:

0g
Sugar:

0g
Protein:

38g
I did all the prep work ahead of time which included making the citrus oil marinade for the steaks and cutting the lettuce and bread for the salad. I decided to marinade my steaks for awhile in the citrus oil even though it didn't say to in the recipe. I like to improvise!
John got the barbecue fired up for me since I still don't know how to start it myself. The steaks went on first since they would take longer than the salad. I made sure to brush them periodically with the citrus oil marinade.
The fun part was grilling the salad. I had never had a grilled salad before so this was an interesting experience. John gave me a weird look when I told him I was barbecuing lettuce, but I told him just to trust me! Everything went on one at a time- first the lettuce, then the bacon and then the bread. I was running back and forth into our house like crazy. I wish we had a deck, because our barbecue is in our driveway! I would love a deck right off my kitchen!!!
Back to the topic at hand, when the steaks were medium done we took them inside. I got the salad ready and made individual bowls with the grilled lettuce, bacon, bread, parmesan cheese and dressing. It made for a nice looking salad if I do say so! The real test was the taste test. Was my steak and salad any good? And it was. It was DELICIOUS!! Mmmmm so yummy! The steak really picked up the citrus flavour and melted in my mouth. The salad was crisp and delicious and the grilling added to the presentation value. I liked the look and taste of the grilled bread. The only thing John and I will do different next time is to grate the Parmesan cheese instead of slicing it. Its such a strong cheese and I think I made the slices just a wee bit thick.
It was a wonderful summer meal. John ate 4 steaks so I know he liked it! I liked that these recipes were easy and I will making each of them again this summer. Thanks Sobeys for a wonderful meal!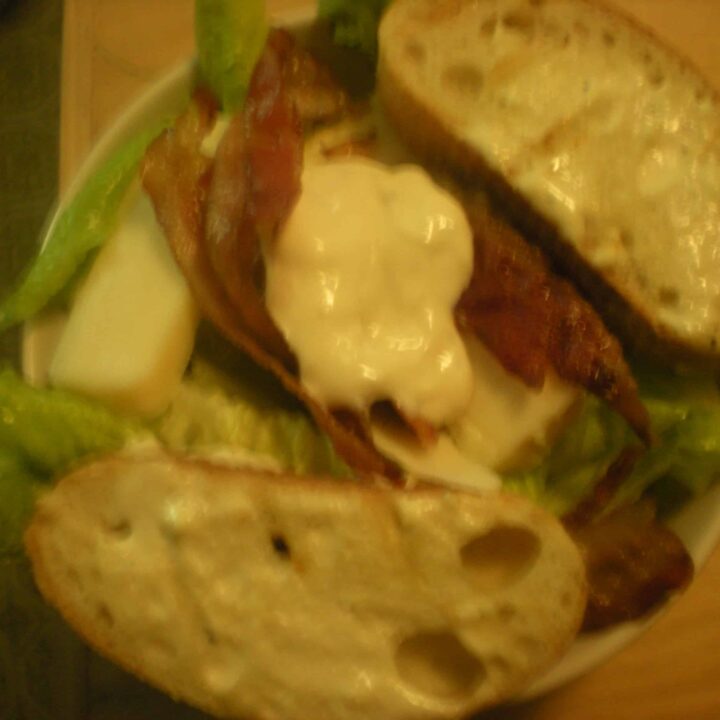 Grilled Caesar Salad
Love Caesar Salad? You have got to try it grilled!
Ingredients
1 small Sensations by Compliments Ciabatta Bread
1/2 cup Compliments Balance Caesar Salad Dressing & Dip
8 slices Compliments Fully Cooked Bacon, 50% less salt
4 Compliments Organic Romaine Hearts, cut in half lengthwise
8 slices Parmesan cheese
Instructions
Preheat grill to high.
Cut ends off bread and save for another use. Cut bread into 16 slices and lightly brush both sides with Caesar dressing.
Grill bread for approx. 10 seconds per side or just long enough to toast and pick up grill marks. Remove from grill.
Heat bacon for 10 seconds on each side and grill Romaine hearts, cut side down, for 10 to 20 seconds.
On each of eight salad plates, arrange Romaine lettuce halves, bacon, ciabatta toasts and Parmesan cheese.
Top with a dollop of Caesar dressing and serve.
Recommended Products
As an Amazon Associate and member of other affiliate programs, I earn from qualifying purchases.
Nutrition Information:
Yield:

4
Serving Size:

1
Amount Per Serving:
Calories:

296
Total Fat:

24g
Saturated Fat:

5g
Trans Fat:

0g
Unsaturated Fat:

17g
Cholesterol:

26mg
Sodium:

872mg
Carbohydrates:

14g
Fiber:

5g
Sugar:

4g
Protein:

8g
*I was not financially compensated for this post. I received a gift card to buy the ingredients. The opinions are completely my own based on my experience.*