Disclosure: I was compensated for this post. All opinions expressed are 100% my own.
Do you have a favourite sundae topping? In the past, caramel sundaes were my sundae of choice. I like to add a couple scoops of vanilla ice cream in a bowl, drizzle on some Smucker's® Sundae Syrup™ Caramel Flavoured Syrup and top with some nuts. However, I'm not against trying new ways to enjoy my favourite summer treat. In fact, I'm all for it! Bring it on.
Of course to make a good sundae, you need to have a delicious syrup. I think the syrup makes the sundae so it's important to have one that you like the taste of. Smucker's® makes an amazing Sundae Syrup™. Pour a little (or a lot) on your ice cream and create your perfect sundae.
My youngest daughter enjoys putting Smucker's® Magic Shell® on her ice cream. She thinks it's pretty neat how it hardens immediately and she can scoop her ice cream with the chocolate shell.
I tried a few of Smucker's® dessert recipes and oh my! They are not only mouthwatering, but also easy to make and creative too. They were inspired by the ever popular Ice Cream truck that kids could hear coming from blocks away. Take this Jelly Donut Ice Cream Bowl made with bits of glazed donuts, Smucker's® Sundae Syrup™ Strawberry Flavoured Syrup, fresh strawberries over top sweet vanilla ice cream. Then when you are done, you can eat the bowl. Kids love it and can even help put it together.
Like I mentioned above, I'm partial to caramel. Salted caramel is all the rage it seems and this sundae fully embraces that trend. Add some vanilla ice cream to a bowl, drizzle on some Smucker's® Sundae Syrup™ Caramel Flavoured Syrup and sprinkle a little kosher salt on top. The caramel popcorn is the garnish and adds the final sweet/salty touch.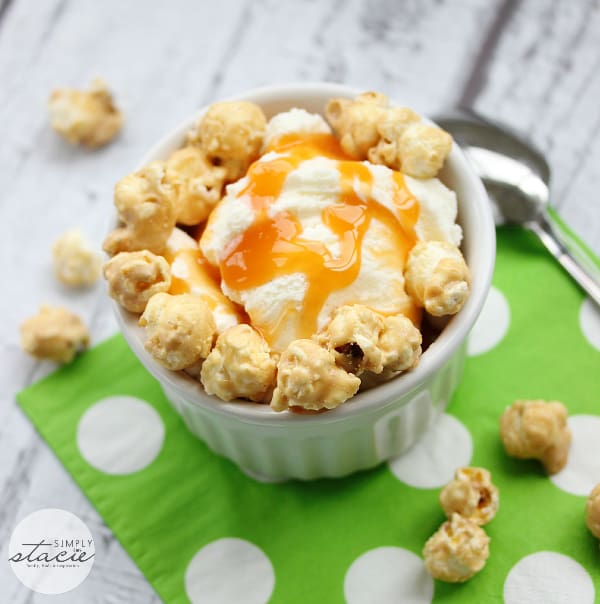 Smucker's® also has two other yummy recipes to try. This Kitchen Sink Milkshake Float is a basic milkshake with a little twist. Add all that leftover candy you have in the house and make the ultimate milkshake. I made one for John with a bunch of leftover candy from Easter and used all three Smucker's® Sundae Syrup™ flavours. He drank the whole thing so I guess he enjoyed it!
Image courtesy of Smucker's®
Image courtesy of Smucker's®
For more dessert recipe ideas, check out Smucker's for inspiration. How do you like to dress up your ice cream sundae?