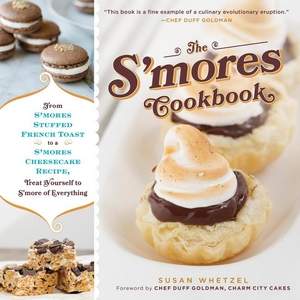 *I received a copy of this book for review, but was not compensated financially in any way. The opinions expressed are my own and are based solely on my experiences while reading this book.*
Title: The S'mores Cookbook: From S'mores Stuffed French Toast to a S'mores Cheesecake Recipe, Treat Yourself to S'more of Everything
Author: Susan Whetzel
About the Book:
Who says you need to be sitting in front of a fire to enjoy the irresistible taste of s'mores? Oozing with fifty mouthwatering recipes, The S'mores Cookbook shows you how to indulge in the rich blend of creamy chocolate, toasted marshmallows, and honeyed graham crackers at every meal. From Chocolate Graham Pancakes drizzled with a sweet marshmallow syrup to S'mores Eclairs smothered in a dark chocolate ganache, this book combines your favorite trio of flavors in ways you've never imagined to create delicious plates that will impress friends and family. Featuring step-by-step instructions and enticing four-color photos, you're guaranteed to melt when you dig into delicious s'mores recipes like:
Toasted marshmallow s'Mores ice cream
Black forest s'Mores
No-bake oatmeal s'Mores cookies
S'mores chocolate bread pudding
Crock-Pot s'Mores brownies
The S'mores Cookbook will satisfy your cravings for the gooey campfire treat all year long!
My Review:
S'mores has always been a favourite campfire dessert! I mean it's seriously easy to make s'mores: just graham crackers, marshmallows and chocolate right? After reading The S'mores Cookbook by Susan Whetzel, my eyes are opened to a whole new decadent world of s'mores. Warning: reading this book will put your sweet tooth in overdrive!
The cookbook opens with a history of the s'more. I learned how the s'more got its name and how the Girls Scouts were first credited with the official s'mores recipe back in 1927. The author also discusses the ingredients in s'mores including the different varieties of chocolate you can use and how to store it.
Then the book is divided into chapters with s'mores recipes! With chapters on Breakfast S'mores, Cakes & Pies, Cookies & Brownies, Drinks and more, I was amazed at the author's creativity in putting the s'mores spin on some of my favourite types of desserts. S'mores Stuffed French Toast anyone? Or how about S'mores Creme Brulee? Oh my yum. Really there isn't one recipe in there that I wouldn't try. I want them all!
I wanted to start out with a simple recipe that wouldn't take me long to make. I'll work my way up to the more elaborate ones when I've got more time on my hands. I made the Reese's Cup Fluffernutter S'mores from the Not Your Average S'more chapter. They literally only took 5 minutes to make and were absolutely heavenly! Melted chocolate, peanut butter with gooey marshmallow fluff and a crispy graham cracker. Perfection.
In the very last chapter, I love that the author gives her recipes to make your own ingredients for S'mores from scratch. There's a recipe for Homemade Marshmallows and Homemade Graham Crackers I want to try. I wonder how having all the ingredient made from scratch would compare. I'm betting that it would make the recipes even more amazing if that's possible.
I can't wait to impress my family with more of these mouthwatering recipes. The hardest part will be deciding what to make next!
About the Author:
Susan Whetzel (Pearisburg, VA) is a professional baker, food blogger, and award-winning recipe developer. She was profiled in Taste of Home magazine and her blog, DoughMessTic, has been featured on several high-profile cooking websites, including Betty Crocker, Martha Stewart, foodgawker, and Foodie View. You can visit her blog at www.doughmesstic.com, or follow her on twitter @doughmesstic.