I'm watching a TV show based in the early 80's and I keep thinking to myself how much times have changed. I look at their home and see the old fashioned TV's with the rabbit ears and the Commodore 64 computers. Technology has changed the way we use the items in our home and it's a trend that is only going to continue on. I'm all for it!
Smart Home
My dream home would be full of smart home technology products. We are slowly upgrading as items need to be replaced. I love the convenience they offer and anything that makes life easier is good in my books. My next project is a full kitchen remodel starting this spring. I'll be replacing some appliances with newer models and I've already got my eye on a fridge with lots of bells and whistles. My dream kitchen is going to be much more functional and modern and I cannot wait till that project is completed.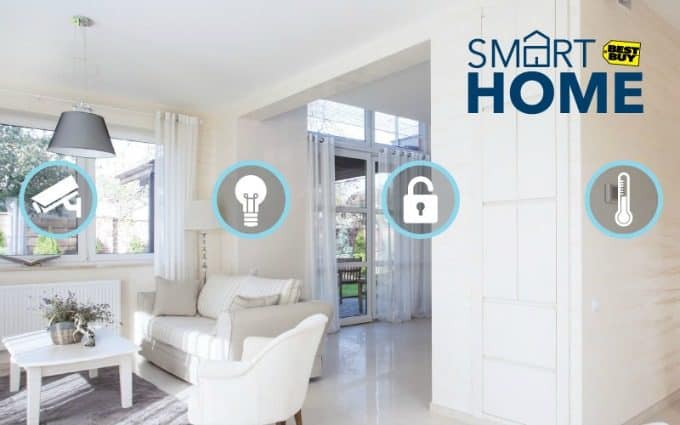 If you're like me and love the comfort and convenience of smart home technology and you are in the Toronto area, you will want to visit the National Home Show currently running until March 19th. The Best Buy Smart Home is one of the exhibits there and will showcase a custom-built home featuring smart home technology. You'll be able to check out smart lighting and thermostats, security cameras and connected appliances. It's a fantastic opportunity not only to see what's new and hot, but also to do research on products you want to buy for your home.
Today, I'm sharing a preview of a few of my favourite smart home products from Best Buy. These are all items I want for my home!
1. Samsung ATMOS 500-Watt 5.1.4 Channel Sound Bar with Wireless Subwoofer. I want this sound bar for my family room to enhance our entertainment experience. The sounds from whatever you are watching will completely surround you so you'll feel like you are immersed in the movie, show or game. If you hear a plane, it will be like it's right there flying above your head.
2. Samsung 36″ 27.9 Cu Ft 4-Door French Door Refrigerator with Family Hub. Meet my dream refrigerator! I am SO wanting this appliance for my new kitchen. Not only does it have ample storage and looks sleek and chic, but it's also very smart. This fridge has Wi-Fi! It will become your kitchen command centre where you'll be able shop online for groceries, stream music and find new recipes to try. It even has three built-in cameras so you can check what's inside your fridge on your smartphone – super handy if you ever forget your list while grocery shopping.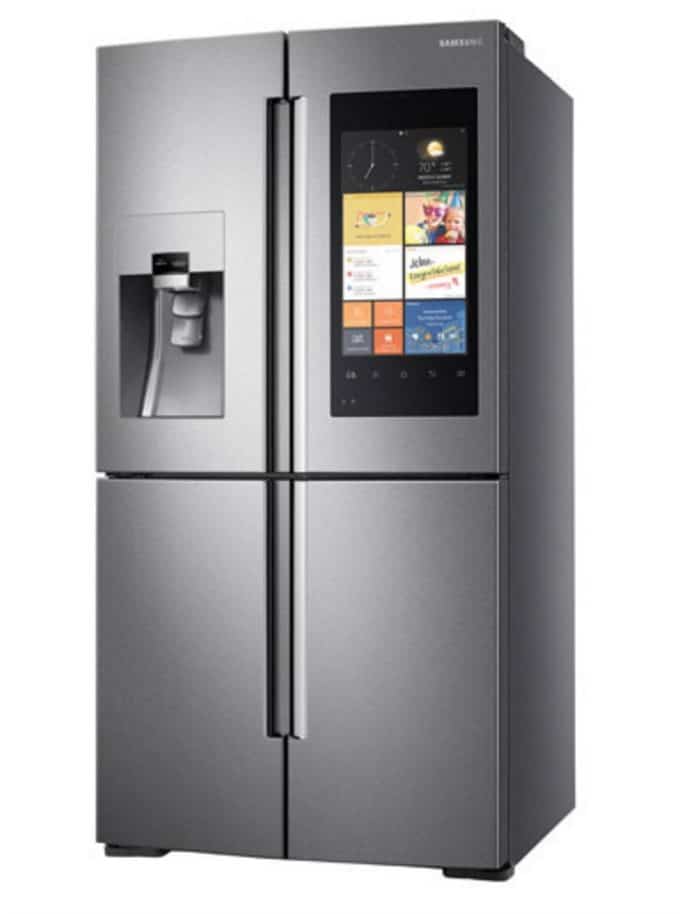 3. Samsung 5.2 Cu. Ft. HE Front Load Steam Washer & 7.5 Cu. Ft. Electric Steam Dryer. Buying a matching washer and dryer set is also on my wish-list as my current ones have seen better days. I want machines that will make doing laundry easier and faster. I like that this pair is large so it will hold more laundry and has a variety of settings to choose from depending on my needs.
I'm also intrigued by steam technology and it's not something I'm very familiar with. This set uses a technology called Multi-Steam that allows you to remove wrinkles and odours easily. Think of how much time you'll save ironing! For me, I don't iron so it will be nice to not always look like a wrinkled hot mess.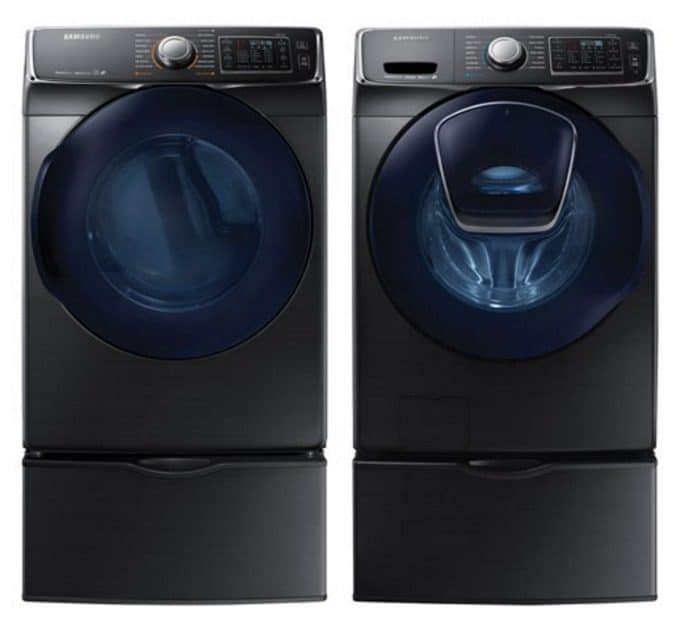 4. Samsung 28″ 4K UHD 60Hz 1ms GTG TN LED FreeSync Gaming Monitor. I'm not a gamer, but John is. He would love to have this monitor for all his games. It has 8 million pixels and 1 billion colours so he'll feel like he is right there in battle with his character. He'll be able to see all the moves his characters make no matter how fast they are moving. The monitor he uses now is a bit blurry when the character is fighting so having a new smart monitor like this one will be a welcome change for him.
5. Ring Wi-Fi Video Doorbell Pro. When we replace our 1950's doorbell, I'm getting this one. I'll be able to SEE who is at my door before I answer it and be able to answer it virtually from my smartphone or tablet. You'll never miss a delivery again! I'm trying to picture the delivery driver's face when he hears my voice coming through the doorbell!
I also like the security of knowing who has been at my house whether I'm home or not. It will show you all activity thanks to advanced motion detection and infrared night vision. Day or night, you'll know who has come by.
6. iRobot Roomba 980 Vacuum Cleaning Robot. I'm not crazy about vacuuming, but it's a chore that needs to be done. I'd love to never have to vacuum again and still have a clean house. You don't need to hire a housekeeper. Get yourself this vacuum-cleaning robot to clean your entire house. Download the iRobot HOME app and you can start it from your mobile device.
7. Philips Hue A19 Smart Personal Wireless Light Bulb Starter Kit. Adjust the lighting in your home without ever flicking the switch. You can control the look and feel of the lights with your smart device. For example, you can create the look and feel of a sunset. Find the perfect lighting by changing the tone, contrast, and colour on the app.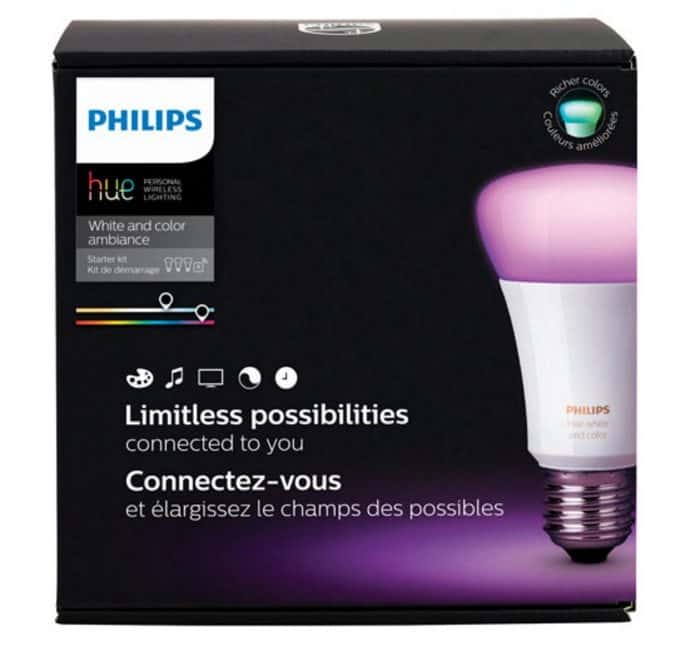 8. WowWee CHiP Robotic Dog. Yes, you can get a new pet and never have to worry about accidents in the house again! This robotic dog will do regular dog activities like follow you around the house and play catch. You can even train him using voice commands. I think it's so neat and would be cool to have to play with my cats.
9. Meccano Meccanoid XL 2.0 Personal Robot. I want to adopt this guy! My childhood dreams of owning my own robot are now in reach. This personal robot is life size at 4 feet tall and features realistic movements, voice recognition and will also talk to you with its 3000+ pre-programmed phrases. You can customize it to suit your needs and also use your smart device to communicate wirelessly with it. It's the perfect gift for the person who has everything. I bet they don't have a personal robot!
Have I piqued your interest? Make sure to check out the Best Buy Smart Home at the National Home Show in Toronto this week!
Check out Best Buy to learn more about each of these products mentioned. They also have the Geek Squad to help you with all your smart home needs. You can visit Geek Squad in-store or get 24/7 Online Support to help you keep all your tech in its best shape. Geek Squad is exclusive to Best Buy and they are there to make sure you get the most out of your tech for you home!
Which smart home product is your favourite?
Connect with Best Buy Canada on Facebook and Twitter.
Disclosure: I was compensated for this post. All opinions are my own.