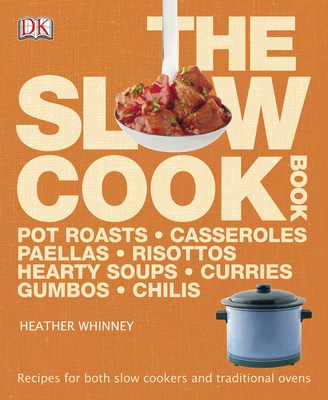 This post contains affiliate links. I received a copy of this cookbook for review.
Title: The Slow Cook Book
Author: Heather Whinney
About the Book:
Whether you use an electric slow cooker or a more traditional oven or stovetop, slow cooking is a wonderful way to prepare wholesome, home-cooked food with the greatest of ease.
Celebrating slow cooking in all its forms, The Slow Cook Book includes 200 recipes ranging from typical slow-cook dishes-hearty, warming stews and pot roasts-to more surprising fare such as cakes.
Showing two methods of slow cooking for each recipe—one using an electric crock pot and the other using a combination of traditional pots, pans, stovetop, and oven—The Slow Cook Book demonstrates step-by-step techniques and provides everything you need to become a slow-cook expert.
My Review:
I use my slow cooker year round because of how versatile it is to use and how many different types of recipes I can make with it. I love that it does the work for you pretty much. After all the prep work is done, you set it and forget and can enjoy the delicious smell wafting through the house. I added yet another slow cooker cookbook to my growing collection: The Slow Cook Book. It's a winner!
The book opens with tips and techniques on how to best use your slow cooker. The author mentions using hot liquid when topping up liquid in the slow cooker to prevent lowering the cooking temperature. I had never even considered the temperature before, but it makes perfect sense. There's also tips on how to choose a slow cooker as well as how you can adapt recipes for the slow cooker. For instance, if you are using frozen ingredients you must make sure to thaw them before using them.
She also talks about the types of slow cooking (poaching, braising, etc) and includes tips and techniques on each method. I think my favourite part of this section is where she talks about the various types of ingredients you can use in the slow cooker. The meat section was particularly helpful because I cook mostly meat in there. There's even a section on preparing fish and seafood for the slow cooker. I've never tried making seafood this way. I love all the pictures of the various stages of the process.
The book also has a Recipe Choosers chapter where it lists all the recipes and where to find them in the book based on the style of meal. For instance, you can find all the vegetarian recipes at a quick glance.
The meat of the book is definitely the recipes! It's broken down into 9 chapters including:
Soups and broths
Stews
Casseroles, cassoulets and meatballs
Tagines
Curries
Chilis and Gumbos
Pot roasts and ribs
Risottos, pilafs and paellas
Desserts
Each recipe tells you how to make it both in the slow cooker and the traditional method (ie. on the stove top). Since I have a slow cooker, I'd use the slow cooker method, but it's nice for the traditional way to be included in case you didn't have one or wanted to try it a another way.
I tried the Slow-cooked Beef recipe found in the Chilis and gumbos chapters. It's pretty much a beef stew minus the potatoes. I wanted to find a recipe that would suit my low carb diet and it fit the bill perfectly. It has delicious tender beef with onion, carrots, celery, garlic, red pepper in a tomato base and seasoned with oregano and paprika. The recipe called for anchovies, but our local grocery store does not carry anchovies (crazy right?!) so I left those out. It was hearty, filling and did not last long!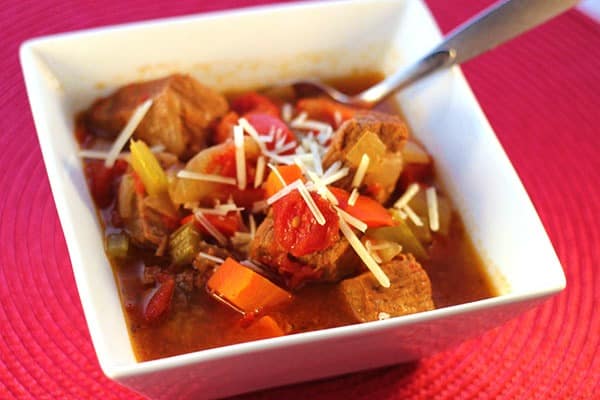 I'm looking forward to trying more recipes from the book. Maybe next I'll go for a dessert….Classic Crème Caramel anyone?
Find it on Amazon.ca!