Shoofly Pie is a rich and decadent vintage dessert everyone loves! This sticky sweet pie is perfect for holiday dinners and easy to make with just 7 ingredients.
I learned how to bake with my grandmother, and she was the queen of vintage desserts. One of the first recipes I learned from her was this Shoofly Pie because it's so easy but fun to make with little hands!
This molasses pie is a little fluffy, a little sticky, and completely delicious. Just mix everything together and pour it into your pie crust for a sweet treat everyone will love. I always make them around the holidays because it's got that pecan pie flavor with none of the nuts, and it's easy to make in advance!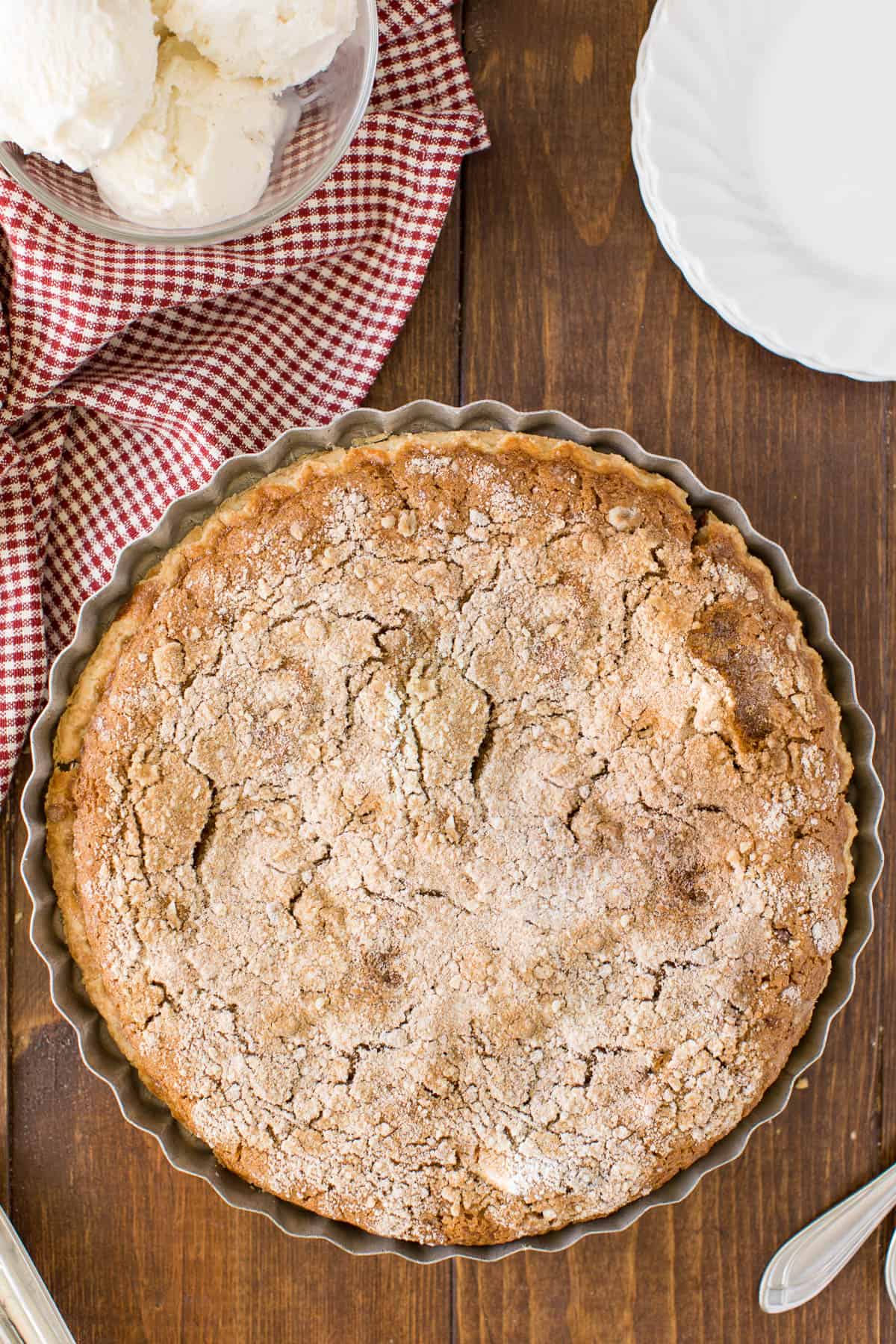 What Is Shoofly Pie Made Of?
Flour: Even if you're not making the crust from scratch, you'll need some flour to fluff up the pie filling. This pie actually started as a crustless dessert, so the flour was also used to give it some shape when sliced.
Brown sugar: I love the combination of molasses and sugar so much more than plain sugar! It's so much richer and has that perfect dessert sticky sweet flavor.
Shortening: This is a vintage dessert staple. Shortening was a cheaper way to get fat into desserts instead of butter. It's great for pie crusts and shoofly pie filling!
Table syrup: Most Shoofly Pie recipes call for molasses, but I use a combination of brown sugar and table syrup, instead. It adds a little maple flavor and so much moistness.
Baking soda: Be sure to mix the baking soda into hot water until it dissolves completely for the perfect texture. No one wants a clump of baking soda in their bite!
Egg: You just need 1 large egg for this whole pie! Let it come up to room temperature while you prep the other ingredients.
Frozen pie shell: I love my shortcuts, and frozen pie crusts are a personal fav. You're welcome to make your own crust if you'd rather, but most frozen pie shells are close to perfect.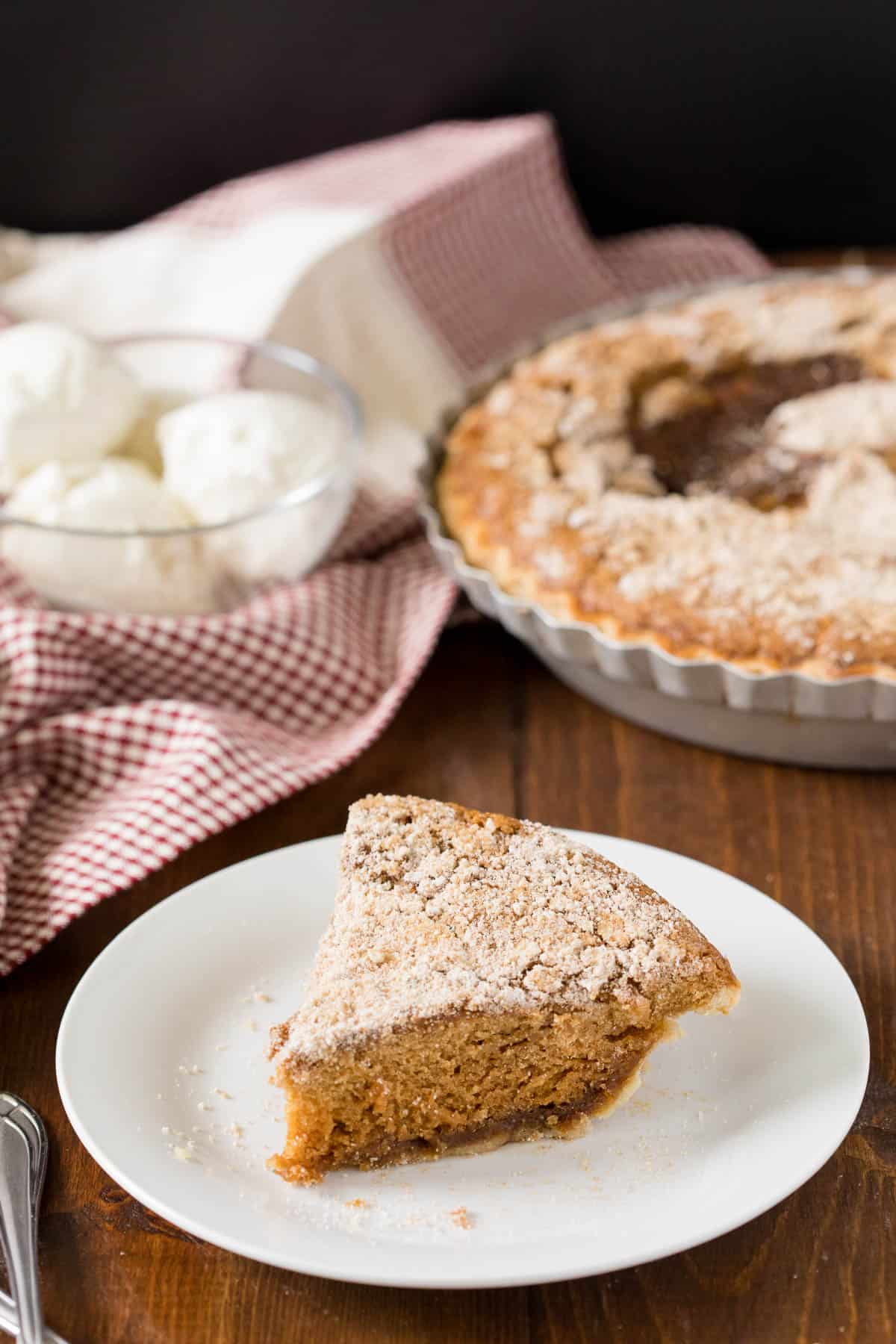 What I Used For This Recipe
This post contains affiliate links.
Mixing bowls: You'll need 2 mixing bowls for this recipe. Be sure you use one like these with an easy pour spout to get all the filling into your pie crust with no spillage!
Baking sheets: I always put a baking sheet under my pies when they're baking. That way, it can catch any filling that spills over instead of cleaning my entire oven.
Measuring spoons and cups: My grandmother barely measured, even when she was baking. I don't trust my eyeballs all the time, and these measuring cups are my favorite in the kitchen.
How To Make It
First, mix together the flour, brown sugar, and shortening until it's crumbly. I use my fingers! Set aside some of the crumbly mixture for later.
In a second mixing bowl, mix together the egg and table syrup.
Now, dissolve the baking soda in hot water, and add it to the syrup mixture. Add the bulk of the crumbly mixture to the syrup mixture, and stir. Pour it into the pie shell.
Finally, sprinkle the reserved crumbs on top, and bake until mostly set. Let it cool completely before slicing!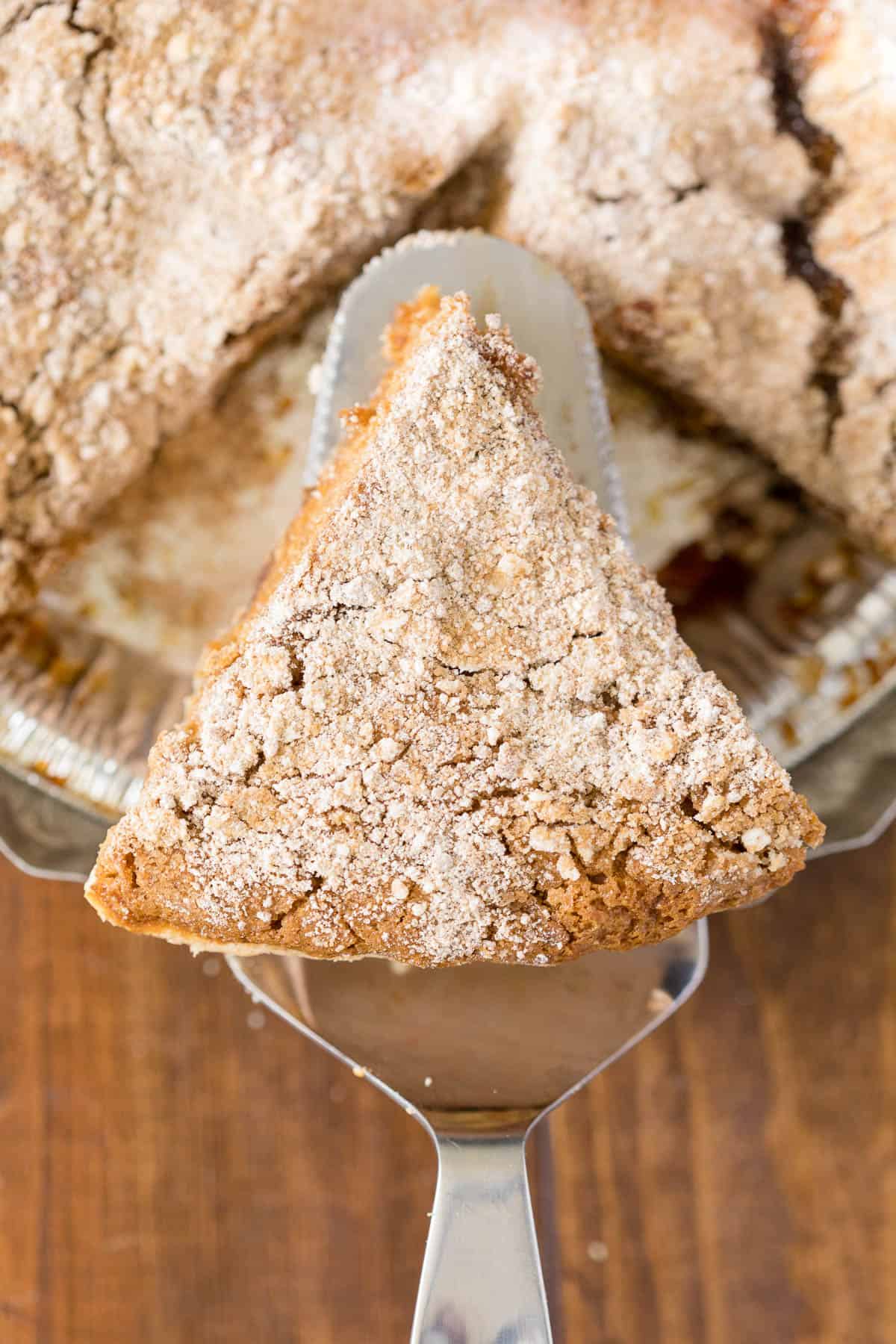 Why Do They Call It Shoofly Pie?
This Pennsylvania Dutch dessert sounds a bit buggy, but don't worry — it's a super sweet, chewy, delicious pie with no flies, I swear!
The wacky name comes from the pools of sticky sweet molasses that formed on top of the pie as it cooled. Flies love a puddle of sweetness, and the name was born.
What's the Difference Between Wet Bottom and Dry Bottom Shoo Fly Pie?
When it comes to this classic vintage dessert, there's 2 ways to make it.
I prefer a wet-bottom shoofly pie, which has a thin layer of molasses under the fluffy filling. The dry-bottom version, however, is baked until it's fully set for a cakier pie filling.
If you want a dry-bottom shoofly pie, bake it until there's no wobble left in the center. If you want a gooier version, take it out when the edges are set but the center still jiggles slightly.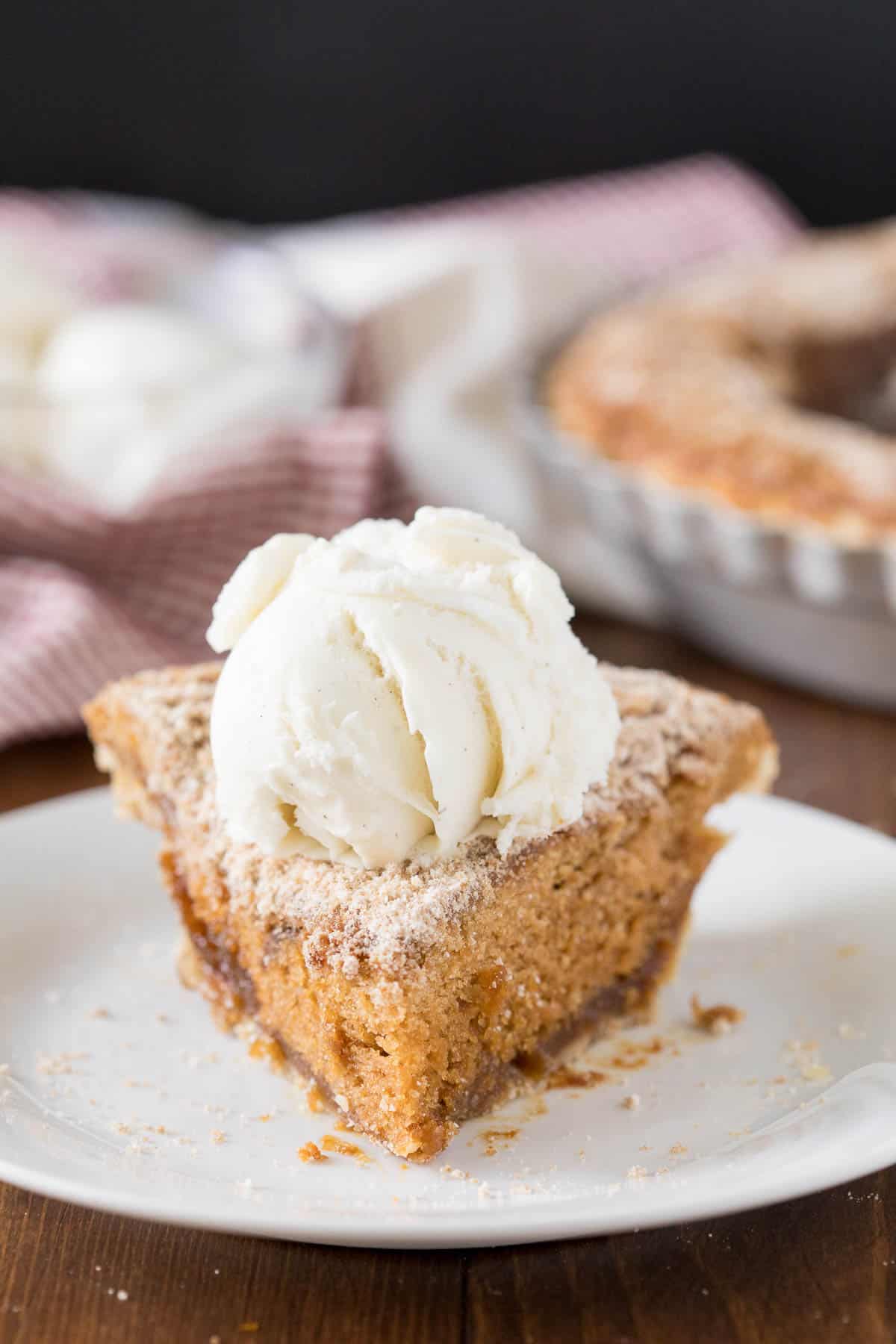 What To Serve With This
I've made this pie more than once for dessert after this yummy Mexican Meatloaf. It's packed with ground beef, melty cheese, spicy chiles, and of course salsa.
If you love this easy dessert recipe, try my cake mix cobbler! You only need 3 ingredients, and it can't get easier than this mixed berry cobbler recipe.
This Hot Fudge Pudding Cake is so sinfully rich! A luscious chocolate cake bakes right with a creamy, chocolatey pudding sauce. Each bite is pure chocolate heaven.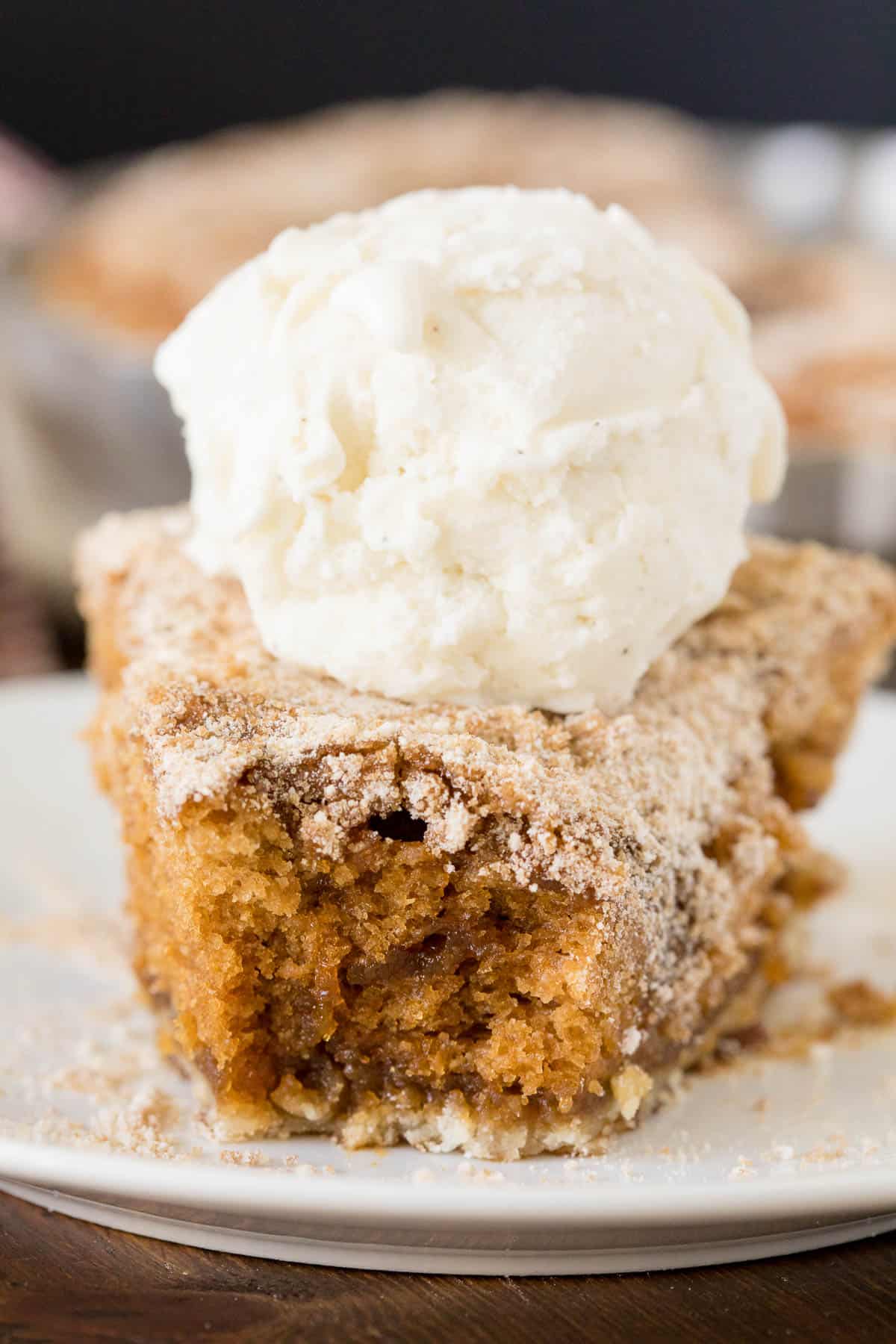 More Vintage Dessert Recipes You'll Love
You'll also like this Chess Pie and Fudge Pie.
Do you have any amazing vintage dessert recipes? I'm always looking for more recipes to try! Follow me on Instagram @simplystacieblog, on Facebook at Simply Stacie, and on Pinterest @SimplyStacie and let me know how you liked this and my other recipes!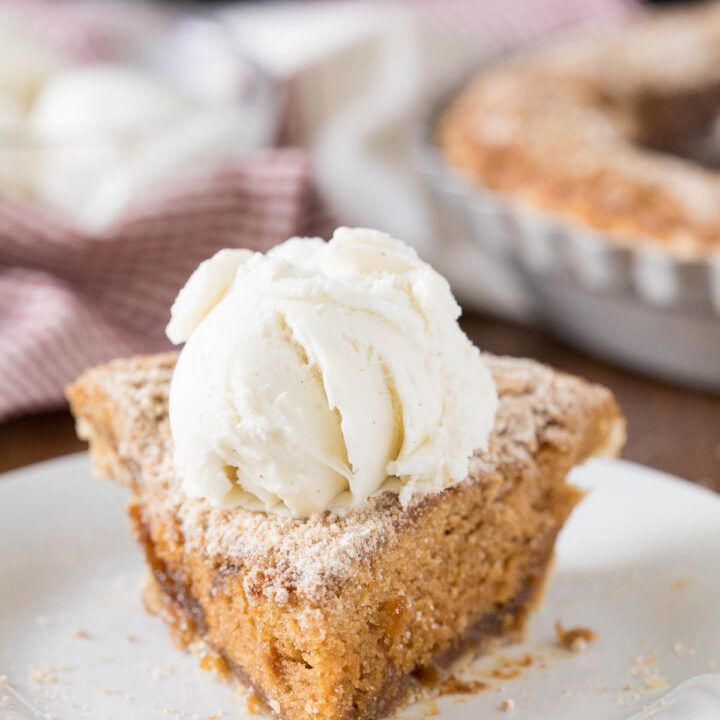 Shoofly Pie
A popular Pennsylvania Dutch pie recipe from the 1800s. Great with coffee or a scoop of ice cream! A vintage dessert perfect for parties.
Ingredients
1 cup flour
3/4 cup brown sugar
1 tbsp shortening
1 cup table syrup
1 tsp baking soda
1 cup hot water
1 egg, beaten
1 9″ frozen pie shell
Instructions
Preheat oven to 350F.
Stir together flour, brown sugar and shortening to make crumbs. Set aside 1/2 cup.
In another bowl, stir together egg and table syrup. Dissolve baking soda in hot water and then add to syrup mixture and stir. Add remaining crumbs to mixture and stir. Pour into pie shell.
Sprinkle reserved crumbs on top. Bake for 40 minutes. Let cool before serving.
Recommended Products
As an Amazon Associate and member of other affiliate programs, I earn from qualifying purchases.
Nutrition Information:
Yield:

6
Serving Size:

1 piece
Amount Per Serving:
Calories:

343
Total Fat:

10.7g
Saturated Fat:

3.2g
Trans Fat:

0.3g
Unsaturated Fat:

6.5g
Cholesterol:

31mg
Sodium:

381.6mg
Carbohydrates:

56.6g
Fiber:

1.3g
Sugar:

27.5g
Protein:

5g