Disclosure: I received compensation for this post. All opinions expressed are 100% my own.
Does your mind run blank when trying to figure out snacks for the kids to take to school? First off, it needs to have ingredients that are permitted at the school and it also needs to be something that the kids will actually eat! There's no point in sending food that just comes home unopened and untouched.
I was tasked with taking the first ever #SchoolFuel Challenge from Walmart. My mission? Visit my local Walmart and shop for ingredients to make some of the yummy recipes in their Walmart Snack Report. This report is Walmart's first one ever and they are responding to parents wanting more snack recipes for the back-to-school season.
What I liked about the Snack Report is the variety of snacks included. They have a good mix of healthy snacks and sweet treats (which my kids love!). Since moving to Pembroke, I do all my grocery shopping at our local Walmart Super Centre so I was heading there anyways for my weekly shopping trip. I decided to make a healthier snack and a sweet snack for the girls. Neither of these recipes I had ever tried before so I was curious to see how they would turn out.
I'd heard about Cake Mix Cookies, but never made them before. The Walmart Snack Report has two recipes: one for Red Velvet White Chocolate Chip Cookies and another for Confetti Cake Mix Cookies. Now that I've made them once, you can bet I'll be making these again.
The ingredient list is small and you can whip up a batch of cookies in less than 20 minutes.
I had to tell myself to stop eating the Confetti Cake Mix Cookies because they are seriously addicting. They were also the kids' favourite out of the two flavours.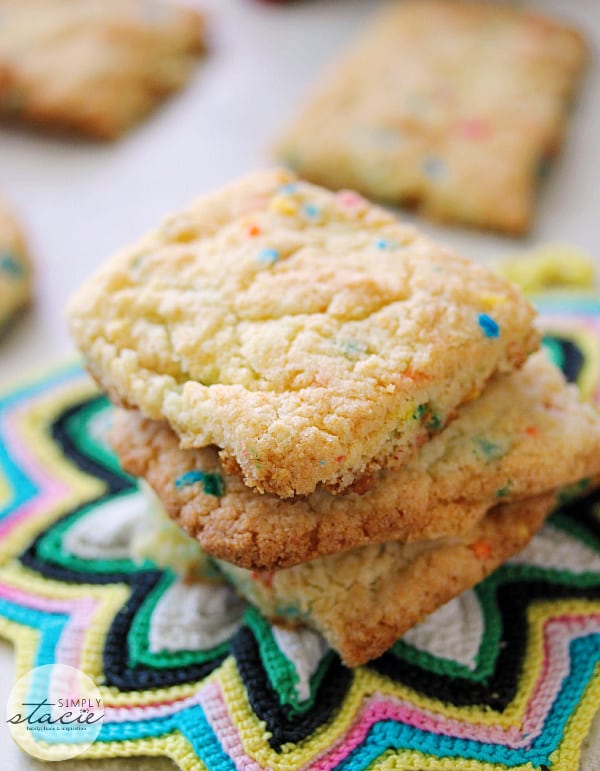 For my healthy pick, I chose these Fiesta Roasted Chickpeas. This was my first time ever making and eating roasted chickpeas. I've only ever used them in soups and salads in the past. They are surprisingly easy to make!
The Snack Report recipe calls for Great Value Taco Seasoning, but our Walmart sold out of it. I guess it's popular! In its place, I used Fajita Seasoning Mix and I figured that would be fairly close to the same flavour. In the end, they turned out perfectly! The recipe says 35 to 45 minutes, but I think next time I'd leave them in a little longer. I love the really crunchy ones.
The kids weren't sure at first, but tried them and said they were "pretty good". I can put a handful in an airtight container to bring with them for lunch. It's an inexpensive, healthy and flavourful snack!
Walmart Snack Report
. Which snack would you make first?
Connect with Walmart Canada on Twitter, Facebook and Pinterest.