I home school my three children who are ages 3, 4 and 6 and one of my favorite resources for flash cards, workbooks and learning books has been the School Zone Publishing Company. I recently learned that School Zone has an even wider selection of educational resources for children including software, iBooks and applications for the iPad, iPhone, iPod Touch, as well as Intel's NetBooks.
My three year old son enjoys playing learning games on the computer but I am very particular about making sure that the software is age and content appropriate. I was very impressed with the content of the Flash Action Software: Colors, Shapes & More which is designed specifically for preschoolers. School Zone Publishing is proud that this title has won over 120 industry awards and they are confident that it is "the best software for your child." My son typically plays for up to 20 minutes per day with my supervision though he would willingly play for much longer if I allowed him too. He really likes the fun tasks and games, colorful graphics and characters and easy to follow instructions. As a mom and educator, I appreciate that he is learning while having a blast!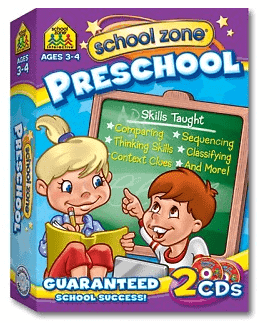 School Zone® Preschool software includes 2 CDs designed for children ages 3-4. My younger two children request to play this game every day and they are learning valuable skills such as comparing, sequencing, thinking skills, classifying, context clues and more. This preschool software is exceptional in that it has age appropriate content that is challenging but not frustrating and it utilizes positive reinforcement to successfully motivate my children. In fact, the first time my daughter was awarded a reward certificate she was beaming with pride and wanted to display her award (it even has her name on it) on the bulletin board. I like that this software includes "self-paced learning" such as audio guidance, easy to follow instructions and the ability to work in order or skip ahead. In my opinion, $24.99 for the School Zone® Preschool software is an excellent value because I have paid much more for inferior software from other companies in the past.
Hannah, age 4 has a love for learning and especially enjoys the Alphabet Fun! Write & Reuse Workbook. As promised, it literally offers hours of reusable fun and activities through a solid introduction to the alphabet (upper and lower case) and beginning phonics. After using this workbook for two weeks, my daughter has shown noticeable progress in letter recognition and her ability to make the letter sounds. We use dry erase markers and dry erase crayons with a cloth and it works great. If she makes a mistake she doesn't get upset since she can erase it and try again until she gets it right.
Did you know that School Zone® also has an entire line of Leveled Readers to help you teach your child to read? The Start to Read! Early Reading Program is an excellent supplemental reading resource that works by having your child listen to the stories on the CD while following along in the five books. My six year old son was so proud when he advanced to the next step and was able to read the stories aloud. I enjoyed watching his self-esteem soar. Finally, the review section at the end of each story helps teach reading comprehension skills and is a valuable addition to this reading program. There are three separate programs depending on your child's reading abilities, including level 1 for ages 4-6, level 2 for ages 5-7 and level 3 for ages 6-7. We have incorporated this reading program in our daily curriculum and my son actually gets excited when it is time for a new book in the series. I highly recommend this program for parents of children who are learning to read.
For over 30 years, School Zone Publishing Company has been creating high quality, affordable educational resources for children. I will continue to include School Zone workbooks, flash cards/puzzles, software and books in our home school program. The School Zone Publishing Company has resources for children in Preschool through Sixth Grade and you are invited to visit the School Zone website to browse the entire selection of products available. Hurry because I just noticed that School Zone also has a 15% off code for software available on their home page which is valid through October 31st 2011!
Giveaway
One lucky reader will receive one Start to Read! Early Reading Program in your choice of Level 1 , Level 2 or Level 3!



Check out the list of all my current giveaways!
IMPORTANT: Please leave your entries above using the Rafflecopter form. Comments do not count as entries. If you are having issues with the form please leave me a comment here. It's a new software and feedback is appreciated!
To do the daily tweet: If the form will not let you put in your daily tweet, please fill out the main entry again and put "Do Not Count" in the Extra Info, Name or Email box. Then it should let you complete the daily tweet.
*I did not receive any financial compensation for this review, though I did review a sample of the product for evaluation purposes. The opinions are based only on my experiences with the product.*