I find the back-to-school season bittersweet. On one hand, it's a fresh start: a new beginning and a chance to get back into a familiar routine. On the other hand, it makes me a little sad because it means my babies are growing up.
It seems like yesterday that they were in diapers and starting junior kindergarten. Now my daughters are 11 and 18. Olivia graduated grade 12 at the end of the 2016 school year. She has chosen to go back to high school for a "victory lap". My youngest, Bridget, is going into grade seven and is becoming a beautiful young lady right before my eyes. Olivia works so she purchases her own clothes, but I'm still back to school shopping for Bridget. It makes me happy because she still needs me.
My cousin and I went back to school shopping at our local Giant Tiger in Pembroke, ON. It also happens to be the world's largest Giant Tiger. Pretty neat, right? I love shopping there for my own clothes, household items and groceries. I discovered that they just released their new kids' wear lines. Perfect timing for the back to school season!
If you're a regular Giant Tiger shopper, you'll know already that they provide excellent value and great quality. If you haven't shopped here yet, you are missing out. The prices are fabulous and there is plenty of selection. I was impressed with the variety of kids' clothes and ended up filling my cart with a bunch of cute outfits for my daughter!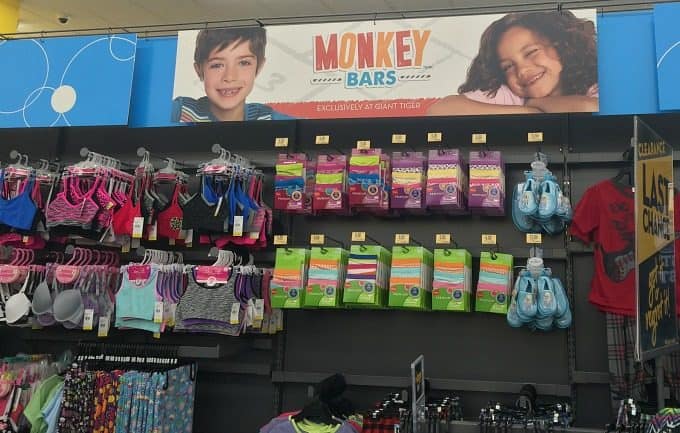 The new kids' wear brands are geared for kids of all ages: Monkey Bars (Girls/Boys, sizes 2T- 6X), Survival Gear (Boys, sizes 7-14) and Bella & Birdie (Girls, sizes 7-14). They are stylish, durable and affordable. You can buy a bunch of cute outfits for your kids without breaking the bank. I always feel great when I leave Giant Tiger because of all the amazing deals I snagged.
Style matters too. Bridget is a little fashionista and would make her opinions known if she did not like an outfit I selected. We shopped the Bella & Birdie line and Bridget loved all the outfits. I did too, but I also liked the PRICE.
The Bella & Birdie collection was perfect for Bridget. They were trendy, easy to mix and match to create different looks and perfect to wear to school.
Are you ready for the fashion show? All of these clothes are from the Bella & Birdie line and are size 14. She posed like this with no direction from me whatsoever. She looks super cute and confident! I'm a proud mama.
Bridget liked the "western" look of this outfit. It reminded her of horseback riding, one of her passions. The necklace pictured here is attached to the shirt.
This outfit is my personal favourite. It's simple, but soft and feminine. If I wore a kid's size 14, I'd borrow it from her.
See the "jeans" she's wearing? None of them are actually denim! They are stretchy, super comfy leggings.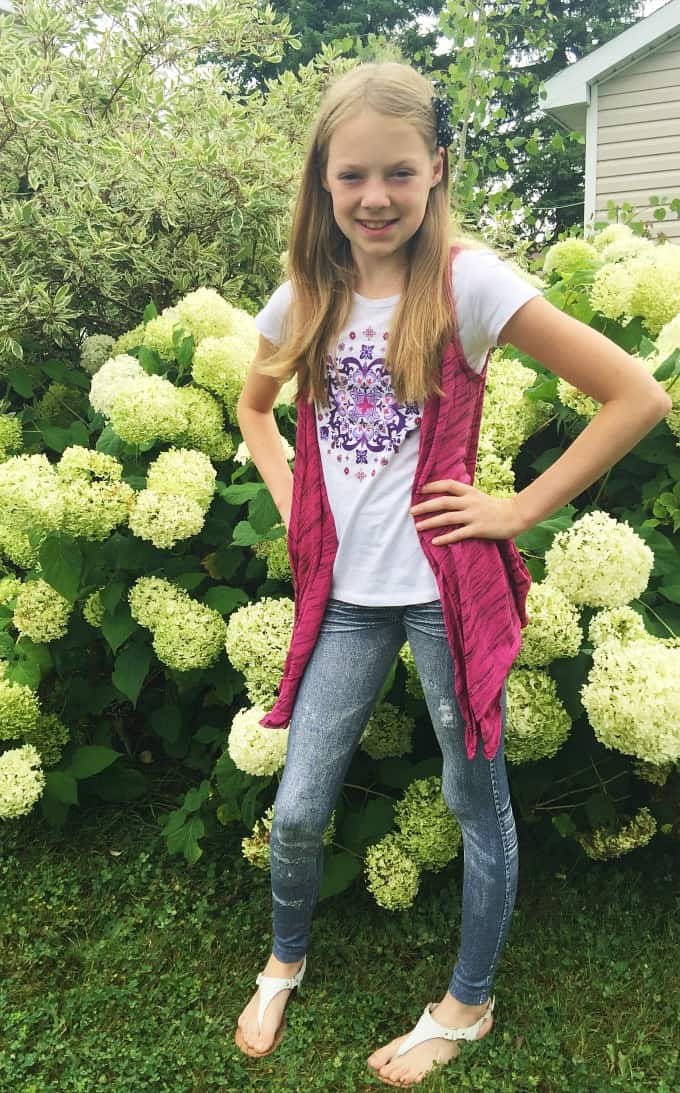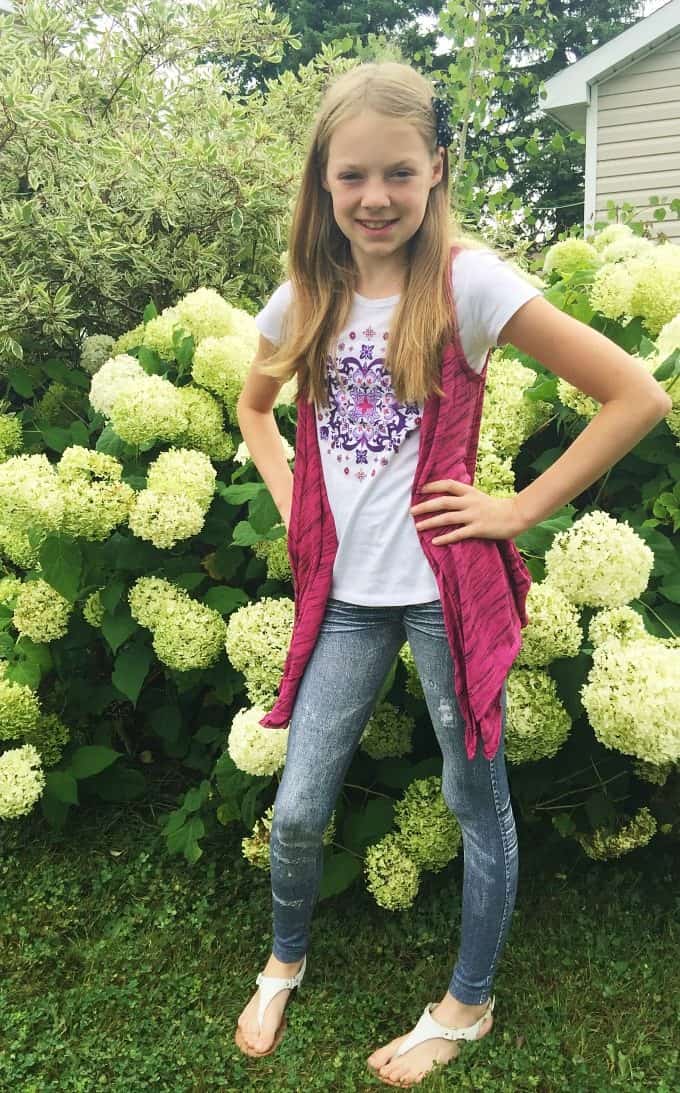 I love the cute scarf here. She looks so grown up.
Comfy and casual!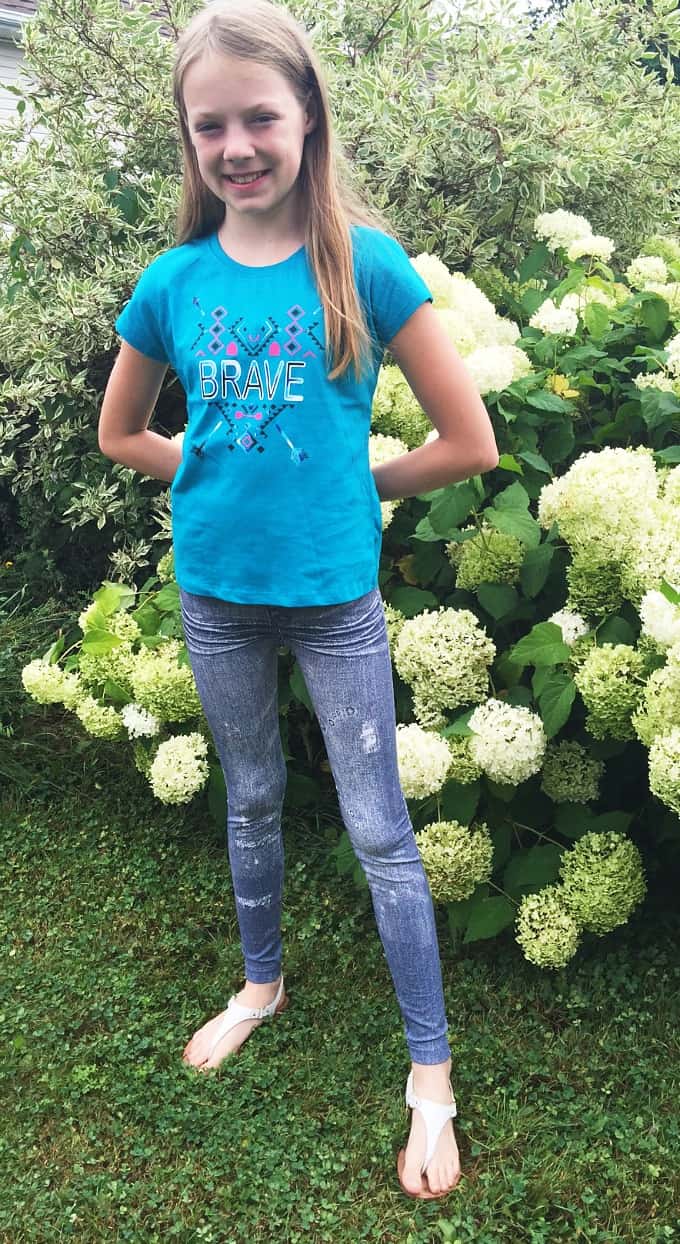 Another thing I love about Giant Tiger is their "Happiness Guarantee". If your child has outgrown, outlasted or changed their mind, simply return the item with the receipt at any time for a full refund. How awesome is that?!

I also wanted to show you an outfit my cousin picked up for her son, Connor. He's wearing clothes from the new boy's line: Survival Gear.
Stock up on stylish back to school clothes for your kids at your local Giant Tiger. Find a store near you or shop online. I think you'll like what you find. I know I did!
What do you think of the new kids' wear line at Giant Tiger?
Disclosure: I am participating in the Giant Tiger campaign managed by SJ Consulting. I received compensation in exchange for my participation in this campaign. The opinions on this blog are my own.