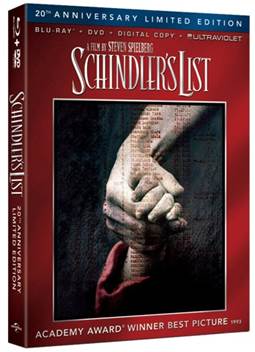 Title: Schindler's List 20th Anniversary Limited Edition (Blu-ray + DVD + Digital Copy + UltraViolet)
In honor of its 20th anniversary, Academy Award winner Schindler's List was released as a limited edition Blu-ray combo pack with DVD, digital copy, and UltraViolet on March 5th, 2013. Although I'm a fan of director Steven Spielberg, this is one of his movies I had not yet seen. In a college German course, we watched the last 10 or 15 minutes of the film, which had me in tears. All these years later, I finally watched this Spielberg masterpiece from beginning to end.
Schindler's List was adapted for the screen from the Booker Prize winning novel of the same name, written by Thomas Keneally. It is the incredible true story of Oskar Schindler, a Nazi party member who put his life and fortune on the line to save over 1,100 Jews from being killed in the gas chambers during the Holocaust. The Holocaust claimed the lives of over 6 million Jews.
Schindler's List has an incredible cast of actors and actresses, including Liam Neeson as Oskar Schindler, Ben Kingsley as Itzhak Stern, Ralph Fiennes as Amon Goeth, and Caroline Goodall as Emilie Schindler. Truly, the entire ensemble for this film was outstanding; each and every actor and actress threw themselves into their roles, including all of the young children.
This film is not an easy one to watch. I began it one night, and made it halfway through before deciding to stop for the night. I had every intention of finishing it the following night, but it was well over a week before I was able to press "play" again because I knew the most horrifying parts were still yet to come.
Schindler's List is very graphic, so should not be watched with small children in the room. I found myself looking away from the screen during particularly violent and bloody scenes. It's an uncomfortable movie to watch, but it's an important one. There are so many things we could all learn if everyone were to see this movie. One of my favorites was that sometimes a hero can be found in the most unlikely of places. Oskar Schindler was a member of the Nazi party, yet treated all of his factory employees with respect and kindness. He was a bit of a womanizer, but in the end made an attempt to mend his broken marriage. He was wealthy, but chose to use his money to save the lives of the Jews in his employ. Liam Neeson's performance was absolutely perfect, and his speech to the Jews at the end brought on a lot of tears for me. This is a film I won't soon forget; it most certainly deserved all of the awards it has won!
Bonus Features:
Voices from the List The true life accounts of the Jews whose lives were saved by Oskar Schindler.
USC Shoah Foundation Story with Steven Spielberg Steven Spielberg talks about his experience filming Schindler's List, and how it inspired him to start the USC Shoah Foundation. It was founded in 1994, and they worked to interview and record the testimonies of those who lived through the Holocaust.
I was not financially compensated for this post. I received a sample of the product for review purposes. The opinions are my own, based on my personal experience with the product.