Family is everything. They are the people we count on when life gets tough. They make us laugh and provide us comfort. Just knowing they are there makes me feel better. With busy schedules and life in this day and age, it can be challenging to spend quality time with our family. My girls seem to be running off all the time with friends and activities. It makes it so much more important to cherish family time when everyone can be in the same place at one time.
I'm not talking about the times when everyone is home, but off doing their own things. That happens too, but I'm making a concerted effort to bring everyone together in a meaningful way. Are you looking for different ways to savour time with family? I've got some ideas on how you can do just that!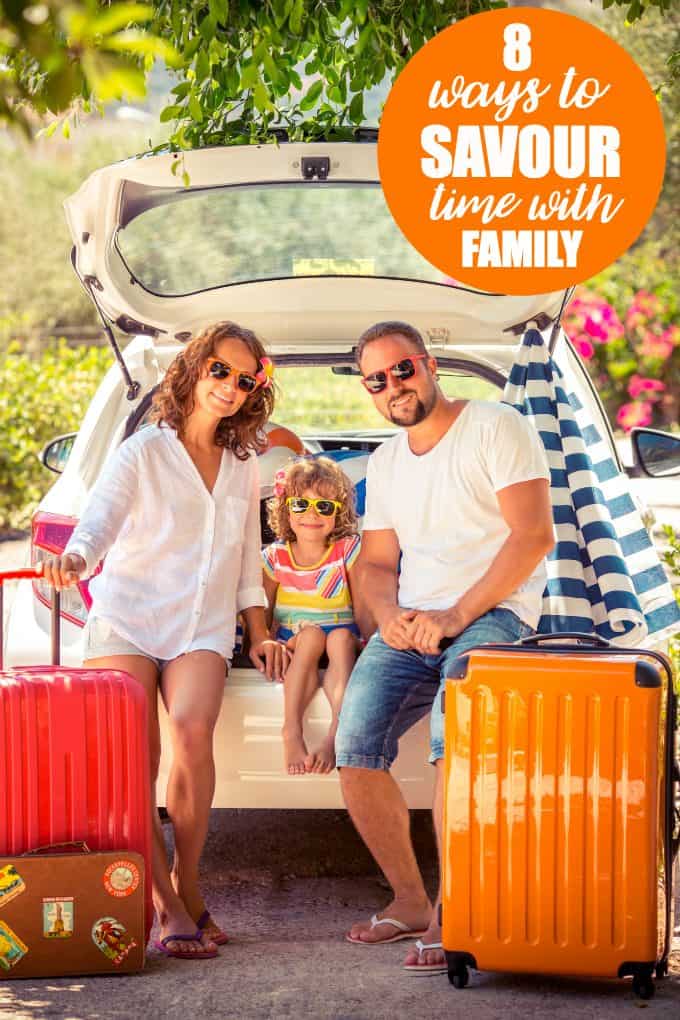 1. Family meals. Not very original, but there's a reason why family meals have stood the test of time. It's all about bonding over delicious food and is an activity that families have been doing for generations. Even if you can't do it every night, make an effort to aim for sharing a meal at least once a week. Remember Sunday dinners? It might be worth bringing those back into the picture.
2. Road trips. Hop in the car and head out together on a family adventure. You don't have to go far if you don't want to. We often go to the city for a day of shopping. It's an hour and half drive and we take that time in the car to chat about what is going on in everyone's lives. It's also a great opportunity to play some fun road trip games like "I Spy" and the "License Plate Game".
3. Game night. Another oldie, but a goodie is family game night. Grab all your favourite board games, snacks and drinks and sit around the kitchen table for hours of fun and lots of laughs. Make game night a tradition in your home and create lasting memories.
4. Movie night. I remember family movie night when I was a child. My dad would rent some VHS movies from the local video store and we'd sit in our family room watching two to three movies in a row. Nowadays, you could simply turn on the TV and tune into the movie channel or stream new releases from the Internet. The key thing is to get everyone together relaxing and enjoying each other's company.
5. Arts & crafts. Choose a project you want to work together on as a family and get busy creating. It's hours of fun and is satisfying to watch your creation come to life.
6. Family hike. If the weather is nice, head outdoors to a local trail for some exercise. Pack some food for a picnic and enjoy the fresh air with the people you love the most.
7. Play sports. I have fond memories of playing baseball with my dad and sisters in the field beside our home. With my own kids, we've played games of soccer baseball in the backyard and hockey in the driveway. It helps to keep everyone active plus it's loads of fun.
8. Explore your city. Don't have the time or money for a family vacation? No problem. Try a staycation where you head out and explore your surroundings. Tell your family to think of themselves as tourists. Visit museums, parks or any other tourist attractions. It's much more affordable and doesn't eat up a lot of time if you are dealing with busy schedules.
What are your favourite ways to savour time with family?
Thanks to Michelin for sponsoring this post. When it comes to those we care about, no distance is too far. Use #BeThereMoments on Instagram to connect with a community of likeminded people who are making the effort to show up when it matters most.