Though I am excited for the kids to be going back to school this year, I am not looking forward to the extra expenses it will bring. Let's face it – the back to school season can become E-X-P-E-N-S-I-V-E. From clothes to supplies, these costs can quickly add up. You may even think about what you need to sacrifice in order to afford all these extras.
We all want our kids to get started on the right track with all the tools they need to succeed. The good news is that with a back to school budget and some money savvy tips, you can prepare your kids for the upcoming season without breaking the bank.
How to Save Money on Back to School Shopping
Try these easy savings tips to save money on your back to school shopping!
1. Switch to Cogeco. I've been with Cogeco for the past two years for my home phone, Internet and now TIVO. I can always count on them to provide reliable service and great bundle offers to save my family money. Having good Internet is a MUST when you have kids because the school uses it so extensively to communicate with parents. My daughter accesses her assignments via Google Drive and the teachers send info to parents via email and mobile apps. Check to see if Cogeco is in your area and consider switching if they are. You can thank me later.
2. Bundle up. Right now, Cogeco has an amazing offer just in time for the back to school season. Get a trio of services including unlimited Internet, TV and Home Phone for one low price. In fact, this is their BEST offer ever so you won't want to miss out. If you are shopping around for a new provider for any of these services, consider Cogeco. I'm happy customer and highly recommend them. It's a great way to cut costs during this expensive time of year!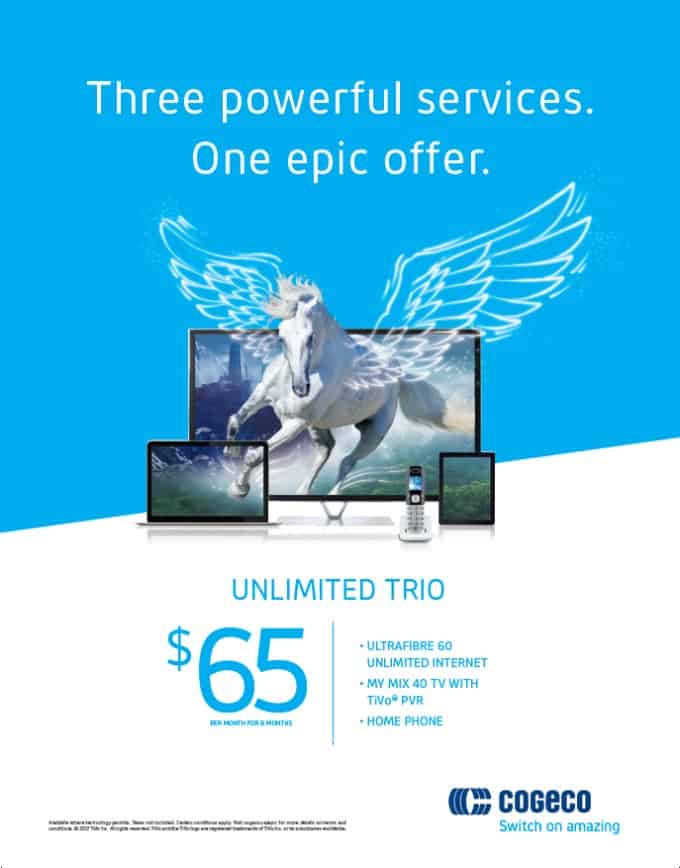 3. Try thrift stores. You'd be surprised at some of the nice clothes you can find at your local thrift stores including some well-known brand names! It's so much cheaper than going to buy brand new and as long as they are clean and in good condition, there is nothing wrong with thrift store clothes. I shop there for my family because of the great savings and selection.
4. Go green. For school lunches, that is! Instead of buying plastic baggies and paper bags to hold your child's school lunch, opt for re-usable containers. You can find them in all shapes and sizes to fit a variety of different types of food. They are easy to clean, environmentally friendly and cost effective.
5. Check social media. If you are looking to buy a specific item, follow the brand on social media to stay current with all their latest promotions. You can often learn about specials they are having or coupons you can use to save money. Often, brands will share their latest promotions on social media so you'll be the first to learn about them if you follow along. If you aren't already, make sure you follow Cogeco on Facebook and Twitter.
I'd love to hear about your back to school savings tips! Please share them with me in the comments. I'm always looking for more ways to get the most bang for my buck.
Disclosure: I received compensation in exchange for writing this review. Although this post is sponsored, all opinions are my own.