Last year, I made a profound change in the way I shop for groceries. I realized I was spending too much money and not budgeting effectively. Something had to give. I began researching ways to save money on groceries and putting a plan into action. I used to be someone who hated grocery shopping. Now I look forward to my weekly trips! I have fun planning out what I'm going to buy for the week and love seeing how much money I'm saving.
It's not that hard to do. I'm kicking myself for not starting years ago. I guess it's better late than never! I will never go back to my old way of grocery shopping. I made every mistake in the book. I consider myself now to be a savvy shopper.
I love sharing money saving tips with people and that's one of the reasons why I wrote this post. I want to tell you everything that I've been doing so you can save money too!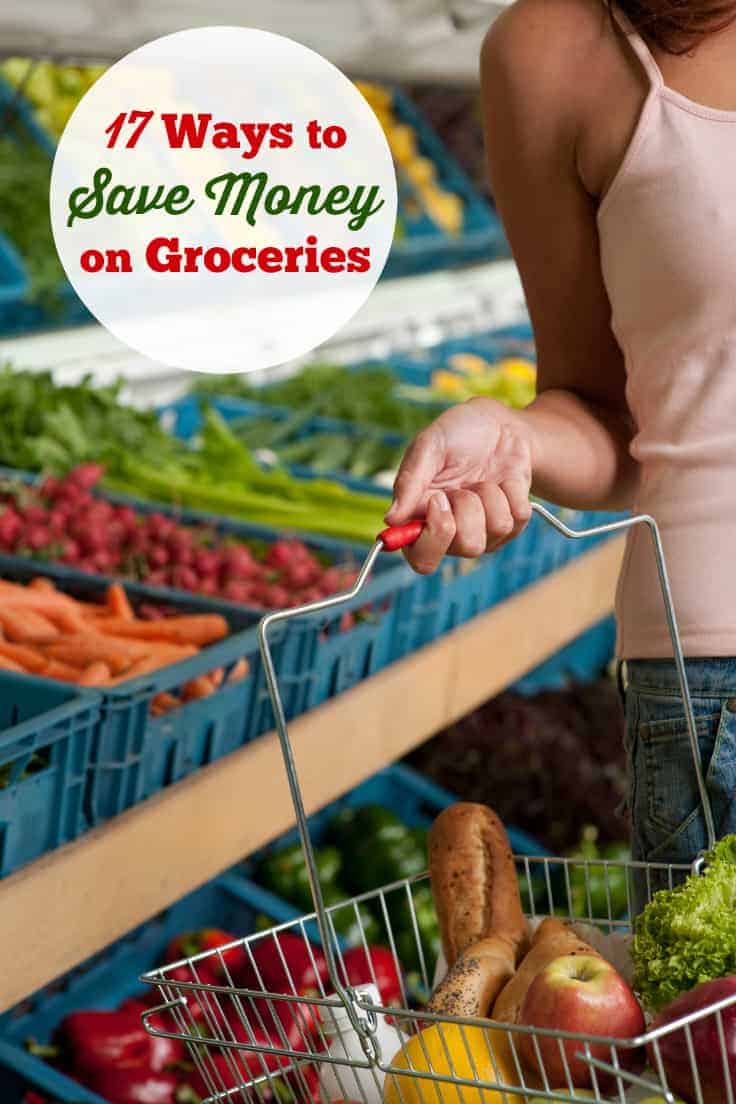 Check out my list of 17 ways to save money on groceries!
1. Cash back apps. Before August 2014, I had no idea these even existed! Once I started using them, I was hooked. I use them almost every time I shop for groceries and have already saved over $100. I scan through the apps while I'm making my list to see if there are any items listed that are on sale that week or that I know I need to pick up. The cash back app I've earned the most on is Checkout 51. They seem to have the most offers and for stuff I plan to buy anyways.
2. Shop the sales. It think this is the biggest thing that helped me save a bundle on groceries. Changing the way you shop by regularly looking at flyers to see what is on sale in your area. Then buy the items you need when they are cheap and not necessarily when you need them.
3. Stockpile. This ties in to shopping the sales. You may not necessarily need the product today, but you will eventually. If it's perishable, just make sure you don't go overboard so that the product goes bad before you can use it. I love to stockpile household items like laundry detergent, dish soap, toothpaste, etc. I've probably got enough laundry detergent and dishwasher detergent to bring me through the rest of the year! I would stockpile more food if I had a deep freezer. It's on my list of things to buy!
4. Get to know the prices. It took me a few months of really paying attention to my grocery shopping habits and consciously looking at what I'm buying vs. just throwing things in the cart like I used to. I remember previous sales and prices so that I know if something is really a good deal or the store trying to make you think it is. I notices stores do that! They put a yellow sticker or sign and claim it's a sale. Because I'm paying attention, I remember what the real sale price was before. I know then to hold out and wait to buy it at that lower price.
5. Buy enough of the product to last you till the next sale. Also known as buying in bulk! I'm not talking shelf clearing, but I always pick up a few extra of the product when there is a good sale. This way, I won't run out and can buy it again when it comes on sale again. I'm noticing stores cycling through sales ever 6 to 8 weeks (sometimes sooner).
6. Make a list and stick to it. This is a hard and fast rule for me. I simply do not shop without a list! Having a list saves you time because you know exactly what you came to buy and also, money, as you are shopping the sales. Avoid impulse purchases! If it's not on your list, don't buy it. There's only one exception I make to this rule and that is when I discover a sale (or clearance item) and KNOW that it's a great price (see tip #4) for that item.
7. Check the clearance section. Many stores have a clearance rack and you can often find deep discounts. I quickly look to see if there is anything we need or that is a good price. Bonus points if I have a coupon for an item on clearance!
8. Eat less meat. I love meat, but it's expensive! Well, some cuts of meat are pricey. I shop sales on meat and pick up a few extra to freeze. Also, avoid buying the prepackaged meat that is already dressed up with spices. You can do it cheaper on your own at home! We also have a couple meatless meals a few times a week to save on costs. I notice that chicken is much less expensive here in Ontario compared to when we were living in Nova Scotia. Beef seems to cost more here so we are eating more chicken.
9. Use coupons. I keep my coupon organizer in my purse so it's with me all the time. I have it organized into food coupons and non-food coupons. Every week as I'm preparing my list, I go through my coupons and match up any I can to sale items I plan to buy. Check out my list of 10 sites to find coupons in Canada. The grocery stores where I live rarely have the tear pad coupons found in the aisles 🙁 Tip: Read the fine print! Check the expiry date and make sure you can use multiple coupons if you plan to buy more than one of the item. I'm noticing some coupons now will only let you use ONE coupon at a time.
10. Price match (or visit multiple stores). If you live near a store with a good pricematching policy, take advantage of it! I used to price match at Walmart until they changed their rules to a limit of two items only. It's not really worth my while now. If price matching isn't an option, visit each store and buy the sale items. I've been doing it that way since February 2015.
10. Meal Plan. When you have what your family is eating planned out for the entire week, it makes dinner preparation much less stressful. It also helps you to save money because you are using up what you already have in your fridge, freezer and pantry! If you are new to meal planning, check out these meal planning book recommendations. I also have a free weekly menu planner printable that you can download and print off to organize your week.
11. Don't waste food. There was a time in my life that I hated eating leftovers. I've changed my tune over the past few years after my divorce and needing to save money. As long as the leftovers are properly stored, I'm totally fine! In fact, some meals taste even better the next day. I also like knowing that I'm stretching my dollars by making a large meal last more than one night.
12. Use your freezer. As I mentioned I'm limited on freezer space until I buy a deep freezer. I have had one in the past and know that freezer cooking is a huge time and money saver! Money Saving Mom has some helpful posts about freezer cooking.
14. Don't shop hungry. Shopping on an empty stomach is just asking for trouble! Temptation in kicks as my senses are bombarded with so much yummy food. My tummy cries, "Feed me!". I'm more likely to impulse buy items I don't really need and pay too much!
15. Watch prices carefully as the cashier scans your groceries. You're looking to make sure that you are paying the price listed on the shelf or in the flyer. Mistakes do happen and more often than you may realize! When you see a mistake, politely point it out to the cashier. That's when SCOP (Scanning Code of Practice) will kick in. Most retailers in Canada follow it. It's a promise retailers make to shoppers that the price they see on the shelf will be the price that rings up at the till. If it doesn't, SCOP takes effect. If the product scans at a higher price than what is listed, you are entitled to receive that item free (up to $10). If the item you are buying is over $10, then you will get a $10 discount. BUT you have to watch for it!
16. Don't buy convenience food. It's SO tempting, but don't do it! I'm talking about the prechopped fruit and veggies, seasoned meat, those delicious looking sandwiches for $6 and more. Chop, season and make it yourself at home and keep that extra money you save.
17. Stack discounts. I get a rush when I find a product that is on sale and I have a coupon for AND it's listed in one (or MORE!) of the cash back rebate apps. Sometimes you end up getting the item for free OR make money buying the item! Both scenarios have happened to me more than a couple times. Keep your eyes open for these sweet opportunities and see how great it feels to shop smart!
I also use an app called Flipp to help me save money on groceries.
What strategies do you currently use to save money on groceries?