Disclosure: I was not financially compensated for this post. I received a sample of the product for review purposes. The opinions are my own, based on my personal experience with the product.
San-J makes it so easy to whip up a quick and flavourful meal. Lately I've been eating a lot of chicken on the indoor grill and each night I've been using a different San-J sauce as a marinade. They are all certified gluten-free and made from all natural ingredients. Most importantly though, they are delicious and a hit with the family.
It's been awhile since I tried San-J, but now that I'm getting back into a cleaner, healthier eating plan, it just makes more sense. They make a variety of products including salad dressings, sauces, soups and crackers. They are most well-known for their premium Tamari soy sauce that's made completely from soybeans and contains no wheat. I actually already had a bottle of it in my fridge before I was contacted about doing a review!
I tried four San-J Gluten Free Cooking sauces that are all made with their signature Tamari soy sauce. They are as follows:
Szechuan-Style Sauce: It's hot & spicy and made with gluten free Tamari sauce, spices, ginger, plum and sesame.
Thai-Style Peanut Sauce: It's mild with a bit of spice and delicious peanut flavour.
Sweet & Tangy Sauce: A sauce with a Polynesian flavour of honey, fruit juice, Tamari and spices.
Asian BBQ Sauce: Sweet & smoky barbecue sauce made with Tamari, ginger, garlic and sesame.
I used all four sauces on boneless skinless chicken breasts on the indoor grill over the course of a week. If I had to pick a favourite, I'd say the Asian BBQ Sauce. I couldn't get enough of it and even added an extra dollop on my plate to dip my chicken in. It's one of the best BBQ sauces I've tried! The bottle is empty now so I need to go buy another at the store. I've been craving chicken again!
I wasn't sure if I'd like the Thai Peanut Sauce, but it actually surprised me that I did. I made a veggie stir fry with it and it was just the right amount of heat. They also recommend you try this sauce to dip your spring rolls in. I think it would be more interesting to use than regular plum sauce.
The sauces are versatile so let your creative imagination run free with recipe ideas. I plan to use the Sweet & Tangy Sauce to make some chicken wings in the oven. If you need some inspiration, there's loads of recipes on the San-J site. In fact, I found a recipe for my beloved Asian BBQ Sauce that makes my mouth water just thinking about it. Simmered Asian BBQ Beef…. It's simple to make with an exotic zing! This one is a keeper.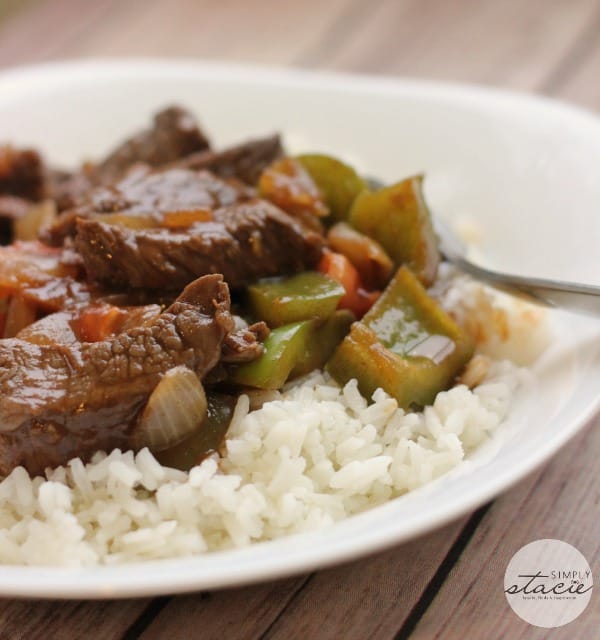 San-J sauces retail for $4.99 each and you can buy them at Nature's Fare, Whole Foods Market, Choices Market, Planet Organic, Rachel Berry, Bamboo Naturals, Big Carrot Natural Food, Loblaws, and Amazon. They have a handy store locator on their site too. Furthermore, San-J sauces have the recognition of being included in the Healthy Shopper's Fall Healthy Picks! They pick the best natural and organic products and offer money-saving coupons on the products. You can learn more by visiting The Healthy Shopper online.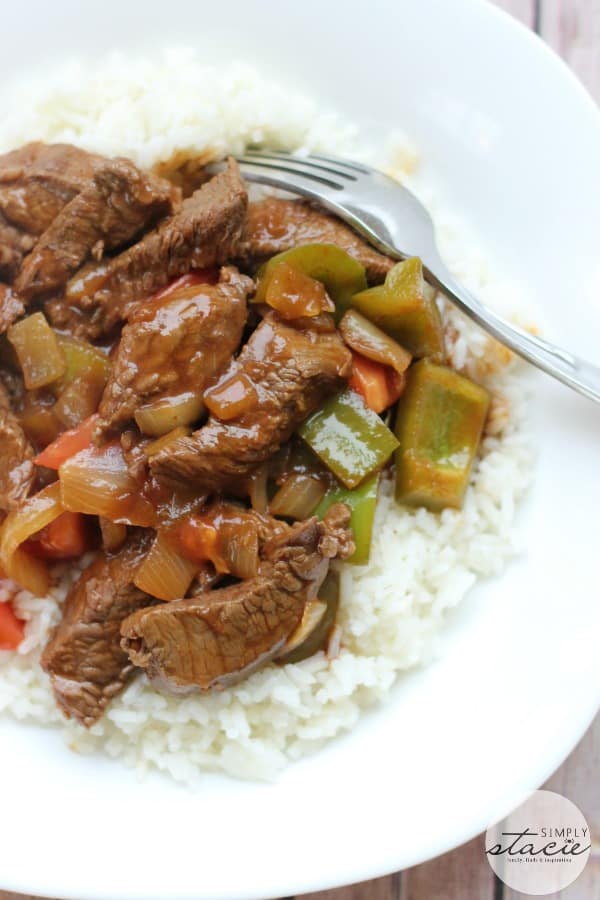 Simmered Asian BBQ Beef
Mouthwatering and a filling meal!
Ingredients
1 tsp olive oil
1 onion, chopped
1 green pepper, chopped
2 cloves garlic, minced
1 ½ pounds sirloin steak, sliced into strips
1 cup San-J Asian BBQ Sauce
1 large tomato, chopped
8 cups white rice, cooked
Instructions
In a sauté pan, heat the olive oil over medium-high heat.
Add the onion, pepper and garlic and sauté for 3 minutes.
Add the steak slices and cook until browned. Drain off any excess liquid.
Stir in the San-J Asian BBQ Sauce and bring to a boil. Reduce the heat and simmer uncovered for 30 minutes.
Add the tomato and simmer for the final 2 minutes.
Serve over the cooked rice.
Recommended Products
As an Amazon Associate and member of other affiliate programs, I earn from qualifying purchases.
Nutrition Information:
Yield:

6
Serving Size:

1
Amount Per Serving:
Calories:

656
Total Fat:

18g
Saturated Fat:

7g
Trans Fat:

0g
Unsaturated Fat:

8g
Cholesterol:

104mg
Sodium:

552mg
Carbohydrates:

83g
Fiber:

2g
Sugar:

18g
Protein:

37g