Two weeks ago, I participated in the Sam's Club Apps in a Snap Challenge, and this weekend I returned for my second trip to Sam's Club as a card-carrying member to participate in the Sam's Club Simply Delicious Meals Challenge.
I was given the choice between a Castlewood Reserve Spiral Ham or a Whole Boneless Pork Loin, and we decided that we'd have the Castlewood Reserve Spiral Ham. My challenge was to come up with a lunch and dinner menu using the Castlewood Reserve Spiral Ham.
I have a small family, and not a lot of room to entertain guests (we still don't have a dining room table or chairs, though I noticed that Sam's Club had a few options, and might have to go back and check them out), so I wanted to keep it simple, using things that could be easily reheated.
We're also a busy family, and don't have the time to build entire menus from scratch. This is just another reason why I absolutely love Sam's Club. After picking out one of the smaller hams (ours was about $17, and price is determined by the weight of the ham), we checked out some of the easy to prepare side dishes and chose one for lunch and one for dinner.
Here's what we came home with:
As soon as we got home that night, we began heating the ham. Since it's already cooked, all we had to do was just warm it up. Instead of cooking the whole ham and using the glaze that came with it, we pulled off enough slices to feed everyone (my friends Sara and Crystal joined me for the shopping excursion) and baked them until warm.
We served 2 sides with dinner: the Main Street Bistro Scalloped Potatoes and the Artisan Fresh Rosemary and Sea Salt Focaccia Bread. The scalloped potatoes are quick and convenient; they can be baked in the oven or heated in the microwave. Everyone was pretty hungry, so we cooked them in the microwave, timing them to be finished when the ham was finished. I also served up some of the Artisan Fresh Rosemary and Sea Salt Focaccia Bread with potatoes and ham.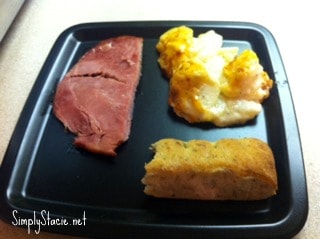 For lunch the next day (just me eating this time), I made cold ham sandwiches from the ham we hadn't warmed up the previous night. I used some of the cheese we already had at home, and spread some horseradish inside of the sandwich. I toasted the bread, warmed up some of the tomato basil soup, and had a satisfying lunch within minutes. I also loved dipping the focaccia bread in the soup.
There are so many delicious options for side dishes and main courses at Sam's Club. This trip proved to me that we can get a well-balanced meal within minutes, and without me spending a whole day in the kitchen preparing. Sam's Club is the perfect shopping experience for any family–no matter the size.
*Sam's Club provided me with a 1-year membership and a $50 gift card to purchase selections mentioned in this review. All thoughts and opinions expressed are my own.*