When I was a little girl, I used to spend hours perusing my mom's cookbooks. I'd rip off pieces of paper and use them as bookmarks for the recipes I wanted to try. I was glad that she indulged me after I told her I wanted to prepare dinner for the family. She purchased all the ingredients and let me loose in the kitchen. I was about 10 or 11 years old so I needed her help still with a few of the tasks. It wasn't an ordinary family dinner. It was a feast! I think that experience ignited my passion for food that continues on to this day.
Maybe I should have attended cooking school for my post-secondary education. Instead, I went into business. That path has helped me in my previous accounting career and now, my blog. Going to a physical cooking school at my age and current location is not happening. It's just not practical. What I can do, though, is attend a cooking school online. Salted, a new type of cooking school, is what I have been looking for all these years!
Salted is a virtual cooking school that works with 100 of the best chefs across the USA to give its members a world class cooking education. As a member, you receive access to their exclusive courses and video tutorials. If you are a visual learner like me, you'll love how its set-up.
Here's a quick look at the membership benefits:
1. Taught by top chefs. They'll teach you their signature techniques and recipes.
2. Unlimited access to a large and diverse library of video tutorials in all skill levels. New courses and tutorials are released monthly.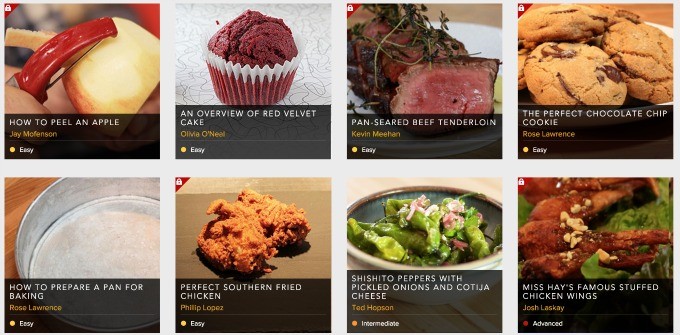 3. High quality video. The tutorials are filmed in HD video.
4. Detailed oriented tutorials. Every tutorial includes step-by-step instructions so you can easily follow along at home.
5. Build Your Own Video Cookbook. Save your favourite skills and tutorials to your cookbook to watch later at your convenience.
6. Other Perks. Connect with local chefs near you and have access to exclusive VIP offers and discounts.
I was like a little kid in a candy store looking around the site for the first time. Where did I want to start first? That was the big question. For this post, I wanted to share my experience using one of the video tutorials. I selected these mouthwatering Cheese Pizza Bites by Chef Gaby Dalkin for a few reasons. First off, they were listed as easy and you know how I love easy recipes! Secondly, one word – pizza. I'm obsessed. Lastly, it was taught by Gaby Dalkin, who is also a blogger at What's Gaby Cooking, and I'm already an email subscriber of her site!
The video is 4 minutes and 48 seconds long and features Chef Gaby Dalkin making the recipe from start to finish. It's like watching a cooking show! Now that I've watched Gaby make the recipe and also making it myself, I'll remember it. It's easier to commit to memory when you see it in action.
After I was done watching the video, I printed out the steps to make the recipe, the equipment I'll need and the chef notes. I'll add the recipe to my personal cookbook binder.
Gaby says this recipe is one of her favourite go-to appetizers when she is in a pinch for time. My girls and John love pizza and I figured this recipe would be one that they would gobble up quickly. I'm glad they did not prove me wrong!
I followed the tutorial to a tee and started out by gathering my equipment. As you can see, it doesn't require any fancy gadgets!
I had most of the ingredients on hand, minus the basil and Pecorino Romano cheese.
These Cheese Pizza Bites take about 15 minutes to prepare, on average. I move quickly in the kitchen so I was able to get them in the oven in less time.
They have two types of cheese: mozzarella and Pecorino Romano cheese. I don't often work with Pecorino Romano cheese so it was a new experience for me. It reminds me of Parmesan cheese.
The batter is similar to a pizza crust. Gabby also gives suggestions of other ingredients to mix-in. I might switch things up the next time I make it. Maybe some pepperoni!
The batter made just enough to fit my muffin tin.
My house smelled so good as these little guys were baking in the oven. Mine were ready in 20 minutes!
I had to hold myself back from digging in right away. They were super hot right from the oven and I knew it was polite for me to share with my family. A little willpower kicked in there.
Serve with pizza sauce for dipping, if you like! I bet Ranch dressing would also be good. We sometimes use it for dipping regular pizza.
They taste divine and just like pizza crust. They are the perfect size for dipping!
Next time I make them, I will give each of my family members their own dipping sauce bowl so there is no double dipping. Yes, it happened!
I had to show you a picture of the inside. Look how light and fluffy they are. I'd say they were baked to perfection.
As a member of Salted, you can watch this tutorial on its own. It's also part of two courses, Gameday Food Staples and Kid at Heart.
Here's a peek at some of the courses I want to take first: No-Bake Desserts, Introduction to Italian Cooking, Grilled Cheese Master Class and Essential Knife Skills.
The folks at Salted have a super generous offer for my readers. In fact, I'm even taking them up on it myself! Receive THREE MONTHS FREE with the code SIMPLY. This way, you can try before you buy and see if it's a good fit for you. The regular price is $9.99/month and you can cancel anytime. If you love food, give it a try! Visit Salted to get started.
Which Salted course or tutorial are you most interested in taking?
Disclosure: I was compensated for this post. All opinions are my own.