Ultimate Organization Resource Guide
This post contains affiliate links
If you're looking for ways to organize your day, your life, and even your house, this ultimate organization guide will get you on the right track. For me, the toughest part about organization is finding the time and energy. Utilizing these organization hacks and tools will help knock everything out in record time!
Before we get started, download my free 2017 household planner.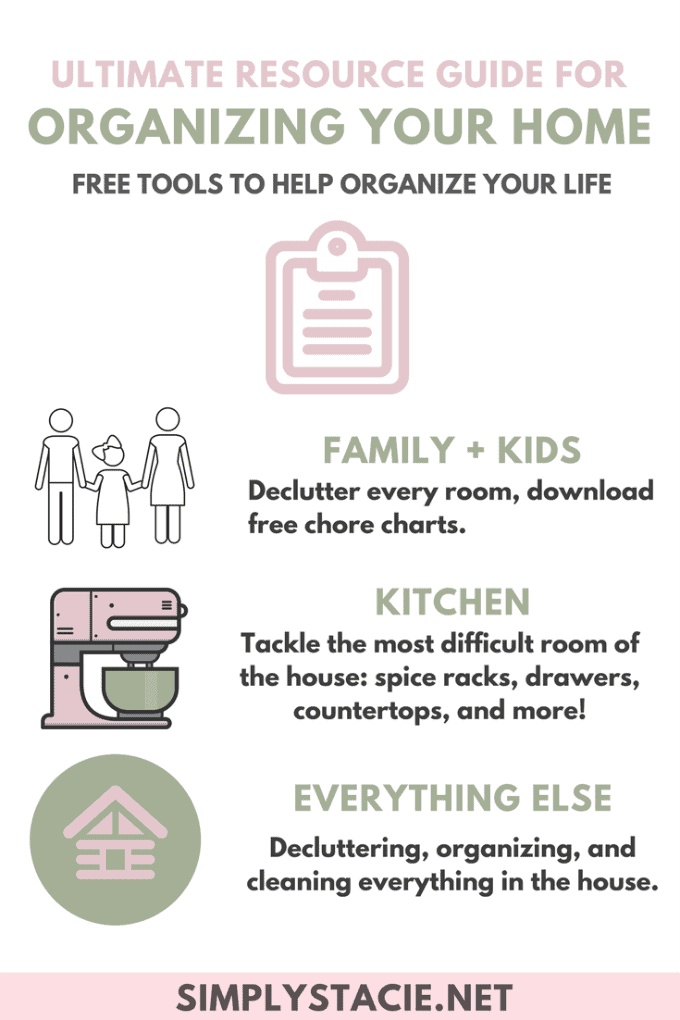 Organize Your Family
You don't have to spend a fortune to organize your home. There are many ways to organize your home on a budget.
Need to get the kids on board? Start with my: Free Chore Chart Printable.
From toys to shoes: 20 organizing products you can't live without!
Are your kids like tornados? Try 5 innovative ways to get kids organized, after you declutter their rooms. Do they have too many clothes? Print these free closet dividers.
Hate decluttering? Make it a challenge: 30 Days of Decluttering
There are many ways to keep your photographs organized. In this digital day and age, you might not have piles of old Polaroids sitting around, but it's still a good idea to organize your photographs (physical and digital) so you can find them when you need them!
Kitchen Organization
There's so much to organize in your kitchen. From kitchen spice organization ideas to making the most of your small pantry, it's all about baby steps. Taking organization one step at a time can help it feel less overwhelming.
I love to cook! If my blog isn't proof enough, you should see all of the recipes I have saved. Using a recipe binder is the best way to keep all of those delicious recipes on hand but out of the way. If you're addicted to printables like I am, download these free kitchen printables. I especially love the storage container labels.
Storage is another big issue with organization. If you have too much stuff and not enough storage space, or aren't utilizing it properly, your kitchen is going to be a mess! There are so many ways to improve kitchen storage, depending on how your space is set up. I like to use rolling carts and wire baskets for items I use on a regular basis. If you have drawer space but everything is just thrown in there, use these drawer organizers. You can even organize your cleaning tools, such as your duster, mop, and brooms.
Organizing and cleaning go hand in hand, which is why I've also created the Ultimate Cleaning Guide. Be sure to stock up on these Spring cleaning essentials and download my Spring cleaning kitchen checklist to get started.
Refrigerator out of control? A clean fridge can save you time and money. Think about all the food you've thrown out this year. Use my fridge organization tips to get your fridge under control.
Other Household Organization
22 ways to declutter and organize your bathroom.
Keep surfaces clutter free, and the rest is a breeze. I love seeing clean countertops and tables.
Can't get enough? Grab my get organized printables before you leave.
Maybe now you'll finally conquer that junk drawer, for good!
You might also like these organization apps.