You may recall me sharing Nature Valley's mini-documentary where they asked three generations to share their favourite childhood memories. In my blog post, I also talked about some of my own childhood memories and how kids of today are at risk of losing that important connection with nature. We made an effort over the summer months to get outside and do things together as a family.
We spent several afternoons at local beaches enjoying the hot summer weather. Our marina underwent some renovations to the boardwalk and we enjoyed the sunsets and live music down there.
The highlight of the summer was my daughters' zip lining experience at Chutes Coulonge! It was Bridget's first time zip lining over the canyon and she absolutely LOVED every second of it. She is so much braver than me! It's a beautiful spot.
Also, Bridget attended summer camp for her first time and had a blast. I loved hearing about her adventures in the woods!
Now that it's almost fall and school has begun, it doesn't mean that we hide away indoors. It's anything, but that! I actually prefer the cooler fall weather and tend to get outdoors even more when it isn't so muggy outside. We'll be rediscovering nature this season too and I hope you will join me with your family!
Rediscover Nature Day
Nature Valley and Take Me Outside have teamed up to challenge Canadians to spend at least one hour outside with your family on Rediscover Nature Day on Sunday, September 20th! Round up your family and head outdoors for a walk in the woods or visit to a local park. It doesn't matter what you do as long as it's outdoors for at least an hour with your family. Yes, your own backyard counts too!
Nature Valley has some fabulous ideas for fun outdoor activities you can do together.
1. Count Tree Rings. Ever wonder how old a tree really is? Find a tree that has been cut down. Then use sandpaper to sand the surface of the stump until it is very smooth. Start at the center and count the rings. Each ring stands for one year in the tree's life.
2. Catch and release frogs. Frogs can be found near clean water without a lot of current. A simple net is both the easiest and gentlest way to catch one. Once you've placed your net over your found frog, reach down and place your hands gently around its back, holding on to its hips. Cradled in the net, gently lift it up with its legs pointing straight out behind it.
3. Go on a bug hunt. Children are naturally curious about the world and in nature there's an abundance of insect life to discover. You will need a magnifying glass, clipboard, marker, paper and a jar if you want to collect what you find. Together, collect what you find or count up your discoveries and enjoy the best of math and science.
4. Stack and balance rocks. Build your own inukshuk. This simple art piece also acts as a welcome sign to visitors. Begin by collecting rocks of various shapes and sizes. Ones that work best are flat on both the top and bottom. Start by placing the stones on top of one another looking for the best balance. If two rocks won't work together, try turning them over or moving them just a little bit to find a better fit.
5. Find shapes in the clouds. Find a peaceful piece of green space where you can lie on your back. Be sure to get comfortable (you may be there for a while). Look up and let your eyes adjust to the light and shadows. With a little bit of imagination, you're bound to find shapes, animals or faces in those clouds.
I'm brainstorming a few ideas for us to do on Rediscover Nature Day. The front runner right now is a walk in the woods near the water by my parent's home. It's so pretty there especially in the fall. I think counting tree rings would be fun to do together. I haven't done that since I was a kid.
Rediscover Nature Day Contest
In honour of Rediscover Nature Day on September 20th, Take Me Outside is hosting a fabulous Rediscover Nature Day contest with a grand prize package sponsored by Banff Lake Louise Tourism!
Enter to win a trip to Banff National Park to experience Banff and Lake Louise with your family! You can also win one of 10 Nature Valley Rediscover Nature Kits.
Here's how to enter.
RSVP here for Rediscover Nature Day on Sunday, September 20th.
Take a photo of your family outside enjoying nature. Some ideas are hiking, biking or walking in the woods.
Post your photo to either Twitter or Instagram with the hashtags #MyBanff #RediscoverNature
The contest is open to Canada only and ends on September 30th. I can't wait to check out all your photos of your family enjoying the great outdoors. Best of luck to everyone!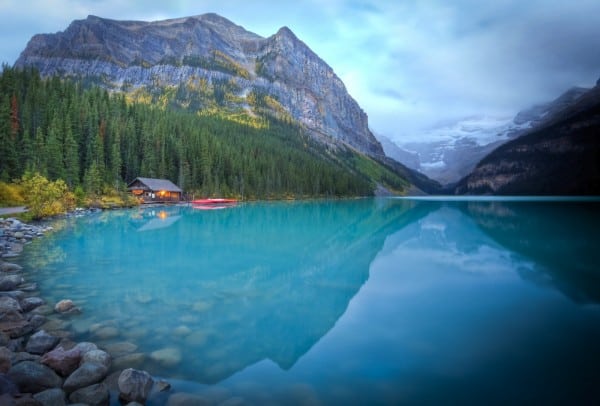 Photo Credit: Banff Lake Louise Tourism / Paul Zizka Photography
I visited Banff and Lake Louise 10 years ago with my family. The scenery was magical. I couldn't get over the vivid colour of Lake Louise. They are both truly stunning, bucket list worthy locations to visit!
I would LOVE to go back again now that my kids are older. We were only there a couple days and I'd like to be able to stay longer to explore more of the area.
I hope you'll join me on Rediscover Nature day with your family! I've shared my plans and I'd love to hear yours! Please share in the comments below.
Disclosure: I was compensated for this post. All opinions expressed are 100% my own.