Finding new recipes to try is so much easier these days. Remember way back when, our source for new recipes was cookbooks and magazines? I also have pages and pages of handwritten recipes from my Grandma June that I've kept. Though I still enjoy finding recipes the "old fashioned" way, I've fully embraced technology and now have a whole new world of recipes at my fingertips!
I could sit here all day and list out my favourite blogs and cooking sites. And don't even get me started on Pinterest or we'll be here all day. I'm a woman obsessed with 35,000 pins and counting!
The one source of recipes I'll always keep around is the word of mouth recipes. For instance, you are over at a friend's place for dinner and they make the most amazing dessert and you just have to get the recipe! You write it on the back of old receipt in your purse so you can try at home. Then what? I personally don't want to keep an old receipt or napkin and prefer to put the recipe on something clean and pretty! I was using index cards, but I've got a much nicer option now. And I'm sharing with you!
Recipe Card Printable
I made this recipe card printable to use for your favourite recipes or ones shared by family and friends. I paste mine in a scrapbook, but you could also put them in index card holder. I would probably tape or glue it to an index card so it's a little more sturdier.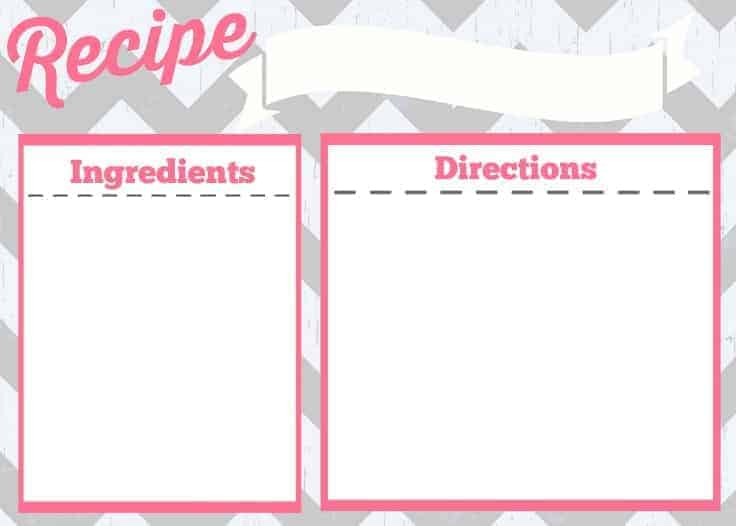 It's a pdf download so it should be just a matter of downloading the pdf to your computer and clicking print. Print out as many as you like and feel free to share the link to this post with your recipe-loving friends!
Fill out the form below to get your free recipe card printable.
How do you store your recipes?