Disclosure: I am participating in the Chicken Farmers of Canada campaign managed by SJ Consulting. I received compensation in exchange for my participation in this campaign. The opinions on this blog are my own.
I do my groceries every Saturday morning. I get up at the crack of dawn, grab my purse, reusable bags and phone and zip down to the grocery store. Front door parking is great! Plus, the store isn't busy at all making it easy for me to get into my grocery shopping "zone". I'm focused on finding everything on my list as quickly as I can. I also read labels – I want to know what is in the food I'm buying. Transparency is key!
The Chicken Farmers of Canada knows that Canadians like labels and knowing where their food is coming from. They conducted a survey and found that 88% of Canadians would likely buy chicken if it had a label showing whether it is was from Canada or imported elsewhere. For me personally, I want Canadian chicken because I know that the chicken has been raised according to high standards and I want to support local Canadian farmers.
You may have already seen the "Raised by a Canadian Farmer" logo on chicken at your local grocery store. Here's what it looks like below.
It's easy to spot right? When you see this logo on chicken, you'll know a few things. It was raised by a Canadian chicken farmer according to a set of strong criteria regarding food safety and animal care standards. But what are these standards? I'll give you a brief rundown to explain.
OFFSAP (On-Farm Food Safety Assurance Program): This mandatory program emphasizes animal health, cleanliness and safety through each step of the production cycle. Also, strict biosecurity measures that protect animal health and prevent flocks from infections from outside sources must be adhered to. Chicken Farmers of Canada on-farm safety program was the first commodity to receive full recognition for their program from the government of Canada in March 2013. Over 98% of Canadian chicken farmers are certified on the program and are audited annually to ensure compliance.
Animal Care Program: This Canadian Chicken program sets out the regulations and guidelines for the care and handling of the chickens raised on Canadian farms. It's based on the National Farm Animal Care Council's (NFACC) Canadian Recommended Code of Practice for the Care and Handling of Chickens, Turkeys and Breeders from Hatchery to Processing Plant. This program ensures the birds are raised in the best possible way. It's recently been integrated with OFFSAP to make it easier for farmers to implement. Farmers are audited annually and over 95% of farmers are certified on this program.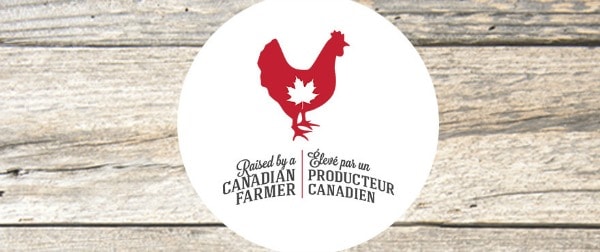 In a nutshell, when you see this logo, remember that it stands for the mandatory farm food safety program and the audited animal care program. Yes, it does mean that the chicken is from Canada, but as you can see there's much more to it!
This program is FREE for retailers to use with the signing of a licensing agreement. Having the "Raised by a Canadian Farmer" logo means all of what I talked about above regarding the quality standards plus leveraging Canadian Chicken Farmers traditional marketing program, Shopping with Chicken app, digital marketing program and active social media accounts. If you shop at Sobey's or Federated Co-op, you may have already seen the logo on chicken in the meat department.
Lemon Herb Slow Cooker Chicken
Next time you are out shopping, look for the logo. If you don't see it, consider asking either in person or via social media for your local store to add it to their chicken products. It's important to know where your food comes from and is a source you trust!
Connect with Chicken Farmers of Canada on Facebook, Twitter, Instagram and Pinterest.