This Pumpkin Dump Cake can easily become your go-to fall dessert. A layer of creamy pumpkin pie on bottom and topped with a golden cake and baked to perfection. Serve with a scoop of ice cream or a dollop of whipped cream.
If you don't feel like making a pumpkin pie this Thanksgiving, my suggestion is to make this pumpkin dessert! I think of it as half pumpkin pie and half cake. There's no crust to make! It's super easy to make and takes only about 20 minutes to prepare with another 1.5 hours to bake in the oven.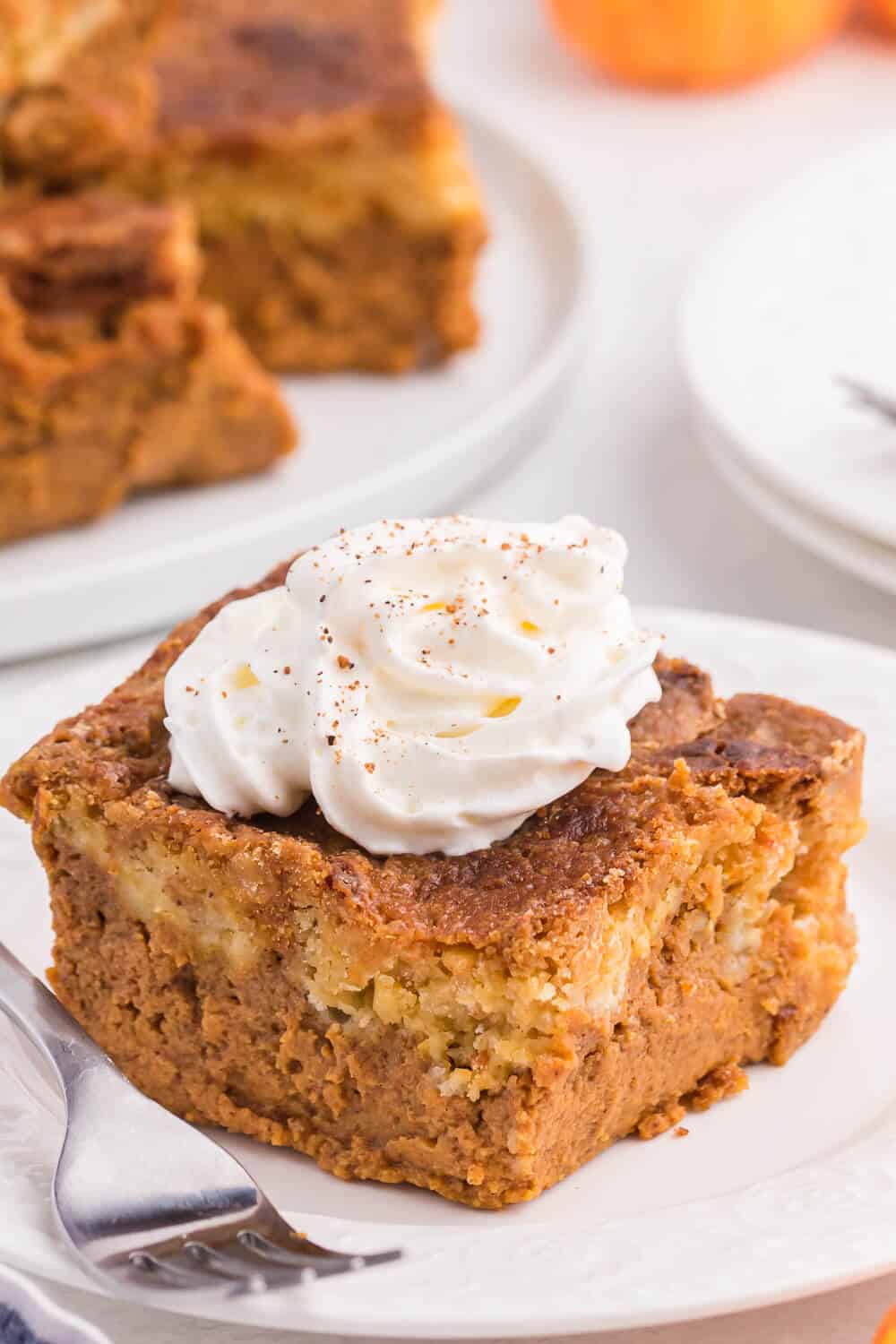 Pumpkin Dessert
Some people I think could live off pumpkin spice in the fall months. I love the pumpkin spice flavor whether it is cake, pie, drinks, or any other type of dessert. This tasty creation here gives you a taste of two worlds. Pie and cake all in one. The creamy pumpkin pie filling tastes fantastic next to the cake layer.

While this looks like a complicated dessert, it is so simple to make. And the cake layer is a doctored up cake mix, and no one will even have to know.
How to Store
Because of the pumpkin pie base of the dessert, you will want to store it in the fridge. Otherwise, it will go bad rather fast sitting out at room temperature. Just place the dessert in an airtight container and place in the fridge. It will store anywhere from 3-5 days.
What Size of Pan Do You Use for Pumpkin Pie Cake
I recommend using a 9×13 size. If you do a smaller size it won't fit and anything larger it will not be the correct consistency. Then what I do is keep it in the pan and then place the lid on it for storing or transfer to a different container.
Can I Make This Pumpkin Dessert Ahead of Time
If you are wanting to bring this as a dish to a family gathering or potluck, you can make this a day in advance. Then store in the fridge and serve it chilled. You can still serve it with ice cream or whipped cream if you prefer.
Canned Pumpkin
Make sure that when you make this dessert you buy canned pumpkin, not pumpkin pie mix. There is a big difference. The canned pumpkin is just pureed pumpkin. The pumpkin pie mix has other ingredients added so you will not get the same end result if you buy the wrong one.
Can I Add Nuts to my Dessert
Yes. If you like nuts feel free to sprinkle on some pecans or walnuts. Either would be a tasty option. I have done this on half of it, so the people who enjoy nuts have some and other people who prefer creamy get what they want. Both options taste amazing.
Is Sweetened Condensed Milk Same As Evaporated Milk
Evaporated milk and sweetened condensed milk get confusing to some. Evaporated milk is simply sweetened condensed milk but without all the sugar added in. It is a lot thinner consistency and less sweet. Sweetened condensed milk is rather thick and can not be used in replace of evaporated milk.
How to Make this Pumpkin Dessert
Start by beating your eggs until they become frothy in a stand mixer. Then mix in your sugar. Once combined, toss in your pumpkin, and spices.
Then turn the blender to low and pour in your evaporated milk. Next, pour the mixture into a greased 9×13 pan.
For the topping of the cake, you will want a new bowl where you do the cake mix and softened butter in a bowl. Mix until it is a crumbly consistency and sprinkle it over the cake. Bake for around an hour and a half or until it is fully cooked.
Can You Eat This Pumpkin Pie Cake Warm
You can eat this dessert warm or cold. Whether you like it fresh from the oven or chilled in the fridge. To be honest, we eat it both ways and love it. When it is fresh I serve it up warm, but I have no regrets when I eat it cold. I have even nibbled on it for breakfast. There is no shame in my game when it comes to pumpkin.
You can always warm it up in the microwave to give it that fresh out of the oven taste if you prefer.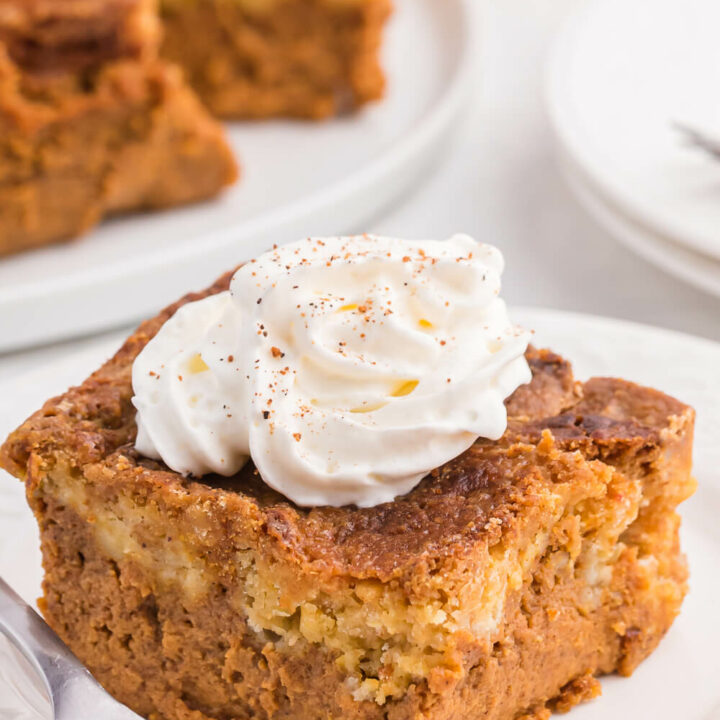 Pumpkin Dessert
Cook Time:
1 hour
30 minutes
Total Time:
1 hour
50 minutes
Made with yellow cake mix! Easy to prepare and tastes as good as pumpkin pie.
Ingredients
4 eggs
1 1/4 cup sugar
1 (28 oz/796ml) can of pumpkin puree
1 1/2 teaspoon cinnamon
1 teaspoon cloves
1/2 teaspoon nutmeg
1 teaspoon ginger
1 teaspoon salt
1 (12oz/354ml) can of evaporated milk
1 box (15.25oz/432g) yellow cake mix
1 cup of butter, cold and sliced thin into squares
Instructions
Preheat oven to 350°F. With an electric mixer, beat the eggs until they are frothy. Add in the sugar and continue to beat.
Add pumpkin, the spices and beat until mixed well.
Add in evaporated milk and beat on low to blend. Pour pumpkin mixture in a greased 9×13 inch pan.
Sprinkle yellow cake mix on top of the pumpkin mixture in the pan. Place squares of butter on top to cover the cake mix.
Bake for 1 hour and 15 minutes to 1 hour and 30 minutes or until a toothpick comes out of the center pretty much clean. Serve hot or cold!
Recommended Products
As an Amazon Associate and member of other affiliate programs, I earn from qualifying purchases.
Nutrition Information:
Yield:

18
Serving Size:

1
Amount Per Serving:
Calories:

261
Total Fat:

9g
Saturated Fat:

5g
Trans Fat:

0g
Unsaturated Fat:

3g
Cholesterol:

61mg
Sodium:

420mg
Carbohydrates:

42g
Fiber:

1g
Sugar:

29g
Protein:

4g