Disclosure: I received a gift card as compensation for this post. All opinions expressed are 100% my own.
My cats, Misty and Princess, are an important part of our family. They are spoiled rotten and I wouldn't have it any other way! I love showering them with attention, toys and treats and do my best to make sure they are happy and comfortable in our home.
Being a pet owner comes with its own set of responsibilities. Not only do you have to care and provide for your pets, but you also have to take care of them when they are sick. As I'm sure you probably know it's not cheap when you have to take your pet to the vet. I had both my cats spayed two years ago and it cost me over $600 in vet bills. Thankfully both my cats are healthy, but it's still always on the back of mind about my cats getting sick and how I would be able to pay for it.
True story. My parents bought a puppy 11 years ago and she became really sick a few days after they brought her at home. They took her to the vet where she was treated for a parasite and were told had they not brought her in, she would have died. Maude (the puppy) was in the hospital for almost a week and my parents ended up with a large vet bill. It's true stories like these that really make me think long and hard about buying pet insurance.
Here's a picture of Maude today.
Thinking back I remember the extra expenses from the first year of pet ownership of our cats. We didn't have pet insurance so all our costs were paid out of pocket. Pets Plus Us, a pet community and insurance provider, has two eye-opening infographics showing the costs of the first year of owning a kitten and puppy. As you can see there's many costs in there that you may not even think of when budgeting! They really do add up.
It costs even more to own a dog!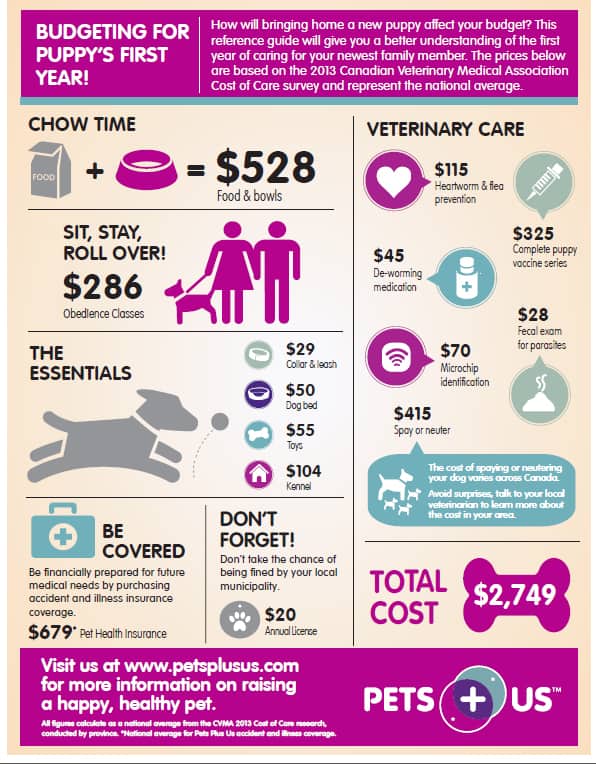 Pets Plus Us wants all pet owners to be fully informed about the cost of care for a pet and has a list of important factors to consider to help you select the right insurance plan to protect your pet.
1. Species. Cats and dogs both require regular veterinarian care and can have medical issues and/or accidents. It's important to consider the species and look at factors like how long their life expectancy is so you'll know the different levels of commitment. For instance, domestic cats like mine have a life expectancy of around 12 years. However, I've known cats that have lived a lot longer. My friend had a cat who was 19 years old.
2. Breed. Learn about any medical conditions that are associated with your pet's breed. This way you can anticipate and prepare for any potential medical issues that may arise in the future.
3. Financial Resources. Set money aside for medical issues that may come up in the future. If your pet became sick today, would you be able to pay for his/her medical care? Potential vet bills are always on the back of my mind.
4. Ability to pay for Routine Vet Care. It's not only the medical emergencies you need to worry about, but also the cost of routine care. This includes vaccinations and check-ups including any previous medical issues that may require ongoing care.
Pets Plus Us offers pet insurance that can provide you with financial protection that can assist with not only regular veterinary care, but also unexpected accidents and/or illnesses. My dad always said that having insurance is like having "peace of mind". It's really true. It's nice to know it's there if and when you need it. Visit Pets Plus Us to learn more about pet insurance and the plans they offer.
Love Your Pet Day
February 20th is Love Your Pet Day! To celebrate, share a photo of your pet on Twitter using the hashtag #LoveYourPet and tag @PetsPlusUsCA in your tweet. I'll be sharing some photos of Princess and Misty too.
Do you have a pet?